James Joyce and Sylvia Beach at Shakespeare & Company (Paris)
Appendices mostly relating to the identity of those in the photograph of the
interior at Shakespeare and Company on rue Dupuytren in Autumn 1921

See also —
Portraits of James Joyce - An Album
1: Sylvia Beach meets James Joyce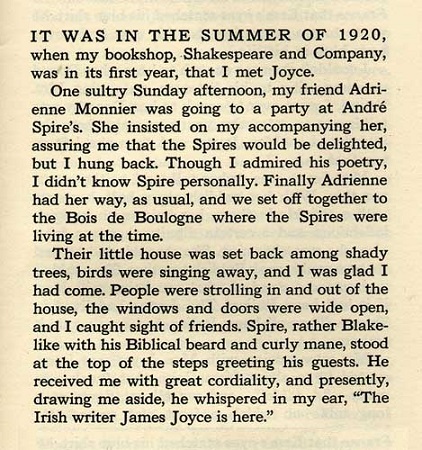 [ top ]
2: Keri Walsh, The Letters of Sylvia Beach (Columbia UP 2010)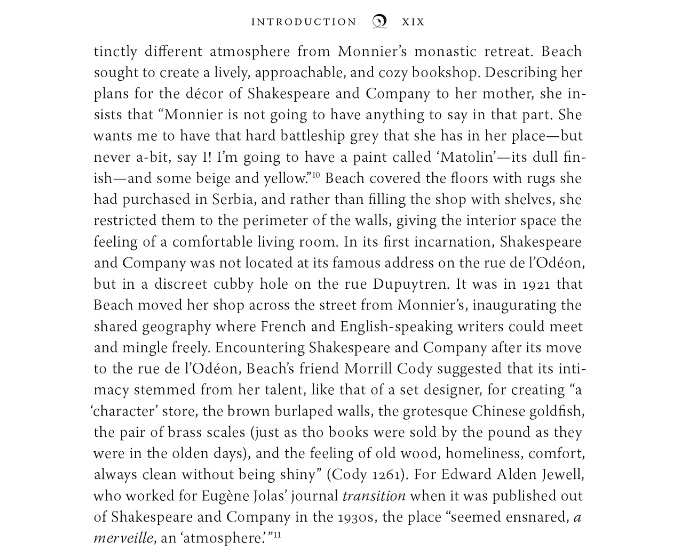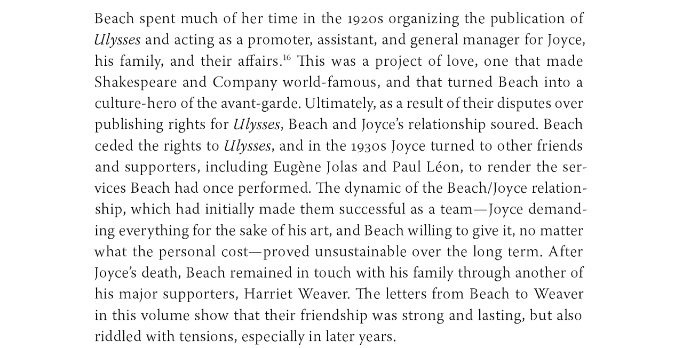 3: Letters of Sylvia Beach to her sister Holly
| | |
| --- | --- |
| | [ Note: Dates of letters to Holly during 1921 given in Keri Walsh (Letters of Sylvia Beach, 2010) incl. 16 & 23 April 1921; 24 Oct. 1921 ('I hope you are coming to Paris in November won't that be fun!'; 23 Nov. 1921.] |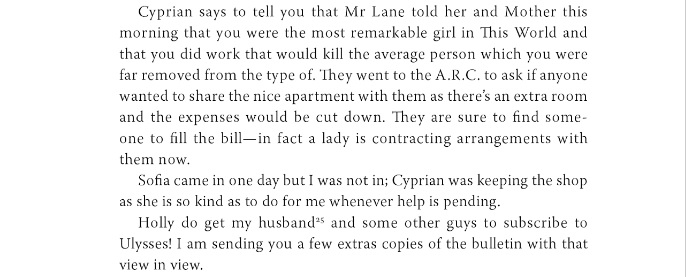 —Keri Walsh, Letters of Sylvia Beach, Columbia UP 2010; pb. 2012), p.83-84; 84 ['My husband' is apparently a jocose reference to Holly's husband Frederick Dennis.]xxxx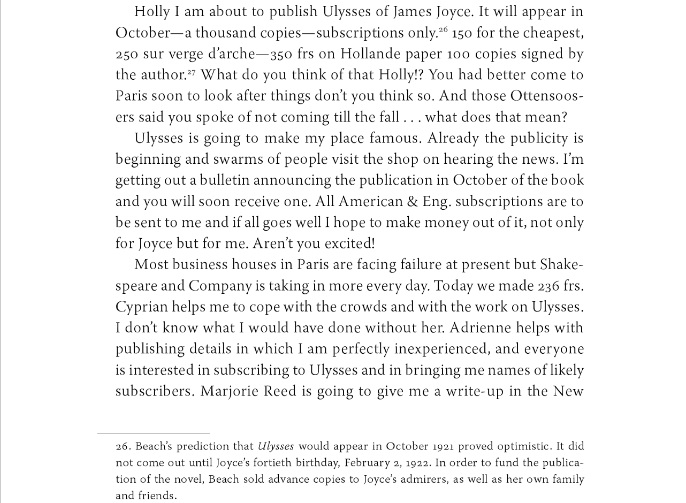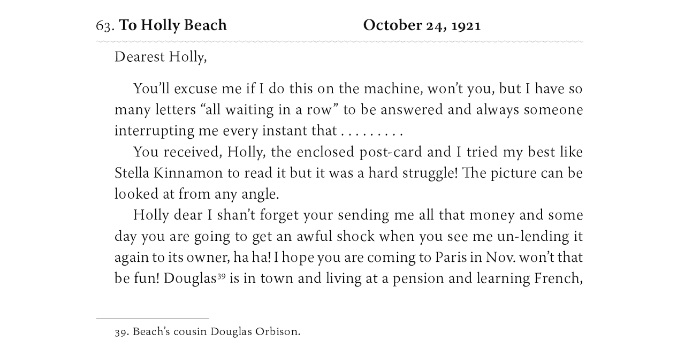 Note: In November 1926, Sylvia appears to be in New York dealing with the Samuel Roth pirating-of -Ulysses-business, while Holly is minding the shop in Paris. Mrs Beach, their mother, is meanwhile travelling between Florence and Rome where she is greeted by the hotelier with 'bursts of joy' (p.113.)
[ top ]
4: "Bloomsday Notebook", in The Irish Times (16 June 1962)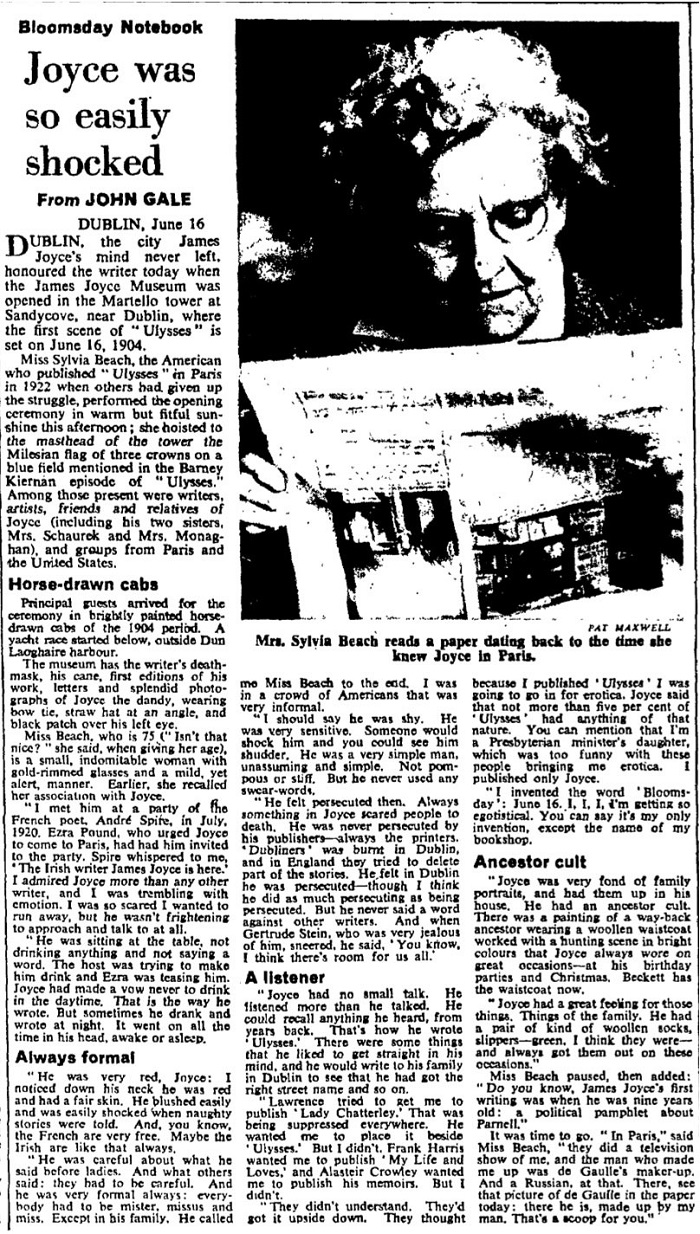 [ top ]
5: Princeton University Library - Catalogue of the Sylvia Beach Paper Collection
The online catalogue includes the following descriptive cards: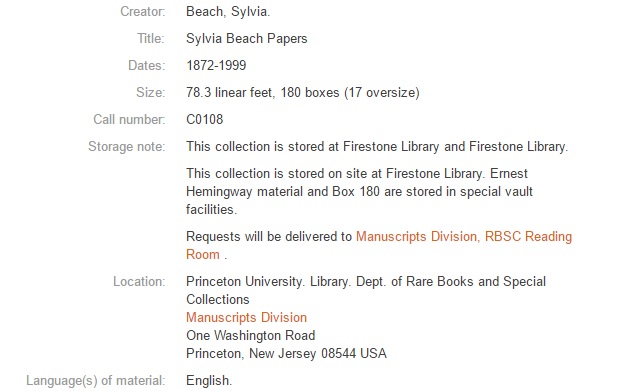 See box containing rue Dupuytren photographs:—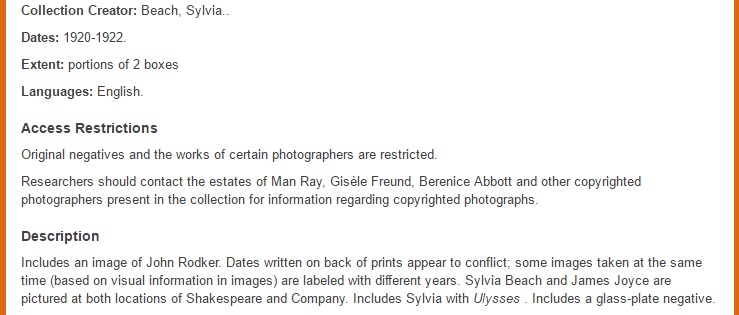 Note that the catalogist expresses confusion at the 'different years' inscribed on the photos - perhaps suggesting that some are assigned to rue de l'Odeon in spite of the apparent fact that the appear to have been 'taken at the same time' as others clearly set at rue Dupuytren.
6: Mapping Expatriate Paris - A Princeton U. Website
[Note: Princeton University Library holds the Sylvia Beach letters and numerous photographs associated with Shakespeare and Company - as well as Beach family photographs in a separate collection donated by Frederick Dennis (husband of Sylvia's sister Holly Beach).]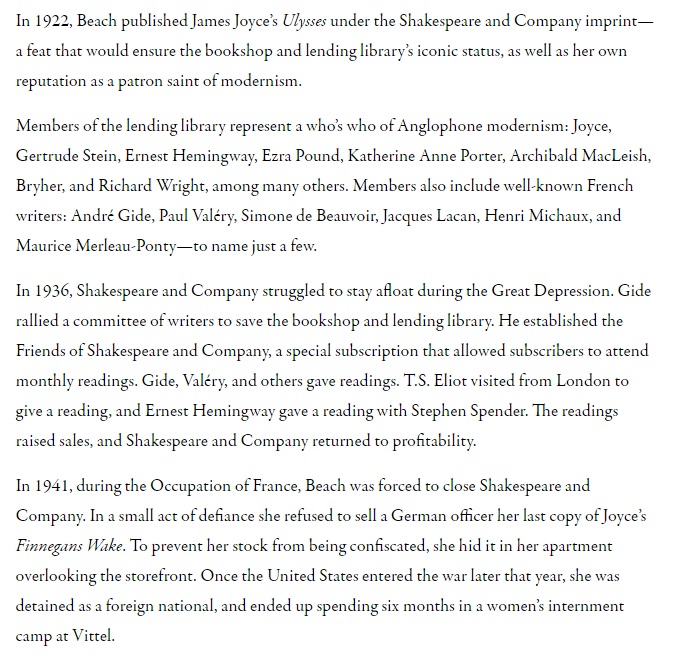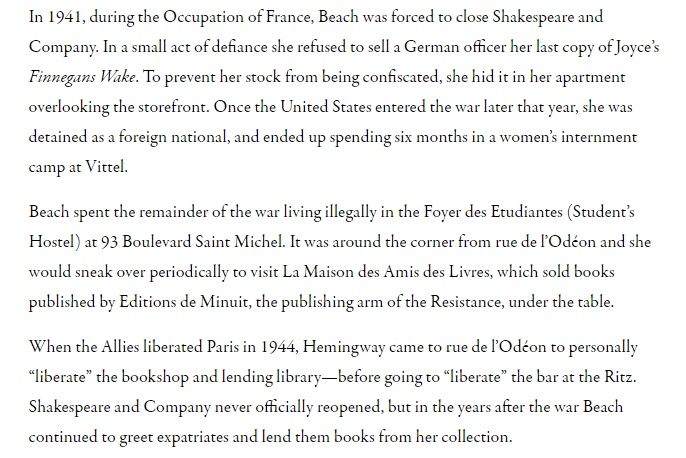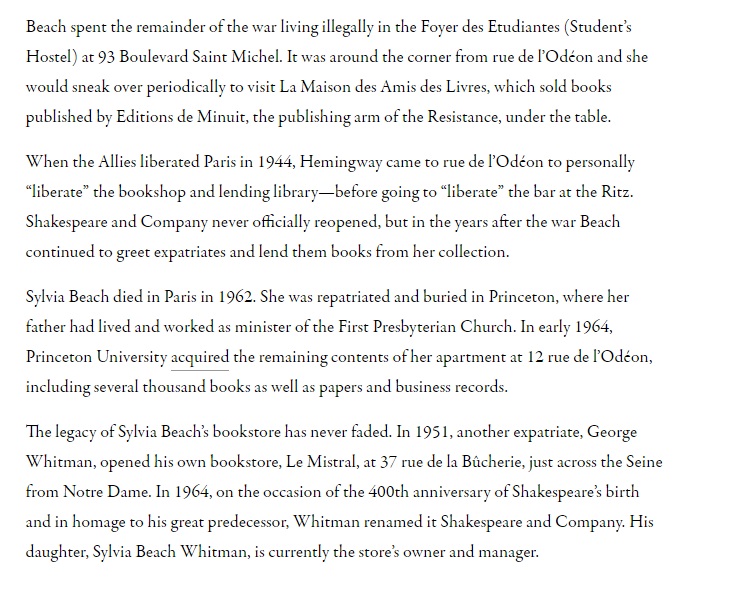 —Available
online
; accessed 13.04.2017.
[ top ]
At some time in the 1950s, Sylvia Beach compiled "The Library of Shakespeare & Company / Sylvia Beach / Paris - VI" (53pp.), together with another of "Memorabilia from the Shakespeare & Company Bookshop, 12, Rue de l'Odéon - Paris -VI" (1pp.)

Two years after her death in 1962, the contents of her apartment were bought by Princeton University from her sister Holly Beach Dennis. In late March of 1964 Howard C. Rice, the Associate librarian for Special Collections, travelled to Paris and spent three weeks in the rooms over her famous bookshop at 12, rue de l'Odéon [err. l'Oléon]. Maurice Saillet, who had been a close associate of Beach's since the 1930, acted as his guide to the contents of her premises.

Beach had already given away her library to the American Library in Paris but what remained amounted to 8-10,000 volumes. Of these many were presented to the Institut d'Etudes Anglaises et Nord-Américaines of the University of Paris for student use. (The Bibliothèque du Monde Anglophone has now succeeded that body -online]). Some other were sold to the the antiquarian bookseller André Jammes.

Those books and papers which properly constituted Sylvia Beach's library - in the shape of inscribed books and photographs, literary and business correspondence and related papers, paintings, and memorabilia - naturally went to the purchasing institution in America. At his death, Saillet's collection of Sylvia Beach and Shakespeare & Company was sold to the Harry Ransom Humanities Research Center at the University of Texas, where it forms part of the Carlton Lake Collection.
—Available online; accessed 03.07.2014.
Note: The web-page includes two images of the home of Sylvia Beach above her shop in rue de l'Odéon during the period when Howard C. Rice [Spec. Collections Asst. Librarian] was sorting the contents and preparing it for shipment. )

For an account of the distribution of Sylvia Beach's books after her death, see under James Joyce > Notes > People > Sylvia Beach - as infra.
[ top ]
7: Turismo Letterario - website [on Cyprian Beach]
The website tells the story of Shakespeare and Company and something of Sylvia Beach's life - including an account of the publication of Ulysses and her association with other writers, ending with these comments:
[...] Ma che fine ha fatto questo luogo magico e ricco di storia letteraria del Novecento? Arrivò la guerra e la Francia fu invasa dai nazisti. Sylvia, contrariamente a molti dei suoi compatrioti, decise di rimanere a Parigi. Dopo una strenue resistenza fu costretta a chiudere la libreria (il 14 giugno 1940) e nascondere tutti i libri per il timore che le venissero requisiti e distrutti. Dopo il 1945 niente era più come prima: la città e la coscienza del mondo erano stati sconvolti dagli orrori della guerra. Shakespeare and Company non riaprì più. Nel 1951 l'americano George Whitman aprì in 37 rue de la Bûcherie, vicino Place Saint-Michel e a pochi passi dalla Senna, "Le Mistral", una libreria di libri in lingua inglese.
It also contains the familiar photograph of Shakespeare and Company - to which is attached a note indicating that the identity of the man in the background (sfondo) behind Joyce is the proprietor's brother [sic] Cyprian Beach: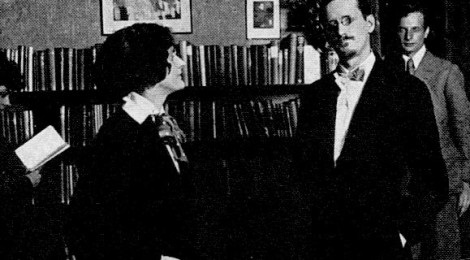 The familiar photo - which is here flipped left to right - shows Cyprian [cropped], Sylvia Beach, Joyce and John Rodker. In the Turismo Letterario website (where it appears as here) the participants are given as "Sylvia Beach e James Joyce. Sullo sfondo Cyprian Beach, fratello della libraia" with no mention of Rodker.
[See Turismo Letterario -
online
; accessed 17.04.2017]
---