Life
1939- [Seamus Justin Heaney]; b. 13 April, at Mossbawn, a 50-acre farm in the townland of Tamniarn between Toomebridge ('soft slab under the tongue') and Castledawson in Co. Derry; the eldest of nine children with two sisters and six brothers [incl. Sheena, Hugh, Pat, Charlie and Dan and Christopher]; in the 'ever-growing family' of Patrick and Margaret [M.K.H.; née McCann, of Casteldawson] Heaney, his father being a cattle-dealer who had grown up orphaned, with three uncles; family moved to a farm inherited from an uncle Hugh Scullion at the other end of the parish, where Patrick Heaney had been raised, coinciding with the death of a Christopher, a brother of Seamus, in a road accident, 1953 [aetat. 4], as related in "Mid-term Break"; ed. at Anahorish Primary School, a 'mixed' denominational school, 1945-51 (headmaster Barney Murphy); afterwards proceeded on scholarship to St. Columb's, Derry, as a boarder - under terms of the Butler Act of 1948; studied with Seamus Deane, Eamonn McCann, et al.; taught by John Hume and Francis Brolly;
1957
: enters QUB on scholarship, 1957; published poems in college magazine
Gorgon
under pseud. "Incertus", but did not think of literary attainment; grad. with Ist Class Hons., and named outstanding student, 1961, with teaching in mind as a career; spent his prize money on books of Louis MacNeice, J. M. Synge and Oscar Wilde ('a kind of looking for one's own crowd, you know, after all that English literature'); commenced teacher-training at St. Joseph's TTC, Belfast; taught at St. Thomas's Intermediate School, 1962-63 - a Catholic 'maintained' secondary school under Michael McLaverty [
q.v.
], then Head of English, who like to quote Gerard Manley Hopkins's phrase, 'description is revelation', and lent him Patrick Kavanagh's
Soul for Sale
in late 1962; became aware of contemporary Southern poets on buying Robin Skelton's edn. of
Six Irish Poets
(1962); contrib. "Tractors" ['gargling sadly astride furrows'] and "Turkeys Observed" to
Belfast Telegraph
, 1962 [var. 1963]; first joined Philip Hobsbaum's QUB poetry circle, 1963, meeting on Mondays in the Hobsbaums' flat; published poems in
The Irish Times
; English lecturer at St Joseph's College of Education (TTC), 1963-66;
1964: wrote "In our Own Dour Way", an 'extended essay' on Ulster literary magazines (Trench, 1964); wrote "Digging" ['the first poem I wrote where I thought my feelings had got into words'], Summer 1964; sent poem-collection entitled "Advancements to Learning" for publication to Dolmen Press, and was rejected, 1964; Hobsbaum sent Group poems to Edward Lucie Smith, resulting in three by Heaney appearing in The Statesman (Dec. 1964) under editorship of Karl Miller - acc. to whom the typescripts arrived 'meekly attended by a stamped and addressed envelope for their return'; Belfast Group given exposure by Mary Holland in Observer, during Belfast Festival, 1965; received letters of enquiry from Charles Monteith of Faber, January 1965; contrib. "Out of London" [column], to New Statesman, 1965, identifying the ominous influence of Ian Paisley on Protestant opinion; pub. his first collection, Death of A Naturalist (May 1966); m. Marie Devlin, Aug. 1965 - a school-teacher and one of six siblings incl. Polly and Barry; member of Belfast Festival comittee (QUB); issued Eleven Poems (Fest. 1966); a first child, Michael [fam. Mick], b. 1966; wrote "Requiem for the Croppies" to celebrate 1966 - a poem dealing with the Wexford rather than the Antrim United Irishmen's Rebellion of 1798); winner of Eric Gregory Award, 1967; winner of E.C. Gregory Award, the Cholmondeley Award, 1967; with Michael Longley, edited Northern Review, 1965-69;
1968: Somerset Maugham Award, 1968, and Geoffrey Faber Memorial Prize, 1968; wrote "Bogland" after a visit to his friend the painter T. P. Flanagan in Autumn 1968; reporting Civil Rights for The Listener ("Old Derry Walls", 28 Oct. 1968); QUB lecturer in English, 1968-72; contrib. "Bachelor Deceased" (June) and "The Thatcher" (Oct.) and other poems to The Honest Ulsterman during 1968; second son, Christopher, b. 1968; provided heavily ironic lyrics of song "Craig's Dragoons" to be sung to the tune of "Dolly's Brae", for Seán Ó Riada's Radio Éireann programme; issues Door into the Dark (1969), Poetry Book Society Choice; visits Spain in 1969; guest lecturer at UC Berkeley, 1970-71; resigned from 'entirely agreeable' teaching job in English Dept., QUB (Belfast) ['to put the practice of poetry more deliberately at the centre of my life']; moved to cottage in Glanmore, nr. Ashford, Co Wicklow, summer 1972, which he later bought from Prof. Ann Saddlemyer 1988; portrayed in acrylic by Edward McGuire, sitting at a table in the cottage; issues Wintering Out (Nov. 1972); winner of Irish-American cultural Foundation Award, 1972; ed. Soundings (1972), the long-running Leaving Certificate poetry anthology;
1973: scheduled to read with Auden, Hughes, and Spender when Auden suddenly died - being represented on stage by an empty spotlit chair, 1973; occas. presented Radio Éireann book programme Imprints, 1973-77, introducing Robert Lowell in 1973; dg. Catherine Ann, b. 1973; Denis Devlin Award, 1973; Writer in Residence Award of American Irish Foundation; received dedication of Brian Friel's play Volunteers (1975); appointed Head of English Dept. at Carysfort College, Dublin, 1975-1981, death of Colum McCartney, a second cousin, with Louis O'Neill, in random sectarian killing, 1975 - resp. commemorated in the consecutive poems "The Strand at Lough Beg", and "Casualty", both in Field Work, and later revisited in "Station Island"; read at the Yeaets International Summer School in Sligo, Aug. 1975, using galleys of North - which he generously gave to Helen Vendler, also lecturing there; issues North (1975), winner of E. M. Forster Award, 1975; publ. 25 "Stations" poems in Frank Ormsby's Honest Ulsterman pamphlet ser., 1975; moved from Glanmore to settle in Dublin in 1976; wins Duff Cooper Memorial Prize, presented by Lowell, 1976; succeeds Lowell as leader of poetry workshop, Harvard, 1976; delivers "The Sense of Place" [lecture], Ulster Museum (Jan. 1977); delivers "The God in the Tree", a radio-talk on early Irish nature-poetry incl. "Buile Suibhne", and locating the origins of poetry in the pagan, feminine mysteries of the grove, RTÉ 1978; visits sites of Tollund Man in Silkeborg and the Grauballe man in Arrhus, Denmark; issues Field Work (1979);
1980: issues Selected Poems (1980), with a foreword by Ted Hughes; issues prose as Preoccupations (1980); reviews Brian Friel's Translations ('the need we have to create enabling myths of ourselves and the danger we run if we too credulously trust to the sufficiency of these myths', TLS Oct 1980)); founding member of Aosdána, 1981; joins newly-formed Field Day Company as Director with Seamus Deane, Brian Friel, and others, 1981; receives Harvard contract to teacher one term per year, 1980 [var. 1982]; appt. visiting professor at Harvard, 1981; features at the front place in Blake Morrison and Andrew Motion's Penguin Book of Contemporary British Poetry (1982), giving rise to a riposte - 'Don't be surprised if I demur, for, be advised my passport's green. / No glass of ours was ever raised to toast The Queen', in An Open Letter (1983); receives Bennett Award, 1982; awarded D.Litt, QUB 1982; "Seamus Heaney: A Personal Selection", an exhibition of works from the permanent collection of the Ulster Museum, 20 Aug.-24 Oct. 1982; issues Sweeney Astray (1983), from Irish - at first from Field Day and then from Farrar, Straus & Giroux (1984); beneficiary of Lannan Foundation Award ($50,000);
1984: succeeded Robert Fitzgerald as Boylston Professor of Rhetoric and Oratory at Harvard, 1984; wrote "Alphabets" as Phi Beta Kappa poem at Harvard, 1984; gave lecture, 'Place and Displacement: Recent Poetry from Northern Ireland' (1984; pamphlet 1855); issues Station Island (1984), including verses translated from St. John of the Cross ('How well I know that fountain, filling, running,/although it is night …'); suffered his mother's death three days after a stroke, 1984 - to be commemorated in The Haw Lantern (1987); gave his lecture "The Placeless Heaven" as opening Address at Kavanagh's Yearly, Carrickmacross, Co. Monaghan (Nov. 1985); received hon. degree of the Open University; settled at house on Strand Rd., Merrion Gates, Dublin 4 ('Now I live by a famous strand' - "In Illo Tempore", in Station Island, 1984); suffered the death of his father, of cancer, 1986 ('the final "unroofing" of the world [...]'; gave T. S. Eliot Memorial Lecture at Canterbury, 1986 and issued The Government of the Tongue, 1986); inaugurated the Richard Ellmann Lectures in Modern Literature at Emory Univ., Atlanta, Georgia, 1988; elected to Chair of Poetry at Oxford, 1989; appears on Desert Island Discs, [Sun.] 19 Nov. 1989; issues lectures Oxford as The Place of Writing (1989) - the first of which was composed in his retreat at Glanmore; Poetry Ireland/Eigse Eireann reading marked the 60th birthday of John Montague and 50th birthday of Heaney, at Gate Theatre, Dublin; Sunday 11 June, 1989, 8.p.m.;
1990: wrote The Cure of Troy (1990), in which the eponymous hero of Sophocles' Philoctetes decides to put aside his grievances and return to Troy to help the Greeks with his legendary bow - prefiguring the peace process in Northern Ireland; play premiered by Field Day at Derry Guildhall, 1 Oct. 1990, and soon after in New York; member of committee that awarded the first David Cohen lifetime achievement prize to V. S. Naipaul, 1993; attended the funeral of his friend Czelsaw Milosz in Kracow, Aug. 1994; gives address at the dedication service for a memorial to Oscar Wilde in Westminster Cathedral, 14 Feb. 1995- with readings by Judy Dench, et al.; his Oxford lectures published as The Redress of Poetry (1995); read his translation of Beowulf at QUB Centenary, 1995 (ded. John Braidwood) - taking the Ulster verb 'thole' from Anglo-Saxon tholian (suffer, endure) as 'his little passport' to the poem; awarded Nobel Prize for Literature, 5 Oct. 1995 (c.£240,000 - 'for works of lyrical beauty and ethical depth, which exalt everyday miracles and the living past'), being accompanied to Stockholm [Sweden] by family and friends including Seamus Deane to deliver his acceptance address, as he did on 7 Dec. 1995; awards published by Peter Fallon's Gallery Press, 1996;
1996: his Nobel Lecture published as Crediting Poetry (1996); gives Commencement Address at University of North Carolina, Chapel Hill, NC, 1996; issues The Spirit Level (1996), winner of Whitbread Poetry Prize, 1997 (£21,000); 1996, he was made Commandeur de L'Ordre des Arts et Lettres by the French Ministry of Culture; condemns murder of Sean Brown, chairman of GAA, Bellaghy, 1997 ('crime against the Olympic spirit'); condemns Nigerian Govt. death sentence on Wole Soyinka in letter to New York Review of Books with seven other Nobel laureates, May 1997; issued Opened Ground: Poems 1966-1996 (1998); issued his translation of Beowulf (1999), written in America, a surprise best-seller and winner of the Whitbread Book of the Year Award, 2000; elected a Saoi on 1 May 1998, being presented with a gold torc by Dr. Mary McAleese (President of Ireland); gives funeral address at graveside of Ted Hughes, reading Tadhg Dall Ó hUiginn's elegy for his brother ('a stave is broken / in the wall of learning'), Oct. 1998;
2002: issued Finders Keepers: Selected Prose 1971-2000 (2002), winning Truman Capote Award for Literary Criticism; publically lauded white rap-singer Enimem at Prince of Wales' Educational Summer School, Norwich ('sent a voltage around a generation'); appeared with Tony Harrison and Kathleen Jamie at Poetry Now Festival, Dún Laoghaire, 23-26 March 2003; issued trans. of Sophocles' Antigone as The Burial at Thebes (Abbey, 12 April 2004; Nottingham, Sept. 2007; Oxford Playhouse, Oct. 2007) - written when 'the deplorable Iraq/Bush business' was under way; Seamus Heaney Centre for Poetry opened at Queen's University, Belfast, by Sir George Bain, Heaney and Ciaran Carson,] 16 Feb. 2004 - with an annual literary journal, The Yellow Nib, commencing in 2005; received Pen/Cross award for Lifetime Literary Achievement, Dublin, Feb. 2005; issued new version of Robert Henryson's Testament of Cresseid (2005); opened the Jerwood Centre at the Wordsworth Trust, 2 June 2005;
2006: suffered a minor stroke in Donegal at the birthday of Brian Friel's wife Ann, and experiences 'renewal of love' at hand-contact with Marie in ambulance, late Sept. 2006; makes complete recovering within six weeks - the stroke becoming the subsequent subject of the title-poem and others in Human Chain (2010); winner of Forward Prize for Best Collection; issued District and Circle (2006), poems and prose poems and winner of The Irish Times "Poetry Now" Award, March 2007; winner of T. S. Eliot Prize for Poetry, Jan. 2007 [var. 2006]; The Burial at Thebes played at Nottingham Playhouse, The Barbican Pit, London, and Oxford Playhouse (Sept.-Oct. 2007); Heaney awarded Cunningham Medal of Royal Irish Academy [RIA], 28 Jan. 2008 ('in recognition of his outstanding contribution to the scholarship and the objectives of the Royal Irish Academy'; issued a virtual autobiography as Stepping Stones (2008) in the form of interviews with Dennis O'Driscoll; his book-sales in 2007 makes of two-thirds of all living poets in the UK, 2007; fitted with electronic heart device ('pleased are the pacemakers');
2009: winner of David Cohen Prize for Lifetime Achievement, March 2009; publ. of "Heaney at 70" (11 April 2009), an Irish Times Special Supplement, ed. Gerry Smyth, with tributes by Andrew Motion, Robert Pinsky, Helen Vendler, John F. Deane, Peter Fallon, Derek Mahon [poem], Henri Cole, Paul Muldoon, Peter Sirr, Joseph Woods, and Barrie Cooke [port.] and articles by Eileen Battersby, Dennis O'Driscoll, Belinda McKeon, and Niall McGonagle; "Out of the Marvellous", an 75-min. RTÉ portrait of Heaney by Charlie McCarthy, 2009; RTÉ issues a 15-CD box set of Heaney reading his 11 poetry collections, 2009; publically defended Barack Obama against detractors, 2009; issue The Human Chain (2010), a collection based on his stroke experience; short-listed for T. S. Eliot Prize; winner of the Forward Poetry Prize, Oct. 2010 - worth £10K; winner of Irish Times Poetry Now Award, 2010;
2011: attended State Dinner for Elizabeth II at Áras an Uachtarain, May 2011 - commentators remarking that he did 'toast the Queen' on that occasion; paid tribute to Ted Hughes at laying of memorial stone in Poets' Corner of Westminster Abbey, [6] Dec. 2011; donated his literary papers to NLI, 2011; awarded Lifetime Recognition Award of the Griffin Trust For Excellence in Poetry, June 2012; received Hon. PhD from Dublin City University, and Ulysses Medal of University College, Dublin, 2011; the Seamus Heaney Professorship in Irish Writing was inaugurated at Trinity College, Dublin [TCD] in 2012; gave Poetry Day Reading at Poetry Foundation (Chicago), 18 Oct. 2012 - an event inaugurated by Robert Frost in 1955; attended Merriman Summer School, with Michael Longley and others, Summer 2013; stumbled on restaurant steps after dinner with close friend, and taken to hospital for observation and diagnosed with a split aorta; d. suddenly, awaiting surgery after a heart attack, Friday, 30 Aug. 2013; texted 'Noli Tangere' to his wife minutes before his death - as revealed by his son Michael in his funeral oration; funeral service held at the Sacred Heart Church, Donnybrook, attended by President Michael D. Higgins and mult. al., incl. Paul Muldoon (eulogy address) Peter Fallon (reading), Bono and his wife Allison (Allie), Anthony Cronin; Requiem Mass celebrated by an tAthair Breandán Ó Doibhlin [Monsignor Brendan Devlin], with Brahms' "Lullaby" heard in school-days, in accordance with his own wishes, much earlier expressed to his wife; bur. later that day at St. Mary's, Bellaghy, 2 Sept. 2013; his 'last words' (i.e., Noli timere), given in English, were turned into a giant mural on S. Richmond St., Dublin, by the graffiti artist Maser; a grave-stone inscribed with the words 'Walk on air against your better judgement' (in final stanza of "The Gravel Walks") was raised on the grave in August 2015.
Posthum: Heaney's papers are held at Emory University (Atlanta, Georgia); Heaney's passing was marked in London by a 'literary wake' in the Southbank Centre's Royal Festival Hall on Wed. 20 Nov. 2013, attended by a full capacity of 2,500; the Irish Times radio critic Mick Heaney is a son; a exhibition of memorabilia entitled "The Music of What Happens" in the Schatten Gallery of the Robert W. Woodruff Library (Level 3) at Emory College was curated by Geraldine Higgins and opened on 22 Feb. 2014; his letters are at Emory, and his MSS at the National Library of Ireland; the journalist Polly Devlin (OBE) and the musician Barry Devlin (Horslips) are in-laws; "Out of the Marvellous" (RTÉ, 2009) was broadcast by BBC4 on 22 Jan. 2014; Paul Simon unveils Heaney tapestry on the theme 'out of the marvellous' (poem) at Dublin Airport and joined numberous Irish writers and musicians in a Seamus Heaney Tribute event in association with Poetry Ireland and Dublin City Council as part of One City One Book at the National Concert Hall, Dublin, 23 April 2014; New Selected Poems 1988-2013 and a reprint of New Selected Poems 1966-1987 appeared in 2014 in matching hardback; an exhibition entitled "The Hedge School of Glanmore" was held at the HomePlace, Ballaghy, curated by John Dunne, in Feb.-March 2017. DIL DIW FDA ORM HAM OCIL
Last things
: In June 2013 Heaney wrote the poem "In a Field" in response to another by Edward Thomas ("As the Team's Head-Brass") for inclusion in an interactive First World War 1914 commemorative anthology to be edited by Carol Ann Duffy. The poem, among the last he wrote, was printed in
The Guardian
on 25 Oct. 2013 [
online
] and afterwards on the front page of
The Irish Times
on 26 Oct. 2013 [
online
].
A series of "Five Fables" by the 15th-century Scottish poet Robert Henryson which Heaney completed shortly before his death have been produced in animated film-format by Flicker (Waddell Media) with a voice-over by Billy Connolly and music by Barry Douglas. Waddell also produce the Gerry Anderson
On the Air
show on BBC NI. The fables are part of Henryson's translation of Aesop into Scottish vernacular as
Morall Fabillis
. [See BBC NI News
online
.]
A Seamus Heaney Tribute Reading event was conducted at the National Concert Hall, Dublin, in association with Poetry Ireland and Dublin City Council as part of One City One Book, on 23 April 2014. Reading his poems were Michael Longley, Tomas Venclova, Niall O'hAnnagáin, Colette Bryce, Theo Dorgan, Medbh McGuckian, Eiléan Ní Chuilleanáin, Ciaran Carson, John McAuliffe, Peter Fallon, Paula Meehan, Paul Muldoon and Michael D. Higgins (President of Ireland), with song and music by Paul Brady, Liam O'Flynn, and Dónal Lunny.
A Classroom Tribute to Seamus Heaney presented by Bruce Stewart at UFRN (Brazil)
can be reached in the Ricorso Classroom via index or directly as attached.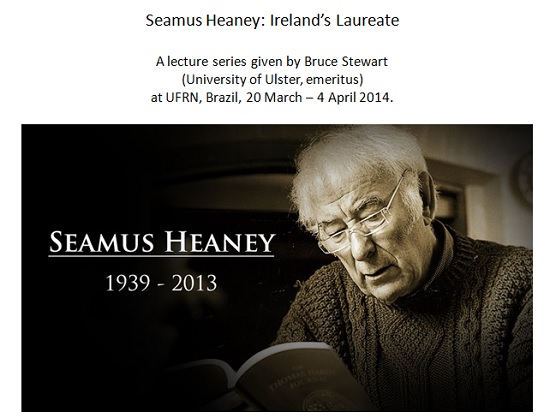 ---