Sebastian Barry: Commentary & Quotations
Drama

Fiction

Criticism

Poetry

Miscellaneous

On receiving the Walter Scott Prize for historical fiction

-

infra

.
[ See extracts of passages in novels and interviews including the terms "family" and "history" - infra. ]
Hear 'Literary Lives with Sebastian Barry and John Carey'
Guardian
Podcast - in which Barry reads from his new book
The Temporary Gentleman
and talks with Maev Kennedy about family history while John Carey reflects on a life in literature going all the way back to Biggles in conversation with
Guardian
Lit. Ed. Claire Armitstead (
The Guardian
-
online
; accessed 01.05.2014.)
Pentecost (Intro.): 'Plays and ghosts have a lot in common. The energy which flows from some intense moment of conflict in a particular time and place seems to active both of them.' (Quoted in Anthony Roche, Contemporary Irish Drama: From Beckett to McGuinness, Macmillan 1995, p.220.)
A Long Long Way (2006): 'And all those boys of Europe born in those times, and thereabouts those times, Russian, French, Belgian, Serbian, Irish, English, Scottish, Welsh, Italian, Prussian, German, Austrian, Turkish – and Canadian, Australian, American, Zulu, Gurkha, Cossack, and all the rest – their fate was written in a ferocious chapter in the book of life, certainly. Those millions of mothers and their million gallons of mother's milk, millions of instances of small talk and baby talk, beatings and kisses, ganseys and shoes, piled up in history in great ruined heaps, with a loud and broken music, human stories told for nothing, for ashes, for death's amusement, flung on the mighty scrapheap of souls, all those million boys in all their humours to be milled by the millstones of a coming war.'
Quoted at Goodreads.com -

online

; accessed 16.08.2011.
The Secret Scripture (2008) - Roseanne Clear: '[History] is not the arrangement of what happens in sequence and in truth, but a fabulous arrangement of surmises and guesses held up as a banner against the assault of withering truth.' (p.56.) 'How does good history become bad history by and by?' (Ibid., p.119.)
See further extracts from The Secret Scripture - as attached.
[
See
transcript of NPR interview with Samuel Briger - 27 Feb. 2017 - as
attached
. ]
[ top ]
Steward of Christendom (1995), Thomas Dunne on Queen Victoria: 'I loved her for as long as she lived, I loved her as much as I loved Cissy my wife, and maybe more, or differently. When she died it was difficult to go from her to the men that came after her, Edward and George, they were good men but it was not the same. When I was a young recruit it used to frighten me how much I loved her. Because she had built everything up and made it strong, and made it shipshape. The great world she owned was shipshape as a ship. All the harbours of the earth were trim with their granite piers, the ships were shining and strong. The trains went sleekly through the fields, and her mark was everywhere, Ireland, Africa, the Canadas, every blessed place. And men like me were there to make everything peaceable, to keep order in her kingdoms. She was our pride. Among her emblems was the gold harp, the same harp we wore on our helmets. … She loved her Prince. I loved my wife. The world was a wedding of loyalty, of steward[s] to Queen, she was the very flower and perfecter of Christendom. Even as the simple man I was I could love her fiercely. Victoria.' (Steward of Christendom, London: Methuen, p.14; Plays of Sebastian Barry, London: Methuen 1997, p.250.) (Quoted [in large part] in Claire Gleitman, 'History and the Limits of the Personal: Sebastian Barry', The Steward of Christendom', IASIL [Conference Paper 1998]; also in John Wilson Foster, '"All the Long Traditions": Loyalty in Barry and Ishiguro', in Between Shadows: Modern Irish Writing and Culture, Dublin: IAP 2009, p.78.)
[ top ]
Steward of Christendom (1995) [play] - Thomas Dunne: 'Dear Lord, put the recruits back in their barracks in Fitzgibbon Street, put the stout hearts back into Christendom's Castle, and troop the colours once more for Princess and Prince, for Queen and for King, for Chief Secretary and Lord Lieutenant, for Viceroy and Commander-in-Chief. But you cannot. Put the song back in the mouth of the beggar, the tune back in the penny-whistle, the rat-tat-tat of the tattoo back in the parade ground, stirring up our hearts. But you cannot. Gone.' (Steward of Christendom, London: Methuen 1995, p.37; quoted in J. W. Foster, op. cit. 2009, p.78.)
Further - Thomas: 'I know my own story of what happened, and I am content with it'; 'tide of ruin'; '[everything] in its place, loyal, united, and true.' (Quoted in Claire Gleitman, op. cit.)

Further - Thomas: 'We did our best and followed our orders. Go out to Mount Jerome some day, in the city of Dublin, and see the old monument to the DMP men killed in the line of duty. Just ordinary country men keen to do well. And when the new government came in, they treated us badly. Our pensions were in disarray. Some said we had been traitors to Ireland.' (Steward, 1995, p.9; quoted in J. W. Foster, op. cit. 2009, pp.79-80.)

Further - Thomas: 'And I would call that the mercy of fathers, when the love that lies in them deeply like the glittering face of a well is betrayed by an emergency, and the child sees at last that he is loved, loved and needed and not to be lived without, and greatly.' (?Plays, p.301; see Scott T. Cummings, 'The End of History: The Millenial Urge in the Plays of Sebastian Barry', in Stephen Watt, et al., eds., A Century of Irish Drama: Widening the Stage, Indiana State UP 2000, p.297.) [Alt. ref.: The Steward of Christendom, Dramatists Play Service Inc. (1995, 1998), p.56.]

[Cf. Beckett, Molloy: 'the man was innocent, greatly innocent' (Beckett Trilogy, Picador Edn., 1979, p.11.)]
[ top ]
Our Lady of Sligo (1997) - Jack: '[H]er fame was current among the very leaves of the sycamore in the avenues of the university'; 'Ireland, where is that country? Where are those lives that lay in store for us like rich, warm grain'. Mai: 'Youth and age. What a tide it all is. And nary a moment to catch your thoughts.'
[ top ]
Whistling Psyche (2004): Miss Nightingale - 'I begin to be anxious about the great silence of this place. There is a lack of anyone attending us, no? I think it would be an ease of the mind if you would speak to me. What time is it? ... What time will the trains run to if this great clock is stopped? When the trains no longer run on time, then we may say English life is over. Is there not a little bell to ring for someone to come? I see nothing. Can you not help me?' (p.47; quoted in Munira H. Mutran, 'The Mysterious Dimension of the Human Spirit': Sebastian Barry's Whistling Psyche', in From English Literature to Literatures in English: Vol. V - International Perspectives, ed., Michael Kenneally & Rhona Richmann Kenneally, Heidelberg: Universitätsverlag Winter, 2005, p.184.)
Whistling Psyche (2004): Dr. Barry - 'I linger because I cannot leave while my only legacy is whispered spite and scandal. I wish I were a person in an age when my achievements might be seen as mighty things, that would not reduce my remnant life to a miserable scurry of turnout and disgust [...] And so, though I long to go, I cannot go, for there is no approbation, no love of monarch or mortal, to release me. Here I abide the mourner of myself, as the rememberer of my own heart, waiting in the waiting-room, even the desperate celebrator of an imprisoned soul.' (pp.56, 57; quoted in Munira H. Mutran, op. cit. p.187.)
[ top ]
Q & A: 'Why should the playwright revisit the Victorian Age at this very moment?' - 'I don't know exactly why I have dropped like a bird on these Victorian rocks, and something has veered me there (could it be the horror of an 'imperial' war at the very start of a century we hoped might be the century of diplomacy?). Perhaps it is better for me not to know, so I can wander about in the fog, if not safely, at least blindly. It is something to do with that mid-Victorian sense that the idea of the British hero was being erased by the plain reporting of actual history, but also the effort of even a man like Dickens to keep the heroic alive, even when in his deep heart he must have known it was a lost idea. So he for instance turned the notion of the Gentle Savage into the Murdering savage. So there is Dr Barry/Irish Savage, Miss Nightingale/heroic ideal. But as I say, I am guessing and deep in ignorance about my own progress and purposes (a good thing again I am sure). Not so much for an understanding of the 20th Century but a deep alarm about the 21st (my children's century.)' (Letter to Munira Mutran, quoted in Mutran, op. cit., p.190; for longer extracts, see RICORSO Library, "Criticism - via index or direct.)
[ top ]
The Engine of Owl-Light (1987), Opening: 'Humpety hump. Thems were my very words, No point in spittin, I said. Yass, yaas, Oliver, Olleeverr. Kin? No, Conn. Con? No, Conn, ye dolty. Jes a story, no more en that. Ye bleedin steam-wiper, I says, what a story. Do you want it? Or is it all the same to you? Here's a fire, I admits. I did. Grey granite. What other bluedy cooler, I axes. Conny. Ofiver Conn. Man of his tribes and tributes, eh? I was sore in love with im. No I were not. Wree did I learn me English? Sure it was di army, you know dat place. Listen, Moll, drag up. Here's a one. Long time ago, maybe. Mebbe not. Scittish? Not at all. Notatall, he was of the West, a man in his black boots. How do I know? I seen em, I smelled em, I polished em. When was all this, Mr Apostle? It was long since, I'm tellin yer. An don call me dat. Moran it iss. Hold your tongue, your tongue dont come out right. Yas, yas, he was a rum one, last of his linegage, went into the gutter of histyre shortly After, and no place for a soldierboy, I think. Did he rise out of it? He did naat, he fixed there for good, nothing else heard of him. And how did all that come about, who caused that? A great conqueror he was from that time, those places beyond over the morning bit. The dawn? Aye, the dawn. Sit closer, Moll, if you want mol hand on yer knee. You hopeless skieser, skittle, skittle. Will yez begin? I'm greased by yoor expectoratin. Do stop, the doc says, stop expectoratin on them linoleum flor. Good for me bowels, I said. I, I said. I, I said, Doc, me hearty farty give over them verbs from the doctioneery, becorse I am agin all that. Avv no intention now of any of the sort. It was in the West, I well remember, before the last and final conflict, that did put the kibosh on the nation, that did hurt it sore and ever. If I may call it the Catholik revolving, the King of Rame's work, an excellent man' but none of ours, and wanted none of us. Moll, your hand is too cold for me shins. Your hand is too cold for all and aught. Moll, [7] in the West, pay yer heed, and incline your showy head all the time. What year? Who can say? Lassy year perhaps, lassie. What odds? And odds going on he had. An ancestor? Not at all, twas me meself, it was I there in the foretime. it is a history of myself I yam peddling ye, what else? Me younger years, sure you how how I was. A man of sustinance. never a cabbage to be wanted in our household. not in ower, to emphasise that. Hooly gawd, he was a handsorme fellaugh, he was a howel, no. Piddle in his puddles like the besht of em, oora lady. I am about to be explaining to you. To you. Hold while I get me steam up. And we whereabouts.' (pp.7-8.) [Cont.]
The Engine of Owl-Light (1987) - cont. BATTY MORAN: Long, long, ago, in a small town of the west of Ireland, namely Sligo - it doesn't matter what town it was, it was a small sewer of a place, and the people were gruel-minded and often unusually mean. The silver wind, that had no real currency, caused this in the population, because it scoured out their decency, and what was left was a clean whistling bone of smallness. They despised the country people, with their soft turf, and their tough marriages and nonmarriages, and their puerperal muddles, slipping into all sorts of wrong-doing, by way of courtesy.
[/…/]
In the light of your mother's bad luck you were doled your days, an old mule before you were out of shorts, if you had shorts. If you were a child of normal intelligence, you were considered an idiot.
The first trial of Batty Moran's life was the poor house. Far be it from me, a mere chronicler - a small joke - to say what he suffered there. But he did suffer, and it left its mark. In some foul ditchy manner, he was addicted to the place after hie survived it. Hundreds of babies from all over the countryside went in there, and from the bleak town too. And the gentle motherly nurses - still ferocious in their ancient photographs, that spoil their graves - dosed the brief mouths with mercury to cure the syphilitic little childer. Now, whether or not they had this disease was impossible to tell. But the nurses knew. So the babies got their dose of mercury, and it killed most of them, about ninety-nine-point-nine per cent, as people say. That's a lot of little corpses to be rotted in the lime-pit. But then it was a great guard against the syphilis, and Dermot the butcher and his wife could feel safe for another generation. Their pale broad children, with brains like paper hats, could feel certain of a disease-free wife or husband in the coming happiness.
Maybe Batty Moran has a liking for mercury as a mite, what [21] it was, he got over it. Perhaps it didn't do his head much good though, because it trembled and shook even as a one-year-old. The nurses were shocked by this survivor [...] and they shoved a bit more of the ever-running stuff into him but he got over that too. And all that happened was his head rolled now and then, instead of trembled.
The poor house was divided into three parts, like Gaul in the school-books. Moran noticed many years later: the invisible Men, the invisible Women, and the visible male Children. Female babies never prospered, as a rule. [22] [Cont.]

The Engine of Owl-Light (1987) - cont.: 'As an introduction to the world it was ideal. The neon imploded affectionately behind my slow-motion head, and the colours steeled in very minutely, and wrapped in a fresh cloth around my hair. Sue's bottom strained up in a gesture a horse will make alone in an incidental field, with its muscled neck, and the brain of my thighs responded down the wires with a thick bitten movement against her. I struggled my arms about her white shoulders and made her blades imprint against my burnt chest. Her damp head engined under my cheek. I felt oddly but exactly like a large troubled animal that has just eaten some smaller troubled creature, and is digesting this catalyst to [160] happiness in a warm safe sunshine. / The varied facts of the room could only reach a boundary some feet around our skins, and they fell without disturbing us to the gritty carpet. The first thing was to move again and again to the same slightly shifting mathematic, to indulge with best instinct the lemming character of ourselves, that wanted to abandon responsibility and toss into a sea of the fleshy present.
The narrative changed tone when Sue's invisible cunt fluttered and beat like pigeons in their cot. Her cunt had travelled into the rooms of my stomach, and yet they seemed very distant birds when they vigorously whisked their wings, and made her ticker-tape a miniature scream from the corner of her dribbling mouth. My phallus was intelligent enough to try and follow, but I was disconcerted to feel like a tap filling a hose to the point where the rushing water reaches the nozzle, just before it divides out into the air. I was prevented from being reminded of anything more companionable by the insertion of a shadow between the three neon lights and my two candled eyes. This startled me, and while Sue surfaced and trod water on the hard little bed I had a wrenched cut-off sensation, like a child whose reaching hand has been unexpectedly rapped by an adult. I disentangled our various leads and valves and dragged the cover off the twin bed and twisted it around my waist. The still human shadow remained as exact as cardboard outside on the barrel porch.
There was a tussle then, and a few broken words, and the standing outline was disturbed and confused by another less defined blackness./ I opened the rattling door with a system of sharp tightness in my chest. The newness of the old night was like a reminiscence of itself as it met me. On the boards of the porch there was an apparently intoxicated man, and Chicken was trying to get him to his feet, but seemed so irritated with the floppy man that his yanking just served to make brief ripping noises in the fellow's shirt. / "What's that, Owl?" said Sue in the drowned room behind me.
"What the fuck are you up to, Chicken?" I said, and I shivered in the warm night soup. / "This floating ratbag was peeping in at you", Chicken said. "The little scumbag!" (pp.160-61; and see epigraph, infra.) [Cont.]

Note that the very extensive extracts from this novel given here are related to the essay which I contributed to the critical collection on Barry edited by Christina Hunt Mahony (Carysfort Press 2006) - viz., Bruce Stewart, '"To have a father is always big news": Theme and Structure in The Engine of Owl-Light', pp.37-60.

The Engine of Owl-Light (1987) - cont.: 'But are descriptions of this type self-defeating - do things become just patched up out of words, in a vocabulary of forgetting? [...] I should make a start, and stop believing that memory gets things wrong, and accept that I, that is the controlling I, the I that for some bitter nervous reason believes it knows best, must often be in error. hell, memory is the business itself as it is unfolded, and happening with only changes of style or non-style for ever. It is a darwin and I am those sensible ladies who [231] knew they weren't sprung from apes. So as always in my deistic afternoon of someone else's empire, it is more important to believe than to know, to belive in the hope of knowing later, when the unknowledgeable pinhead, who decides and goes on under the uncaring stare of memory, begins to get peeks through that stare, like a child suffered to peer for a moment thorugh a seaside telescope, which whirrs by grace of the childish adult's sixpence. Look, there is Howth town, when to you it looks like a deserted cove. And you had Robinson Crusoe in there on some ancient burghers' plots.
Well then, memory is older and wiser than I am, and it has a supply of sixpences in its pocket for the metal finder. So better attend to what it has to say, and don't trot out dangerous guesses. Listen with the widest lugs I can grow.
These matters then come courtesy of the memory of Oliver Conn, and the poor juvenile man knows nothing except what memory had told him by way of story, and it carries much more that he does. It is a sort of familiar to his life, but neither avuncular nor malign, neither supportive nor obstacle-minded. Neither honours nor disgraces, neither a familiar friend nor a familiar foe. It rides on my shoulders and I am just a vehicle among its fingers, a sort of stone that rain and weather can happen to. But it is neither lithographer nor paleographer. If something is covered over, this familiar is still the spirit of that something. It is in everything and everything, notices everything, retains everything, and remains everything. It grows with information, and I stay the few rags of a stock character, and the handful of notions a monkey needs to drink tea. Memory has no accent, like one of those people whose origins are vague and called neutral - but it also has all accents when it has been them all. A pervasive liquid traveller, who is as comfortable in third class as first, or uncomfortable. Neither tyrant nor guardian, something to fear and love - which reminds me of something, but of course I don't know what. A parent perhaps, at least in early years. Sun and years are fuddling my vision, but this bastard son of no one, or hermaphrodite of no origin, marches on without deterioration or confusion, an oracle of anything between blood and water. It doesn't seem to care, though it minutely distinguishes. And if it cared then it would perish too. So don't be bothered about anything, memory, or it'll bring [232] such trouble on your head, if you have one, that who knows what would happen to me. Don't mind or celebrate what you see, my neutral familiar. [232]
[ top ]
The Whereabouts of Eneas McNulty (1998): 'In the middle of the lonesome town, at the back of John Street, in the third house from the end, there is a little room. For this small bracket in the long paragraph of the street's history, it belongs to Eneas McNulty. All about him the century has just begun, a century some of which he will endure, but none of which will belong to him. There are all the broken continents of the earth, there is the town park named after Father Moran, with its forlorn roses - all equal to Eneas at five, and nothing his own, but that temporary little room. The dark linoleum curls at the edge where it meets the dark wall. There is a pewter jug on the bedside table that likes to hoard the sun and moon on its curve. There is a tall skinny wardrobe with an ancient hatbox on top, dusty, with or without a hat, he does not know. A room perfectly attuned to him, perfectly tempered, with the long spinning of time perfect and patterned in the bright windowframe, the sleeping of sunlight on the dirty leaves of the maple, the wars of the sparrows and the blue tits for the net of suet his mother ties in the tree, the angry rain that puts its narrow fingers in through the putty, the powerful sudden seaside snow that never sits, the lurch of the dark and the utter merriment of mornings.' (Opening; p.3.) [Cont.]
The Whereabouts of Eneas McNulty (1998) - cont.: 'England suffers the affliction still that brought the Tans to Ireland, there is work to be had almost nowhere, and the flotsam of men and women without employments spreads everywhere, pushed by the shallow sea of need. As he moves from town to town, as much a ghost as any English drifter, he marvels at the condition of the old Promised Land. For an Irishman might affect to hate England and love America, but they are both and were ever equal refuges to him. The towns seem to be rotting at the edges, like lost villages of the West of Ireland. Even the King cannot cure this palsy. The King is much talked of though, as a man suffering in spirit with the forlorn multitudes. He is seen in his dark suits here and there, commiserating, gripping hands, his face furrowing and darkening. He is like a creature going black from being underground, you can see him a little agape and peculiar in the newspaper, should a newspaper happen to blow by your feet. And all the clockwork and rightness of England is hurt and bloodied. And Eneas knows it is the war that did it, England has broken herself for those fields of France.
Maybe he sees England now through his pall of grief, his mantilla of bitterness. Truth to tell, as he sits betimes at some scored table in a charitable hall, listening to the sermons of sin and death and taking his stew, he is not a singing man, nor a light man. At such times the metal of himself is being beaten and bent over the anvil like something a blacksmith is trying to straighten. And surely the [125] farmer will return in the evening to find the task uncompleted, impossible.
Still, out on a white lane, between lanes of hops on their bulky poles, the metal suddenly comes now and then right and the sheer tincture of beauty dropped into his darkened blood delights him, jimmies him up, makes him smile, alone, hated, but human on the ravelling road.' (pp.125-26.) [Cont.]

The Whereabouts of Eneas McNulty (1998) - cont.: 'Eneas looks at it all with simple eyes and having no desire to loiter the rest of his days, joins at the hint of his Pappy the Royal Irish Constabulary. He's not the complete eejit as Jonno may believe, he's not the last innocent on earth. He knows why there are places in the peelers when there are places nowhere else. The RIC is composed no doubt of lost men, ordinary fellas from the back farms of Ireland, fools and flotsam and youngsters without an ounce of sense or understanding. And the legends of the RIC are all evictions, murders and the like, though many an Irish family was reared on those wages, and many a peeler was a straightforward decent man. Still, the word Royal is there before all, and they carry arms, and the top men are all out-and-out Castle men. But no matter. He can't live a life to please Jonno Lynch, much as his heart is grateful for the adventures of his youth. Or he would lead a life to please Jonno Lynch if Jonno still had a grá for him, a friendly love for him. But he does not, clearly. And a fella must work, must toil in the dry vale of the world.' (pp.55-56.)
[ top ]
Annie Dunne (2002): 'The little girl begins to sing. She has a flat, peculiar little voice for herself, but it is thin and with enough colour to suggest a tune, like a penny whistle or the like. "Inchworm, Inchworm, measuring the marigolds", she sings. It is a song I have never heard. They have songs now no one has heard, first-time songs, unlike years ago, when all the songs were known by everyone and a new song was like a wind from the Sahara. bearing a strange red dust, a miracle. The little boy squeals with delight, squirming he is with the pleasure of it, like a proper audience. The girl's face is still, radiant. The boy bangs in the bath, knuckles and other bones finding the enamelled tin. Such is the ture of his delight, turning his little contraption of being to queer drumsticks.' (p.63.)
Annie Dunne (2002) [cont.]: 'But I have lost her - I have lost myself. I am trying to tell her, what? That time has thrown me from my own family, that Matt has thrown me from my former niche, that Kelsha is my last refuge, my last stand, that the half of her warm bed is all my desire, that I will be glad to go to my grave from this small yard, carried out between the pillars with their nesting stones […] That always I have expected to be cast off, discarded, removed […] My hurts and thoughts discounted. That we have, she and I, not a marriage of bodies but a marriage of simple souls, two women willing to do the work of a hard subsistence farm, to dig out the potato ground, to milk the milch cows, to tend the fire, to fetch the water, even when she is dark and dour to take her tasks to myself, and recognising that there is no honey of man here, no strong, hard limbs of man to crush us underneath him, and give that crazy pleasure that we have only heard tell of, that holy ecstasy that was not accorded to us, recognising the losses and lacks, that we have a world here, a way, an admirable life enough … But, none of these things I utter. None. Because I cannot get the words out, and if I could, she would not hear them as I intend them. It would be like Mrs Nicodemus. with other meanings than I intend. / So the only way to answer now will be by deviousness and counter-play. The only way to answer will be to confound this Billy Kerr in his evil plans by actions more dark and dexterous than his own. Poor, slight, long Sarah. Does she think it is for her he has walked this strange walk?' (p.127.)

Annie Dunne (2002) [cont.]: '[T]his woman, a middle-aged woman, quite well-to-do, she rises up and stands beside us like a long streak of misery, staring at us ... And she said we were Jezebels and should have our heads shaved and be whipped, for following the Tommies. And the conductor looked at her, and hadn't he served in France himself, as one of the Volunteers, oh, it was painful, the way she looked back at him, as if he were a viper, or a traitor ... A man that had risked himself, like Willie but had reached home at last.' (p.265; quoted in Anthony Roche, 'Irish Drama in the 1990s', in Ireland on Stage: Beckett and After, ed. Hiroko Mikami, Minako Okamuro, Naoka Nagi, Dublin: Carysfort Press 2007, p.9).
[ top ]
A Long Long Way (2006) - Jesse Kirvan: 'I thought it would be a good thing to follow John Redmond's words. I thought for my mother's sake, her gentle soul, for the sake of my own children, I might go out and fight for to save Europe so that we might have the Home Rule in Ireland in the upshot. I came out to fight for a country that doesn't exist, and now, Willie, mark my words, it never will.' (p.157; quoted in Donatella Abate Badin, '"People Mired in History": Sebastian Barry and Cultural Memory', 2014.)
[ top ]
Opening
The world begins anew with every birth, my father used to say. He forget to say, with every death it ends. Or did not think he needed to. Because for a goodly part of his life he worked in a graveyard.
§
That place where I was born was a cold town. Even the mountains stood away. They were not sure, no more than me, of that dark spot, those same mountains.
There was a black river that flowed through the town, and if it had no grace for mortal beings, it did for swans, and many swans resorted there, and even rode the river like some kind of plunging animals, in floods.
The river also took the rubbish down to the sea, and bits of things that were once owned by people and pulled from the banks, and bodies too, if rarely, oh and poor babies, that were embarrassments, the odd time. The speed and depth of the river would have been a great friend to secrecy.
That is Sligo town, I mean.
(The Secret Scripture, Faber 2008, p.3 [opening])
Dr Grene tells Roseanne of his wife's death.
Dr Grene crossed to the little chair by the window where I like to sit when the weather is a little warmer. Otherwise there is a chill that seems to penetrate the window-glass. Below the window there is a yard, the high wall, and the endless fields. Roscommon town I am told is over the horizon, it may be. [99] There is a river that moves between the fields that in the summer takes the light and uses my window as a signal, signalling to what or who or where I do not know. The riverlight plays in the glass.
"Can you remember, Mrs McNulty, what it was - I mean, the events leading up to your presence in the Sligo asylum? [...] Can you remember anything about the matter?"
"I don't remember. The Leitrim Hotel they called it. I do remember that."
"What?"
"They called the asylum in Sligo the Leitrim Hotel."
"Did they? I never knew that. Why so? Oh," he said, nearly laughing, nearly, " because - yes."
"Half of Leitrim was said to be in it."
"Poor Leitrim."
"Yes."
"That is an odd word, Leitrim. I wonder what it means? I suppose it is Irish. Of course it is."
I smiled at him. He was like a boy that has banged his knee and now the pain was subsiding. The cheefulness of a boy after pain and tears.
Then he sank back again somehow, blackening deeper into himself, like a mole in the earth. I answered him largely to raise him back again
"I do remember terrible dark things, and loss, and noise, but it is like one of those terrible dark pictures that hang in churches, God knows why, because you cannot see a thing in them."
"Mrs McNulty, that is a beautiful description of traumatic memory."
"It is?"
"Yes, it is."
He sat there in his own version of silence for a long while. He sat so long he was almost an inmate of the room! As if he lived there himself, as if he had nowhere to go to, nothing to do, no one to attend.
He sat in the chill light. The river, drowned in its own water, and drowned a second time in the rains of February, was not in a position to throw its light. The window-glass was severely itself. Only the still grass of winter far below lent it a slight besmirch of green. His eyes, now much clearer somehow and more distinct without the beard, were looking forwards as if at an object about a yard away, that stare that faces have in portraits. I sat on the bed, and without the slightest embarrassment watched him, because he wasn't watching me at all. He was looking into that strange place, the middle distance, the most mysterious, human, and rich of all distances. And from his eyes came slowly tears, immaculate human tears, before the world touches them. River, window and eyes.
"What is the matter," Dr Grene? I said.
"Oh," he said.
[...; 102]
I stood by him and held out my right hand and placed it on his shoulder, actually a little behind the shoulder on his back. I had this unbidden memory of my father sitting on his bed, holding my mother, and patting her back almost childishly. I didn't dare pat Dr Grene, but just rested my old hand there.
"What is the matter?" I said.
"Oh," he said. "Oh. My wife is dead."
"Your wife?"
"Yes," he said, "yes. her breathing deserted her. She choked, she choked - suffocated."
"Oh, my poor man," I said.
"Yes," he said. "Yes."
Then I knew something about Dr Grene. I had opened my mouth to tell him something about myself, by grace of his lost beard, and out of his own mouth had issued this news, this huge information.
With infinite sadness and very quietly, he added: "It is also my birthday."
(Ibid., pp.99-101.)
De Valera and the Economic War.
You could judge a lot of the effects of Mr de Valera's famous economic war that time form the window of a train. We had been married in the springtime and because there was no market for lambs now, the farmers had to kill the lambs in the fields. So as the train went through the country every now and then we saw these perishing corpses. Tom was very upset about all this. De Valera's men were in power and to him that was just the same as gunmen and murderers taking over the country, the very selfsame country they had tried to scupper after the Treaty. It all set the teeth of fellas like Tom on edge. (p.170.)
The Secret Scripture (2008) - cont.: 'The world is not full of betrayers, it is full of people with decent motives and a full desire to do right by those who know them and love them. This is a little-known truth, but I think it is a truth nonetheless. Empirically, from all the years of my work, I would attest to that. I know it is a miraculous conclusion, but there it is. We like to make strangers of everyone. We are not wolves, but lambs astonished in the margins of the fields by sunlight and summer.' (p.186; quoted in Donatella Abate Badin, '"People mired in history": Sebastian Barry and Cultural Memory', 2014.)

The Secret Scripture (2008) - cont.: 'Memory […] if it is neglected becomes like a box room or a lumber room in an old house, the contents jumbled about, maybe not only from neglect but also from too much haphazard searching in them, and things to boot thrown in that don't belong there. I certainly suspect [201] - well, I don't know what I certainly suspect. It makes It makes me a little dizzy to contemplate the possibility that everything I remember may not be – may not be real. There was so much turmoil at that time that – that what? I took refuge in other impossible histories, in dreams, in fantasies? I don't know.' (pp.208-09 [recte 201 in Faber edn.; quoted in Donatella Abate Badin, op. cit., 2014.)
Roseanne's journal - concluding lines:
If you are reading this, then the mouse, the woodworm and the beetle must have spared these jotters.
What can I tell you further? I once lived among humankind, and found them in their generality to be cruel and cold, and yet could mention the names of three or four that were like angels.
I suppose we measure the importance of our days by those few angels we spy among us, and yet aren't like them.
If our suffering is great on account of that, yet at close of day the gift of life is something immense. Something larger than old Sligo mountains, something difficult but oddly bright, that makes equal in their fall the hammers and the feathers.
And like the impulse that drives the old maid to make a garden, with a meagre rose and a straggling daffodil, gives a hint of some coming paradise.
All that remains of me now is a rumour of beauty.' (p.268.)
The death of Roseanne's father:
[...] The civil war that followed caused further mayhem to the kindly instincts of young men in Sligo. Eventually time was found to turn attention to Roseanne's father, and his end was curious and protracted.
One night as he came home he was abducted on the corner of his street. He was drunk as was his custom, and his daughter was waiting as was hers. [...; 179] Fr Gaunt thinks the plan was to take him up to the top of the round tower there in the graveyard and fling him out of the window at the top, or some such strategy. / His mouth was stuffed with white feathers, no doubt to characterise his former works [...;] Then alas he was beaten with hammers, and an effort made to push him out the little window [...] Their less than theatrical solution to the question of his execution was to hang him in a derelict house nearly. I do not think in the atmosphere of the times he would have been much missed. No doubt he had acted against his own people. They were young men trying to avenge a great wrong, and young men are excitable and sometimes clumsy. No, not much missed, such a man. / Except by Roseanne. (Faber Edn., 2008, p.179-80.)
See
also under "Word Census in The Secret Scripture" - as
attached
.
On Canaan's Side (2011) - Lily Bere [née Dunne]: 'When I first was told this story as a child […] I misunderstood and thought my father had done something heroic. I added in my imagination a white horse, upon which he rode with ceremonial sword drawn. I saw him rush forward like in a proper cavalry charge. I gasped at his chivalry and courage. It was only years later I understood that he had advanced on foot, and that three of the working men had been killed.' (p.6; quoted in Donatella Abate Badin, op. cit., 2014.)
[ top ]
Days Without End (2016) - Chap. 1 [extract]:
The method of laying out a corpse in Missouri sure took the proverbial cake. Like decking out our poor lost troopers for marriage rather than death. All their uniforms brushed down with lamp-oil into a state never seen when they were alive. Their faces clean shaved, as if the embalmer sure didn't like no whiskers showing. No one that knew him could have recognised Thooper Watchhorn because those famous Dundrearies was gone. Anyway Death likes to make a stranger of your face. True enough their boxes weren't but cheap wood but that was not the point. You llift one of those boxes and the body makes a big sag in it. Wood cut so thin at the mill it was more a wafer than a plank. But dead boys don't mind things like that. The point was, we were glad to see them so well turned out, considering.
I am talking now about the finale of my first engagement in the business of war. 1851 it was most likely. Since the bloom was gone off me, I had volunteered aged seventeen in Missouri. If you had all your limbs they took you. Ifyou were a one-eyed boy they might take you too even so. The only pay worse than the worst pay in America was arrny pay. And they fed you queer stuff till your shit just stank. But you were glad to get work because if you [1] didn't work for the few dollars in America you hungered, I had learned that lesson. Well,I was sick of hungering.
Believe me when I say there is a certain type of man loves soldiering, no matter how mean the pay. First thing, you got a horse. He might be a spavined nag, he might be plagued by colic, he might show a goitre in his neck the size of a globe, but he was a horse. Second place, you got a uniform. It might have certain shortcomings in the stitching department, but it was a uniform. Blue as a bluebottle's hide.
Swear to God, army was a good life. I was seventeen or thereabouts beginning,I could not say for certain. I will not say the years going up to my army days was easy. But all that dancing put muscle on me, in a wiry sort ofway. I'm not speaking against my customers, I'm speaking for them. If you pay a dollar for a dance you like a good few sweeps of the floor for that, God knows.
Yes, the army took me, I'm proud to say. Thank God John Cole was my first friend in America and so in the army too and the last friend for that matter. He was with me nearly all through this exceeding surprising yankee sort of life which was good going in every way. No more than a boy like me but even at sixteen years old he looked like a man right enough. I first saw him when he was fourteen or so, very different. That's what the saloon owner said too. Time's up, fellas, you ain't kids no more, he says. Dark face, black eyes,Indian eyes they called them that time. Glittering. Older fellas in the platoon said Indians were just evil boys, blank-faced evil boys fit to kill you soon as look you. Said Indians were to be were to be cleared off the face of the earth, most like that would be the best policy. Soldiers like to talk high. That's how courage is made most like, said John Cole, being an understanding man. (pp.1-2.)
—See full-text version of Chapter One - as
attached
.)
Time passes

Older fellas in the platoon said Indians were just evil boys, lank-faced evil boys fit to kill you soon as look at you. Said Indians were to be cleared off the face of the earth, [2] most likely that would be the best policy (pp.2-3.)

[...] Things just go on. Lot of life is just like that. I look back over fifty years of life and I wonder where the years went. I guess they went like that, with me noticing much. a man's memory might have only a hundred clear days in it and he has lived thousands. Can't do much about that. We have our store of days and we spend them like forgetful drunkards. I ain't got no argument with it, just saying it is so. (p.74.)

I guess that love laughs at history a little. (p.77.) Caught-His-Horse-First must of gone down [74] into Mexico (... pp.74-75 note Hibernicism.)

A massacre

[...] No fighter on earth as brave as a Sioux brave. They have their squaws and kindred sheltered and now at the last desperate moment they must risk all to defend them. But the shells have done terrible damage to the camp. Now I can see plain the broken bodies and the blood and the horrible butcher shop of carnage that those bursting metal flowers have manufactured. Young girls are strewn about like the victims of a terminous dance. It is as if we have stopped the human clock of the village, that's what I were thinking. The hands have stuck and the hours will be no more. The braves come on like perfect demons, but I will allow magnificent, keenly storming. There's so much blood in their hearts they might be bombs also. Now we be wrestling, falling and rising, we are thirty soldiers against six or seven, all that our bombs and bullets have missed. These are fierce men with the bitterness of useless treaties in their bellies. Even in the flash and spark of battle I can see how famished they are, the bronze bodies long-muscled and scrawned. We kill these men by sheer weight of numbers. Now only the sheltering [86] squaws and such remain. The sargeant, wheezing like a wind-broke horse, halts the ruckus of death and bids two men go down to the ravine and round up the women. What's in his head to do that we do not know for the women rush up from where they have laid in their forms of grass and with shrieks as sharp as blades charge against the startled soldiers, and they are engulfed in a frenzy of stabbing. Others of us rush and kill these women. Now we have four, five of us dead, and all of them. Fearfully the lip of the ravine is broached. We look down into its sheer stony depths and there in a nest are a butcher's dozen of youngsters, their faces gazing up, as if they are praying to see their people returning to them. But this cannot be.
[...]

—Days Without End (Faber & Faber 2016), pp.86-87.




Selected quotations:

"The old ships started to bring ruined people to Canada, people that were so hungry they might eat each other in the holds. I am not saying I saw that. But I was 13 or so and I knew in my heart and soul I had to flee."

"No one wanted us. Canada was a-feared of us. We were a plague. Only rats of people. Hunger takes away what you are."

"I only say it because without saying I don't think anything can be properly understood. How we were able to see slaughter without flinching. Because we were nothing ourselves, to begin with."

"Hunger is a sort of fire, a furnace [...] I loved my father when I was a human person formerly. Then he died and I was hungry and then the ship. Then nothing. Then America. Then John Cole. John Cole was my love, all my love."

"South don't got uniforms, grits, or oftentimes shoes. Half of these fierce-looking bastards in bare feet. Could be denizens of a Sligo slum-house. God damn it, probably are, some of them."

—Quoted in Gillian Reynolds, 'Why Sebastian Barry's Days Without End deserves the Costa Award', in The Telegraph (2 Feb. 2017) - online.)
[ top ]
'The History and Topography of Nowhere', Introduction to The Inherited Boundaries: Younger Poets of the Republic of Ireland (Dolmen 1986): 'The point of an anthology often shifts rapidly, but initially, in this case, it is this: to clear up a misunderstanding. No one in Ireland, or English for that matter, imagines that there is only one political sensibility on this island, and yet a unified poetic sensibility is presumed, easily, to exist, and it is not so. It can not be the same to grow up within the inherited boundaries of the Republic, as to manage a like feat inside the markers of the Northern province, and this is clearly reflected in the two poetries. Paul Muldoon, Tom Paulin, Gerald Dawe, Medbh McGuckian, and their confrères and consoeurs, do not share a [13] sensibility with the poets of the South, unhappily or otherwise. / This is a poetical condition, not a political one, but in the politics of poetry it has had a bad effect: the work of the young Northern poets has received a (due) prominence, partly because of its excellence, partly because of the Troubles, and partly because of Faber and Faber; and they have come to seem, in England and probably elsewhere, the full story, or most of it. They are a fine part of the story of an island, but they are no part of the story of the Republic. This anthology is the latest report on an increasingly neglected progress - the poetic of a separate, little-understood place. None of the poets here had anything to do with the setting of topographical or impolite boundaries - indeed, all cross borders with relish - and yet, first and last, whether they like it or not, they come from here.' ( pp.13-29, pp.13-14; and see note on 'inherited boundaries' in Declan Kiberd, q.v., infra.) [Cont.]
Cont. ('The History and Topography of Nowhere', in Inherited Boundaries, 1986): '[...] When the Anglo-Irish tradition ended politically with Yeats, and the Gaelic tradition to all large-scale purposes, or national purposes, with the seventeenth-century poets (though there is an important neo-Gaelic matter to be discussed a little later), the Hiberno-English tradition, having been an element alongside the other two traditions, found itself abruptly and and horrifyingly on its own. The Protestants were out, the Gaelic smothered, and it, difficult to define too, and extremely nervous of definitions, was in – or at least there, the astonished survivor. the adjectives Irish (which the universities rather mindlessly persist with still, as a description of material written in the mother-tongue of Ireland), native, Gaelic, ascendancy, fell away as indicators, just as the adjectives Norman, Norse, Fir-Bolgian and so on, had to in the past. It was the very first chance to call everyone here Irish, the spoken language Hiberno-English (which has a history of at least seven hundred years in the country, a respectable length of time, no matter how much it smacks of empire to speak it. After all, the French speak a sort of Franco-Latin, and they feel little shame about it at this distance to Rome. Is Hiberno-English what we will someday call more simply Irish?), and the country the Republic of Ireland.' (p.17.)

Cont. ('The History and Topography of Nowhere', in Inherited Boundaries, 1986): '[...] to be born in the fifties in the Republic of Ireland was to be born, with no great ceremony, nowhere. It was a country without definition, because it was a new place. But all the acceptance of foreign rule, the dominion of priests, the isolated desire for revolution – islands inside an island – had metamorphosed quaintly into dullness, dismay, and inaction. Everything was done by way of freedom, nothing by way of peace. / The great feeling growing up then, through the sixties and seventies, was that the Republic was run by jobbers and gombeenmen, who could not be taken seriously, and much less admired. It was impossible to look up to government, unless you were a minister – then the claptrap sounded. Within the country aspirations were low, and if not low, defeated and frustrated – some parents went to England with their ambitions, and carried off their children with them. There, a thoroughly foreign race – that an Irish school, out of sheer intellectual idleness it seems now, taught one to abhor – was miraculously ordinary and efficient. It was much more accepting of individual difference than the guffawing, nasty desire for sameness that Ireland housed. To be other than Catholic, third-class – a very bready form of an excellent religion, characterised by a Sunday morning piety and a Sunday evening vulgarity – and small-minded to boot, was traitorous to the strange new emblems of one untroubled country. / The only simple colour in the place was the cheerfulness of the Dublin parks in summer, and the Walt Disney cinema in Grafton Street. It is an exaggeration, but not a greater one than the exaggerated lowliness of what your fellow countrymen wanted for themselves. There was to be nothing only mediocrity – superiority was English, possibly.' (p.18; for full text version, see RICORSO Library, "Bibliography > Anthologies", attached.)
"Irish History Remade", in The New York Times [ed.] (15 Sept. 1997), A23.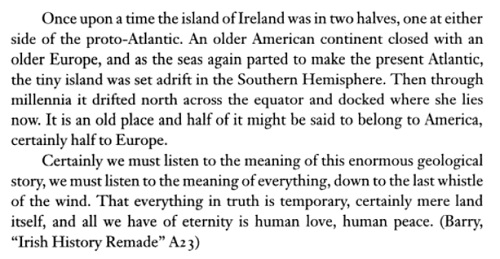 See Scott T. Cummings, 'The End of History: The Millenial Urge in the Plays of Sebastian Barry', in Stephen Watt, et al., eds., A Century of Irish Drama: Widening the Stage (Indiana State UP 2000) [Sect: Irish History on the Contemporary Stage], pp.291-[302]; p.297.
[ top ]
Poetry
"The Pinkening Boy" (2004): 'He is like a newly printed book, its spine not yet cracked open. / He is like a linen sheet, folded by the famous aunts / and then later unfolded onto the breathing bed. / He is like the first of things, the idea Plato had / of the ideal, the thing itself before the word […] He knows nothing or next to nothing and all he knows / is in his squinting eyes that hoard the blue of mackerel. / He is like the wood-pigeon with one perfect line / that keeps summing up the soft sums of summer. / He is like an arbiter of touch, of gentleness, / a judge of deftness, hold him just that bit too hard / and the kindly mew emerges, the criticism. / He is like the form you dream of, maybe every night / and wake forgetting, the page of all fresh marks, / the poem beyond the comment or opinion, the pinkening boy.' (The Pinkening Boy, 2004, p.9.)
"Old Cuillonaughton": 'Up on the top of the hill here, all forgotten / is the village without its people, / without its children's songs in the halflight / between the gables. And the lulling beauty / of the lullabies are no longer soft in the mothers' / mouths. How I would love to pass here / one evening, when the swifts are dipping as now / to the wet tufts, and suddenly see the villagers […]' (Quoted in Fred Johnston, review of The Pinkening Boy, in Books Ireland, Dec. 2004, p.297.)
"To Donal [McCann]": 'Dear Donal, truth to tell I pray / that you may sleep as fast as they, / my kindling children in their beds / with such wild dreaming in their heads […]' (Quoted in Fred Johnston, review of The Pinkening Boy, in Books Ireland, Dec. 2004.)
Walter Scott Prize: 'Barry said he was "uncharacteristically speechless" to beat authors including Alan Hollinghurst and the late Barry Unsworth to win the prize. "I really was not expecting to win - just look at the other authors on the shortlist," he said. "My first encounter with Walter Scott was unlocking a trunk in my grandfather's attic which contained the Waverley novels. I felt as if I was excavating a tomb. I think that is an appropriate way to encounter a writer - as if you were literally retrieving him from the damp and history of your grandfather's life." Novels eligible for the award must be set at least 60 years in the past. (See The Guardian, 19 June 2012 - online; accessed 15 March 2017.)
Fintan O'Toole: 'Sebastian Barry's plays are about history, but not in any very obvious or familiar sense. The history that informs these plays is a history of counter-currents, of lost strands, of untold stories. Against the simple narrative of Irish history as a long tale of colonisation and resistance, Barry releases more complex stories of people who are, in one way or another, a disgrace to that history. In Sebastian Barry's luminous plays, grace and disgrace are not opposites but constant companions.' (Preface to Plays, London: Methuen 1997.)
"It is funny, but it strikes me that a person without anecdotes that they nurse while they live, and that survive them, are more likely to be utterly lost not only to history but the family following them. Of course this is the fate of most souls, reducing entire lives, no matter how vivid and wonderful, to those sad black names on withering family trees, with half a date dangling after and a question mark." (Roseanne McNulty, in The Secret Scripture, p.11.)
"History needs to be mightily inventive about human life because bare life is an accusation against man's dominion of the earth." (Ibid., 55)
"It is not history. But I am beginning to wonder strongly what is the nature of history. Is it only memory in decent sentences, and if so, how reliable is it? I would suggest, not very. And that therefore most truth and fact offered by these syntactical means is treacherous and unreliable. And yet I recognise that we live our lives, and even keep our sanity, by the lights of this treachery and this unreliability, just as we build our love of country on these paper worlds of misapprehension and untruth. Perhaps this is our nature, and perhaps unaccountably it is part of our glory as a creature, that we can build our best and most permanent buildings on foundations of utter dust." (Dr. Grene, in The Secret Scripture, p.293.)
"I like stories that other people will tell you, straight from the mouth - or the gob as we used to say in Ireland. Easygoing tales, off the cuff, humorous. Not the heavy-hearted tales of history. / And I have had enough history for a lifetime from my [9] own life itself […]" (On Canaan's Side, p.9-10.)
"Well, the whole adventure of these seven books, indeed, has been to try and go and find, if only in the imagination, these bits and bobs of my family, the people who weren't talked about, the people who - around whom a silence fell, whether for political reasons or because they went so far and never came home." (Interview with Sam Briger, on NPR [USA] (27 Feb. 2017.)
Q: "Why do you think you keep returning to the history of your family?" Barry: I think it started in childhood where, you know, I was a little boy in love with my family and family members, my great aunt Annie, my - that I wrote a little novel about called Annie Dunne and my grandfathers [unintelligible]. He was the - he was a major in the British army during the Second World War. He has a book called The Temporary Gentleman. And my other grandfather and - who was a painter and nationalist who came out in 1916. So, you know, these were two grandfathers completely at odds historically in Ireland. But I loved - they were at odds, but I loved them equally. I mean, I loved them madly. I mean, I was in love with these people, and I wanted more of them." (Idem.)
[
Note
: Compiled by BS using the search terms <family> & <history> on RICORSO records at 09.06.2017; view as separate
page
.]
Irish Fiction Laureate - remarks on being appointed (Nov.2018): 'Being awarded the laureateship was "a joyous moment, after 40 years of work", said Barry, who has won the Costa book of the year prize twice for his novels The Secret Scripture and Days Without End. "I am really happy to be the ambassador of this rather stupendous reality for a few years," he added. Barry said the current "golden age of Irish prose writing", which has seen authors including Donal Ryan, Eimear McBride, Rob Doyle, Kevin Barry, Mike McCormack and Sara Baume come to the fore, was a relatively new phenomenon. "There are at least 20 people if not more who at the moment would be highly qualified to do this laureateship," he said. "That hasn't always been the case. When I was starting out in the 70s you had four or five and that was it." Today, though, "there is such immense diversity of purpose and difference of styles. That is the great wealth of the present moment. There are writers who have worked the miracle of making their name in their 20s and others who have worked the concomitant miracle of working from book to book for decades." The strength of Irish writing, said Barry, was "bizarre". "I don't know how we've done it or why it happens – perhaps it's being a lost cusp of Europe, in the rain, and part of it has stimulated us into this strange activity. As I go on I understand it less, but the less I understand about it the more important it seems to me. "What I notice about it is it rises out of a very uncertain country, and the confidence of the writing is in measure and in balance to that. It has a particular sort of Irish confidence that is in opposition almost to what the country has been through in the past few years. That's what I think characterises it. I'm quite overwhelmed sometimes by meeting a Sally Rooney or a Rob Doyle because they seem to me rather tremendous … there's a formidable quality to the writing," he said. "What unites them is the ability to generate the shock that rare work gives the reader, not only in the pleasure and gratitude it engenders, but the serious business of the lines and engines of your own life finding answer and echo in another's art."' (Alison Flood, reporting in The Guardian, 8 Feb. 2018; available online; accessed 28.11.2018.)

See also: "It was My Town, Right Enough": In the beginning it was my own town right enough, but so ancient that memory had not even begun - a haunted flat overlooking St Stephen's Green, a cot, and a big sister to protect me from as yet unnamed wolves and goblins. I remember dimly my grandfather taking me to the cinema in Grafton Street, and the old elegance of the bollards and sweeps of the city - still unmolested by the brutalist architects just graduating. The brown slouch of my grandfather's trilby hat, his highly polished shoes. Mickey Mouse and Pluto dancing in the shadows.
Then a more remembered flat between the Grand Canal and my grandfather's house in Donnybrook. Dartmouth Square, with its sycamore-shrouded green, and big old bells with giant tongues on well-to-do Catholic churches. And myself not knowing or caring about the difference between male and female, and calling the milkman confidently Mrs!
Then a lacuna of four years in London, where I learned to talk like the natives for the sake of decency, then back home to Dublin, where I learned to talk like an Irish person again for survival. I had left as one boy and was back as another: a curious, double-minded boy. But Dublin again, County Dublin strictly, the tiny "turret flat" in Queenstown Castle in Dalkey, the sea in your mouth all day, and the man next door nonchalantly shooting the gannets on Dalkey island from a tripod on his balcony. The shit going into the same sea, but my sister and I making up plays on the handy concrete outlet anyway. (sub-title: 'The new laureate for Irish fiction recalls his first trips to the cinema, playing by the sea – and the adventure of beginning to make his own stories', in The Guardian, 8 Feb. 1018 - available online; accessed 28.11.2018.)
[ top ]
---