Life
[John Edward; J. E. Redmond]; Irish Parl. Party leader; b. 1 Sept. 1856, Ballytrant Hse. [freq. err. Ballytrent], Co. Wexford; son of William Archer Redmond [d.1880] and Mary [née] Hoey, dg. of Major Hoey of Hoeyfield, Co. Wicklow; his mother converted to Catholicism on marriage, but remained a Unionist in politics; grandson of Patrick Walter Redmond, who lived in Pembroke Hse., Dublin; ed. Clongowes and TCD; appt. to clerkship in House of Commons, where his father was an MP, and lived in London; attended political meetings with Charles Stewart Parnell, 1879; became Parnell's principal lieutenant though not his favourite - viz., when Redmond père died in 1880, his Wexford seat went to Tim Healy and Redmond had to wait till the next IPP seat fell vacant;
elected MP for New Ross, 1881-85, entering parliament on 31 Jan 1881, the day of an 'obstruction' and was expelled from the House with the other Irish members; travelled to America fund-raising with his br. William Redmond (MP North Wexford, 1885-91), and collected £60,000, 1883-84; also visited Australia where he m. Johanna Dalton of Sydney, dg. of James Dalton, 1883, with whom three children before her death in 1889 - while his br. William m. her cousin; much influenced by example of Australian liberal imperialism; addressed the Irish Literary Society on 'Wexford in '98', 1885; elected to seat for Wexford, 1885-1891; later held North Wexford seat, 1891-1918; entered Gray's Inn, 1885, and called to the English Bar, 1887, and to the Irish Bar 1888 but never practised;
suffered the death of his wife after three years of marriage, 1886 [var. 1889, as supra]; sentence to five weeks hard labour after inflammatory speech construed as a threat to the landlord Col. Walker in Scarawalsh, 1888; chaired the meeting of the Irish Parliamentary Party in Dublin at which Parnell was endorsed as leader, following the judgement in the O'Shea divorce trial, 13 Nov. 1980 - and organised a public meeting in which Healy and others took the same stand, before being persuaded by Gladstone's letter to Morley that Parnell must be jettisoned; defended Parnell against Healy, Sexton and Justin McCarthy in Committee Room XV - enquiring, 'When we are asked to sell ou leader to preserve the English alliance, it seems to me we are bound to enquire what we are getting for the price we are paying?' [Wells, p.51]; travelled with Parnell to the Boulogne negotiations with O'Brien over the leadership, but departed from Parnell's line on perceiving that Parnell was treating the other two like 'a pair of children';
supported Parnell till his death in 1891, and afterwards remained loyal to his memory; sat on the Recess Committee, 1895 - resulting in the formation of the Dept. of Agriculture and Technical Instruction (1899); married Ada Beesley, his second wife - an Englishwoan who converted to Catholicism after his death, 1899; engaged in fund-raising for the Parnell Monument in Dublin by Saint Gaudens (completed 1911); remained loyal to Parnell in the Split occasioned by his involvement in a divorce scandal and took the leading role in the defence of his leadership among the remnant of the party; elected Chairman of the reunited Irish Parliamentary Party at formation of United Irish League (fnd. by William O'Brien), 6 March 1900 - selected as a compromise candidate between warring nationalists [O'Brien and Tim Healy]; successfully led the Party through the 1900 General Election, with 100,000 members by 1901;
carried League organisation to America against opposition of John Devoy and Clann na Gael; protested 'usurpation of the government of Ireland by the English parliament' in a nationalist meeting of Aug. 1902 which was held to pronounce party refusal to participate in the coronation of Edward VII; joined O'Brien and Timothy Harrington of the Land League in the conciliatory Land Conference of 1902, with Lord Dunraven representing landlords and T. W. Russell representing Ulster [Protestant] tenants - resulting in the Wyndham Purchase Land Act of 1903; differed with O'Brien and others over implementation of the Wyndam Act, 1906; refused to rebuke Dillon and formed working partnership with him in Ireland and Westminster; lost the support of O'Brien and Healy; lectured in America ('What the last ten years had accomplished for Ireland', Detroit 1910); professed view that it was the House of Lord's veto alone that prevented the passing of a successful Home Rule Bill, 1910 - and developed a two-handed approach to Home Rule politics involving pro-imperial undertakings in London and anti-imperial undertakings in Ireland and America; withheld support from 1909 Liberal Budget on condition of Home Rule support;
Liberal losses in elections of Jan. and Dec. 1910 gave Irish Parliamentary Party (Nat.) crucial leverage with 70 seats in the House of Commons; House of Lords shorned of power of veto, being granted power of delay instead (Parliament Act, Aug. 1911); Third Home Rule Bill presented to Parliament, 11 April, 1912; Home Rule Bill strenuously opposed by Andrew Bonar Law who had succeeded Balfour as leader of the Conservatives in 1911, inaugurating the 'new style' of aggressive Parliamentary debate - resisting the Bill for three years by means of amendments to its clauses - and called the Parliament Act [contra Lords' Veto] 'Home Rule through the back door'; celebrated the fact that the Irish would 'send their young men to fight for the empire in every corner of the world because it was their empire' (St. Patrick's Day, 1913); participated with the John Dillon (as chief Irish negotiator) in the Buckingham Palace Conference, called by George V, July 1914; Redmond resists women's suffrage as precipitating a redrawing of electoral boundaries and hence a reduction of the Irish Party's leverage in Westminster;
Redmond accepts the pro tem exclusion of Ulster [Antrim, Down, Armagh, L'Derry] from the immediate scope of Home Rule; demanded control of the Irish Volunteers committee through majority of seats on it; assured the Government of the loyalty of Irish Volunteers at the outbreak of war (160,000 men by July 1914); spoke in Parliament assuring the government of Irish support in the war; Government of Ireland [Home Rule] Act signed into law by the King, 18 Sept. 1914, together with another suspending its implementation until the cessation of war; Redmond made a climactic speech at Woodenbridge, 20 Sept. 1914, characterising the British cause as a 'defence of the highest principles of religion and morality and right' and urging nationalists to enlist in British Army, seemingly banking on a short war but resulting in diminished popular support for the Irish National League [aka United Irish League];
invites UVF [Carson] to join with Irish Volunteers in defending Ireland - a plan rejected by British Govt.; Kitchener's refusal to form a division based on the Irish Volunteers while incorporating the UVF in toto as the 36th Division further injured Redmond's prestige; Redmond declined seat on the War Committee on which Carson sat in his capacity as Attorney General of the Conservative Party, then in power), May 1915; formation of Anti-War committee by James Connolly; 120,000 Irish Volunteers join the British Forces, 10,000, remaining behind to form the force involved in the 1916 Rising; Redmond condemned the 1916 Rising as 'a German intrigue' in Parliament but pleaded for remission of the capital sentences imposed on its leaders; death of his br. Willie Redmond in France, 7 July 1917;
suffered increasing political isolation in Ireland after 1916 as the IPP fell asunder and was embroiled in corruption - viz., the Freeman's Journal was subvented by the British Government through disproportionate compensation for its loss of premises in the Rising; dRedmond lived in Ireland at Aughavanagh, a former military barracks in the Wicklow hills, formerly the property of the Parnell family, which he converted to a shooting lodge; from heart failure, 6 March, 1918; laid out in Westminster Cathedral and afterwards carried to Ireland aboard SS Leinter for interrment in family vault in Wexford Town, with graveside oration by John Dillon [''Time will do justice to his work and to his statesmanship ... the greatness of his life and of his work, and the unselfishness of his career''];
Posthumous: a bust made by Frances Doyle-Jones in 1910 which stood in the House of Commons serves as a frontispiece portrait in Gwynn's life of Redmond (1932); an earlier life was written by Warre B. Wells (1919); there is an oil portrait by Henry Hones Thaddeus in the National Gallery of Ireland and another by Sir John Lavery in the Municipal Gallery of Modern Art (Parnell Sq.); Redmond was characterised by Sean O'Faolain as the 'true Norman type' in The Irish (1947); his papers are in the National Library of Ireland; the family is commemorated in Redmond Square, Waterford; the portrait of Redmond in the Taoiseach's office during the Fianna Gael government headed by John Bruton was replaced by one of Michael Collins under Bertie Ahern; the entry in the New Dictionary of National Biography [UK] is by Paul Bew; the Redmond Papers are held in the National Library of Ireland [NLI]. JMC ODNB DIB DIH FDA OCIL
Redmond's son William [Willie] Redmond, DSO (1886-1932), held a took a Home Rule seat in Westminster for Tyrone East in 1910 - uniquely defeating a Sinn Féin candidate in the South of Ireland - and later took the Waterford seat at his father's death in 1917, campaigning with a black arm-band in his Army uniform; won the seat again in the General Election, 1918; took a seat in the 4th Dáil as an independent candidate, 1923; formed the National League and then allied with Fianna Fáil and Labour in a failed attempt to oust Cumann na nGael, and suffered party losses in the General Election, Dec. 1927, while retaining his own seat - which he held up to his death in 1932; succeeded in the seat by his widow Bridget
Presenting the flag to the Irish Volunteers, 1915.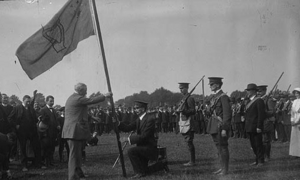 [For portraits and further images of Redmond,
go the the Multitext Gallery at UCC - online.]
[ top ]
Works
Historical and Political Addresses 1883-1897 (Dublin: Sealy, Bryers & Walker 1898).
Ireland and the Coronation: Why Ireland is Discontented (UIL of Great Britain pamphlets No. 2, 1901).
Richard Barry O'Brien, ed., Speeches of John Redmond MP (London: Fisher Unwin 1910).
Account of a Visit to the Front of J. E. Redmond, M.P. in November 1915: with a speech Delivered by Mr Redmond on 23 Nov. 1915 (London 1915).
Ireland and the War; Extracts from Speeches made in the House of Commons and in Ireland since the Outbreak of the War (Dublin: Sealy, Bryers & Walker 1915).
What the Irish Regiments have Done (London: T. Fisher Unwin 1916).
Introduction to Michael MacDonagh, The Irish at the Front (London 1916), pp.1-14
Papers of John Redmond in the National Library of Ireland - Collection List No. 118 [online; accessed 10.10.2010.] The list has been compiled by Dr Brian Kirby holder of the Studentship in Irish History provided by the National Library of Ireland in association with the National Committee for History. 2005-2006.
Note: D. George Boyce, Nationalism in Ireland (London: Routledge 1982; 1991), cites J. E. Remond, Ireland and the Coronation: Why Ireland is Discontented (UIL of Great Britain pamphlets No. 2, 1901); Account of a Visit to the Front of J. E. Redmond, M.P. in November 1915: with a speech Delivered by Mr. Redmond on 23 Nov. 1915 (London 1915); Introduction to Michael MacDonagh, The Irish at the Front (London 1916), pp.1-14 (Boyce, op. cit., pp.272-73; n., p.292.)
[ top ]
Criticism
L. G. Redmond-Howard, John Redmond: The Man and the Demand, a Biographical Study in Irish Politics (London 1910), ill. [see contents].
Warre B. Wells, John Redmond: A Biography (London: Longmans 1919) [Warre B. Wells, John Redmond (1919) [see infra].
Nicholas S. Mansergh, 'John Redmond', in The Shaping of Modern Ireland, ed. Conor Cruise O'Brien (1960).
F. S. L. Lyons, 'Dillon, Redmond and the Irish Home Rulers', in F. X. Martin, ed., Leaders and Men of the Easter Rising, Dublin 1916 (London 1967).
Denis Rolleston Gwynn, The Life of John Redmond (London: Harrap 1932; rep. [NY:] 1971) [see contents].
Joseph P. Finnan, John Redmond and Irish Unity, 1912–1918 (Syracuse NY 2004).
Paul Bew, John Redmond [for Historical Assoc. of Ireland] (Dundalk: Dundalgan Press 1997), 67pp.
Joseph P. Finnan, John Redmond and Irish Unity, 1912–1918 (Syracuse UP 2004), xxi, 307pp.
Dermot Meleady, Redmond: The Parnellite (Cork UP 2008), 423pp.
Journalism
S. Collins, 'John Redmond: Discarded Leader', in Studies, Vol. 98 [No. 390] (Dublin: 2009), pp.123-33.
J. J. Lee, 'John Redmond: Nationalist or Imperialist?', in The Sunday Tribune (4 June 2000) [q.p.].
Charles Lysaght, 'Our political debt to John Redmond is largely unpaid', in The Irish Times (1 Sept. 2006).
See also ...
Paul Bew, Ideology and the Irish Question: Ulster Unionism and Irish Nationalism 1912-1916 (Oxford: Clarendon 1994) [promoting higher regard for IPP policies in face of contemporary Northern Unionism].
Patrick Maume, The Long Gestation: Irish Nationalist Life 1891-1918 (Dublin: Gill & Macmillan 1999).
Pat Walsh, The Rise and Fall of Imperial Ireland: Redmondism in the Context of Britain's Conquest of South Africa and Its Great War on Germany 1899-1916 (Belfast: Athol Books 2003), 594pp.
Bibliographical details
L. G. Redmond-Howard, John Redmond, The Man and the Demand [biographical study in Irish politics] (London: Hurst & Blackett 1910), 9 ills. and port. photo by Poole of Wexford; 352pp., index. CONTENTS, Introduction; Family, Birth, Education; First Years in Parliament, Pubic Life, Election, Colonial Tours; The Parnell Crisis; The Home Rule Bill; The Independent; The New Leader; John Redmond and the Conservatives, The South African War, His Loyalty, Devolution; Redmond and the Liberals, The Education Bills and the Catholic University; [Redmond and the Liberals continued] The Devolution Scheme, the Land and the Lords; The Man; the Man and His Methods; The Message, the Irish Demand; The Mission; The Present Position). Ills. include Strongbow's Monument; Parliament House, Dublin; Henry Grattan, and a Punch cartoon, 'The Irony of Circumstances' [Redmond, 'Well, if I can't rule in Dublin I can here'].

Denis Gwynn, The Life of John Redmond (London: George G. Harrap & Co. 1932), 611pp., index. Written from papers entrusted to the author by WA Redmond, DSO (his late son). CONTENTS [each chap. with summary heading]: The Parnellite; The New Leader; Liberal Promises; The House of Lords; The Home Rule Bill; The 'Ulster' Agitation; The Offer to 'Ulster'; The Defiance of Parliament; The Eve of War; Home Rule on the Statute Books; The Recruiting Campaign; Disillusionments; The Dublin Insurrection; The Attempted Settlement; The Rise of Sinn Féin; The Irish Convention; Index. [Digital copy available as pdf at AskAboutIreland - online.]
[ top ]
For remarks on Redmond and Home Rule by John Bruton, Eamon Ó Cuiv, Ronan Fanning, and Diarmuid Ferriter in Irish newspapers during August 2014, see attached. See also "Chronology of Home Rule" under Edward Carson - as infra.
Joseph Devlin, leader of the Nationalist Party in Northern Ireland [1919] (report of Irish Times):
Mr Devlin was the principal speaker at a gathering in Wexford yesterday in commemoration of the anniversary of the death of Mr John Redmond, leader for many years of the Irish Nationalist Party in the House of Commons.
In the course of an eloquent tribute to his former leader, Mr Devlin said that in the last few years the scales had been dropping from the eyes of the Irish people. Disillusion had followed on disaster: there had been a rude awakening.
'Is the solidarity of the Irish race as secure now as it was in John Redmond's day,' Mr Devlin asked. 'Is the integrity of the nation assured? Are the prospects of fraternity between North and South as hopeful as in the days when John Redmond was disarming Orange prejudices and those of us who believed in his methods and policy were conscious of the up-growth of a broad and generous spirit of patriotic comradeship between the Nationalists of the North and an ever-increasing section of the more intelligent and cultured of those who differed from us in religious beliefs? I need only ask these questions to suggest the answer.
The past could not be undone, Mr Devlin said, and if the future was to be fashioned aright Irishmen most agree to sink their differences and devote themselves to a work of co-operating, as far as, might be, in building up a nation of prosperous free men. Was it any wonder that in these days, in view of all that had occurred and all that John Redmond had sought to prevent, his countrymen were beginning to turn with deep and heartfelt yearning towards the silent grove in Wexford? The great gathering there twelve months ago had been a wonderful revelation of a new phase of national thought in Ireland, and that revelation was confirmed by the great gathering again this year. It was, of course, part of the natural reaction after a period of painful delusionment [sic] but it was more. It marked a slow, gradual return to the paths of true patriotism. Nations could not live for long in an atmosphere of fevered unrest. Ireland would have to get back to the practical, is somewhat prosy and unpicturesque, world of making their country a happier, healthier, more prosperous land, where a people at peace with each other could enjoy a little more of the brightness and sweetness of life, of its comforts, its culture, its social amenities, and all those things that made for the moral and material advances of the masses.
Brighter prospects for the farmer, improved conditions for the labourer, sanitation in the town and villages, better housing accommodation, the abolition of the slum and the sweating system, a fair day's wage for a fair day's work, and, with equal emphasis, a fair day's work for a fair day's wages, lighter taxation, increased trade, improved transit, new industries - these things and many others of a kindred character were vitally important. No doubt, such work was lacking in histrionic effect. They had had sufficient thrills and enough limelight effects for their generation.
(Reprinted in The Irish Times (9 March 2013, Weekend Review, p.6; available [with password] at Irish Times Archive - online.)
Francis Sheehy Skeffington, A Forgotten Small Nationality (in Century Magazine, Feb. 1916; printed sep. with another by Hanna Sheehy Skeffington [NY 1917]): '[...] A week after the Bachelor's Walk massacre (the Irish Zabern, as we call it) the war against "German militarism" broke out. Mr. Redmond, in the House of Commons, had the incredible audacity to commit the Irish people to the support of this war. He and his party were returned to Parliament for one object only, to secure home rule. At no Irish election did any other question become an issue. Repeatedly had Mr. Redmond, when called upon to. help some progressive cause, sheltered himself behind his lack of "mandate" ; his mandate, he declared, was for home rule only. Yet without any mandate he ventured to commit Ireland to the support of England in a European war. By doing so he missed the greatest opportunity that has ever come to an Irish statesman. Had he, on August 3, 1914, spoken as follows in the imperial Parliament: "I have no mandate from the Irish people as to what our attitude should be in the event of a European war; the question has never been discussed between us. My colleagues and I are now going home to Ireland to consult our constituents as to what Ireland's attitude should be" - had he spoken thus, and followed up such a speech by walking out of the House and returning to Ireland, the English Government would have been on its knees to him within a fortnight, and he would have been able to command, as the price of his and Ireland's aid, something much better than a mutilated home-rule act on the statute-book, which can never come into operation. He should, in short, have acted after the fashion of those Balkan statesmen, who care nothing for either of the warring parties, but look with a single eye to the interest of their own country.' (p.8.) [Cont.]
Francis Sheehy Skeffington (A Forgotten Small Nationality) - cont.:] 'A period of storm and confusion followed Mr. Redmond's betrayal of Ireland's interests to England. The Government tried to avoid even putting the home-rule bill on the statute-book ; Redmond, driven by public opinion, increasingly stormy in Ireland, was obliged to insist upon that as a minimum. But in passing the act, the Government [8] also passed a suspensory act, holding it up for a year, or longer, if so ordered by the Government at the end of the year; and they also declared that they would not in any circumstance "coerce Ulster." With the "home rule for three-quarters of Ireland" in the form of a scrap of paper, Mr. Redmond tried to induce his followers to join the army. The immediate result was a split in the Irish Volunteers. The founders of the Volunteers, who had accepted Redmondite co-operation on the committee so long as no recruiting plank was adopted, now expelled the Redmondite nominees from the committee, seized the Volunteer offices in Kildare street, Dublin, barricaded and garrisoned them, and prepared to hold them against all comers. The Redmondite portion formed a new body, the "National Volunteers," who never troubled much about drilling or arming, but were, and are, merely a branch of the Redmondite political machine. Their devotion to their leader, however, did not go so far as to induce them to follow his advice and enter the English army, as was shown when 30,000 of them paraded before Mr. Redmond last Easter (1915), men who, if they had taken Mr. Redmond's words seriously, ought to have been in Flanders or at the Dardanelles.' (pp.8-9; for full-text, see under Sheehy Skeffington - infra or as attached.)
Warre B. Wells, John Redmond: A Biography (London: Longmans 1919)
Introduction: '[E]verything conspired to encourage the success of what was called "The New Departure," namely, an alliance of the most embittered extremists with the left or Parnellite wing of the parliamentary Home Rulers. Idealists among the Fenians like John O'Leary, who still believed in open insurrection, refused their support to the Land League, which, on the other hand, appealed to large masses of the more practical kind of revolutionists, especially in America. Devoy, the Irish-American leader, declared, however, that the real object of the "New Departure" was the recovery of national independence. This, too, was Parnell's view, although he preferred to borrow Butt's more ambiguous phrase of Home Rule. But, whatever might be the mixed purposes ot the combination, it was clear in 1880 that the Irish people had once again definitely abandoned arms for policy. The character of the period with which the subject of this book was identified could not be better summed up than it was in a recent manifesto of the Irish Party (October 11, 1918). It is the period of the policy which was laid before Ireland in 1878, under the name of the "New Departure," put into practice under Parnell and Davitt, and [10] which, under their leadership, secured the support of all that was best in the ranks of the physical force men of '67, and forged for Ireland the most formidable and effective weapon placed in her hand throughout the whole of her history, set free the land of Ireland, destroyed the long impregnable fortress of landlordism, extracted right after right from successive British Governments, and finally, under the leadership of John_Redmond, removed the British opposition to Irish Freedom, and brought Ireland to the very threshold of final victory.' (pp.9-10; cont.)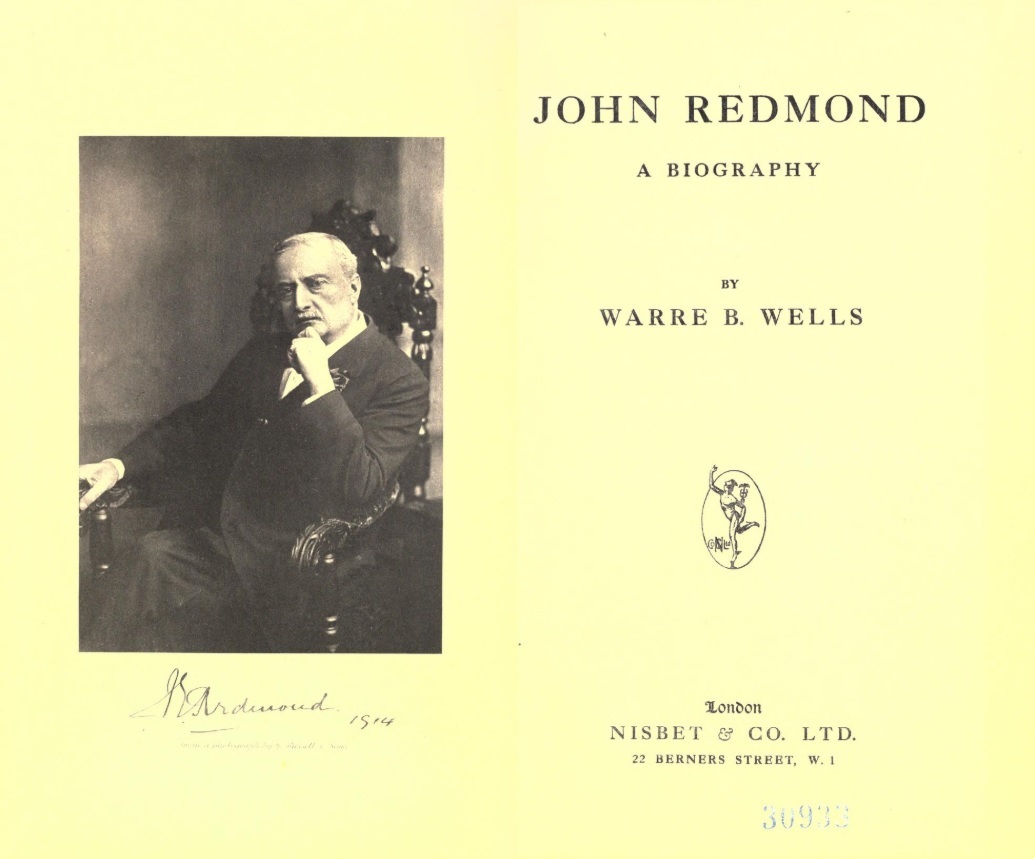 Wells (John Redmond, 1919): 'His general view of life was that of an Irish Catholic country gentleman.' (p.25.)
Warre B. Wells, John Redmond (1919) - cont.:
'Mr. Redmond, as we know, did acquire the balance of power in 1910, with the result that the Liberal Party, which after its return to office by a huge independent majority in 1905 had ignored Home Rule, immediately attacked the veto of the House of Lords and proposed a measure of Irish self-govern- ment. Sinn Feiners have asserted that Redmond "betrayed" the policy of Parnell. They urge that Parnell, had he lived, would soon have abandoned Westminster, and quote a speech which he delivered at Limerick in November 1880. Parnell then said that he did not believe in the permanence of an Irish Party at Westminster, for ' sooner or later the influence which every English Government had at its command would sap the best of Irish parties.' John Redmond did, however, succeed in maintaining the independence of the Nationalist Parliamentary Party, and, in effect, he disproved Parnell' s doubts of Irish stability. In 1910 thirty years after Parnell's speech at Limerick an independent Irish Party held the British party system at its mercy, and was able to force the Government not only to put Home Rule in the forefront of its programme, but to demand from the King himself guarantees against obstructive action on the part of the House of Lords. Yet when he died, seven years later. Home Rule, though an Act, seemed further than ever from being a fact.
Where, then, had been Mr. Redmond's error of judgment? The Irish Party under his leadership could show a record of definite Parliamentary achievement unequalled by any other [15] minority party in the House of Commons. But Parliamentary achievement was not enough, and what John Redmond, like other politicians, failed to realise was that the machine itself had broken down. Political democracy in the years 1912-1914 was an impolite fiction. Mr. Redmond might dominate Parliament; but what was the use of that when people were losing their habit of obedience and respect towards Parliament? Such an event as a "loyalist" insurrection against law like the Ulster Unionist movement would have been inconceivable in the United Kingdom of Parnell's days. There was more than a little truth in the Sinn Feiners' contention of the futility of Parliamentarism. But the fault did not lie, as they alleged, in any particular corruption of the Irish representatives. John Redmond's own position was one of the greatest honour, and he kept aloof more than any con- temporary politician from the intrigues of the place-hunters.
Mr. Redmond almost to the end maintained Parnell's idea of the need of keeping Irishmen together even at some cost of apparent inconsistency. To different audiences he could talk differently. When in America, for instance, he would not estrange the support of the extremists from himself by laying stress on his own belief that the Irish national claim might be satisfied within the Empire. What he aimed at was Home Rule, and, if Republicans chose to assist a Home Rule movement, should he reject their aid ? He agreed with Parnell that no man may set bounds to the march of a nation. In England he declared that separation was impossible and undesirable. [15]
Was there here any real inconsistency? That no man may set bounds to the march of a nation is, in reality, a truism. Mr. Redmond's personal opinion was that Irishmen, once they possessed a wide measure of self-government, would be happy in their place within the Empire. Other Irishmen- supporters of the Parliamentary movement too- looked on Home Rule as a stepping-stone towards separation. It would have been foolish of Mr. Redmond to have rejected the friendship of such Irishmen simply because he differed from them as to what might happen to an Ireland of the future. Of this, however, we may be certain namely, that Mr. Redmond, once self-government had been estab- lished by constitutional means and agreement with England, would have stood apart from, or indeed firmly resisted, all attempts to move in the separatist direction. His attitude on the war is a final proof of this. In August 1914, John Redmond broke with the separatists once and for all.' (Chap. 1; pp.15-16.)
[...]
His neatness was un-Irish, and distinguished him from the majority of his colleagues, who rather tended to seek after a conspiratorial effect. He was, indeed, one of the most fastidious of men; and his instinctive repugnance to physical contact with persons not well groomed stood in curious constrast with his dependence on a democratic constituency comprising all sorts and conditions. /
His friends were mostly chosen from his early political associates and, at the end of his life, he was a somewhat solitary figure. (p.20.)
[...]
Grouse shooting and fishing were his favourite sports, but he was also happy on a horse. His love of the country did not, however, manifest itself in the violent English fashion. (p.23.)
[See full text at Internet Archive - online in page-view or plain-text].
[ top ]
James Stephens, Insurrection in Dublin (1916): 'Mr Redmond told that lie [that Ireland was on England's side in the war] and he is answerable to England for the violence she had to be guilty of; … without his lie there had been no insurrection … Ireland must in ages gone have been guilty of abominable crimes or she would not at this juncture have been afflicted with John Redmond.' (Quoted in Maurice Headlam, Irish Reminiscences, 1947, p.146-47).
Why the Rising Happening ...
'[...] It happened because the leader of the Irish Party misrepresented his people in the English House of Parliament. On the day of the declaration of war between England and Germany he took the Irish case, weighty with eight centuries of history and tradition, and he threw it out of the window. He pledged Ireland to a particular course of action, and he had no authority to give this pledge and he had no guarantee that it would be met. The ramshackle intelligence of his party and his own emotional nature betrayed him and us and England. He swore Ireland to loyalty as if he had Ireland in his pocket, and could answer [p.75] for her. Ireland has never been disloyal to England, not even at this epoch, because she has never been loyal to England, and the profession of her National faith has been unwavering, has been known to every English person alive, and has been clamant to all the world beside.

'Is it that he wanted to be cheered? He could very easily have stated Ireland's case truthfully, and have proclaimed a benevolent neutrality (if he cared to use the grandiloquent words) on the part of this country. He would have gotten his cheers, he would in a few months have gotten Home Rule in return for Irish soldiers. He would have received politically whatever England could have safely given him. But, alas, these carefulnesses did not chime with his emotional moment. They were not magnificent enough for one who felt that he was talking not to Ireland or to England, but to the whole gaping and eager earth, and so he pledged his country's credit so deeply that he did not leave her even one National rag to cover herself with.

'After a lie truth bursts out, and it is no [p.76] longer the radiant and serene goddess we knew or hoped for—it is a disease, it is a moral syphilis and will ravage until the body in which it can dwell has been purged. Mr. Redmond told the lie and he is answerable to England for the violence she had to be guilty of, and to Ireland for the desolation to which we have had to submit. Without his lie there had been no Insurrection; without it there had been at this moment, and for a year past, an end to the 'Irish question.' Ireland must in ages gone have been guilty of abominable crimes or she could not at this juncture have been afflicted with a John Redmond.

'He is the immediate cause of this our latest Insurrection.'
—from Insurrection in Dublin ([1st Edn.] (Dublin: Maunsel and Co. 1916) , pp.74-76.
[ top ]
Rev. Robert O'Loughran, Redmond's Vindication (Dublin: Talbot Press; London: T. Fisher Unwin 1919), ded. to Mrs. Redmond; Foreword; The War and Prussia; Redmond; 'Ireland Again'; America and Ireland; The Allies; Russia; The Leader's Fate. Letter to author from Augustine Birrell (My Dear Fr. O'Loughran), prefixed.
Foreword: 'In the modern world nations have tried to think of their nationality as the chief treasure to be guarded; and the Celt has fallen into this error too. There is a tendency not only to overrate our national characteristics, but to place ourselves outside Europe. We believed that the world has inherited everything from us. Beside us, we argue the Latin peoples are decadent and the Saxons dull. The whole tendency is to become provincial in our national outlook. Germany ought to cure us of this folly. […] This great war should make us not only more Irish, but also more European. The Celt, whether in France, Cornwall, Scotland, or Wales, is fighting for Europe against a people who have fallen into our provincial error far more resolutely than we ever fell into it … [so] filled with an overwhelming sense of their own nationality that they have lost their sense of Europe.' [xii; cont.]

Cont.: O'Loughran goes on to evoke Swift and Lucas, and blames England and Germany for the war. 'When Redmond offered the hand of friendship to England in Aug., 1914, he had at his back four times the number of young men that Grattan had. England missed her supreme chance of settling the Irish Question then. Ireland had forgiven England but England had not … when the war began Ireland forget seven centuries of horrible torturings and butcherings perpetrated by English soldiers in Ireland [xvi] … Had England trusted John Redmond as Ireland did since Parnell's death, there would be no need of vindicating him before his countrymen. [xvii; cont.]

Cont.: […] The Irish exiles have carried their vengeance and their glory to foreign fields. John Redmond spent his life trying to unite Celt and Saxon. It was no easy task. For misrule and anti-democratic policy has made the grass grow on the quays of Limerick and causes the lordly Shannon to roll down to the sea, bearing on her majestic bosom no mark of national greatness and no emblem of a nation's pride. Providence has done her part for Ireland, but England has neglected hers. Ireland, walled in by the sea, is destined to be independent and free. This is her patent from heaven. No Irish leader since the Act of Union brought her so near the Promised Land as John Redmond. And it is certainly not his fault, that now in Ireland rebellion appears on the back of a flying enemy and revolutionary flames on the breast-plate of a victorious warrior. English misrule in Ireland has caused both.' ([signed] Queenstown, May 9th 1918.)

[ top ]

Maurice Headlam, Irish Reminiscences (1947): 'The split in the Volunteers was started, the day before the Prime Minister came to Dublin to make a recruiting speech, by a manifesto, signed by MacNeill and others who were afterwards concerned in the Rebellion of 1916. This manifesto detailed Mr Redmond's crimes. He had consented to a dismemberment of Ireland, he had "declared it to be the duty of the Irish Volunteers to take foreign service under a Government which is not Irish [...] having disregarded the Irish Volunteers and their solemn engagements. Mr Redmond is no longer entitled [...] to any place in the administration and guidance of the Irish Volunteer organization." It ended by regretting that Sir Roger Casement's absence in America prevented him signing.' (p.149.)

Further quotes Frank O'Connor's description of Redmond as 'hook-nosed, spineless and suave [and] a perfect Irish gentleman' in his 'biography of the gunman Michael Collins [viz., The Big Fellow: Life of Michael Collins, p.150].

John J. Horgan, Parnell to Pearse (Dublin: Brown and Nolan 1948): 'His reward was to be repudiated and denounced by a generation which had yet to learn, as they learned three years later when they were forced to accept Partition, that true freedom is rarely served by bloodshed and violence, and that in politics compromise is inevitable. Yet it can be said of John Redmond that none of Ireland's sons had ever served her with greater sincerity or nobler purpose'. (p.323.)
Michael Sheehy, Divided We Stand (London: Faber & Faber 1955) - Chap. 5: "The History of Partition" - [Sect. 1:] Extreme Nationalism: 1918-1954: 'While it is fashionable now to dismiss Redmond's moderate Anglo-Irish policy as ineffectual, it seems possible that it would have given Ireland both independence and unity. The limited Home Rule Bill, with which he was satisfied, would almost certainly have been amplified later as a result of Britain's liberal Commonwealth policy or as a specific result of Irish-American pressure. While in relation to Irish unity it was precisely Redmond's moderate Anglo-Irish policy which would have made feasible the entry of an anglicized North into an Irish parliament. His willingness to co-operate with England and to accept England's constitutional methods assured the North that, in an Ieland accepting his policy, she could preserve a stable connection with British Commonwealth and international life.' (p.55.)
Peter Costello, The Heart Grown Brutal: The Irish Revolution in Literature from Parnell to the Death of W. B. Yeats 1891-1939 (Dublin: Gill & Macmillan 1977): 'John Redmond, speaking for the Irish middle classes, offered the Irish Volunteers to the British government, and most of them followed his brother to the ranks.' [&c.] (p.86.)

Joseph Lee, Ireland 1912-1985 (CUP 1989): William O'Brien, the maverick Home Ruler, suggested that 'Ulster' should have a veto in the Irish parliament, a suggesting enthusiastically supported by Redmond (See Gwynn, John Redmond, p.238). 'It was not until Redmond actually urged his followers to enlist in the British Army, at Wooden Bridge, Co Wicklow, 20 Sept. 1914, that the more extreme nationalists left compelled to repudiate him … Home Rule went on Statute Book [18] Sept. 1914, its operations suspended till the end of the war, and with special provisions allowed for Ulster.' (p.21.)

Further: 'Perhaps only 13,000 of the 188,000 Irish Volunteers seceded from Redmond, whose group became known as the National Volunteers.' (p.22.) Lee notes that the figures cited vary but the order of relative magnitude remains constant. (Idem.) 'Redmond's Freeman's Journal represented the Easter Rising it as a German plot, as he himself did in his speech in Westminster' (p.29.) Lee argues that Redmond's 'one nation' theory left him powerless to combat Unionism, while Sinn Fein's abstention from Partition talks gave the Unionists a free hand. [47]. Lee quotes Gwynn's biography to the effect that Redmond believed England to be fighting 'in defence of right, of freedom and of religion' and broadly acknowledges of Redmond's 'genuine if imaginative conviction'. (op. cit., pp.20-24.)

Paul Bew, on Parnell, Fortnightly Review, Oct. 1991: [After 1903 Wyndham land act] 'a substantial minority, led by William O'Brien, argued that a new era had dawned, that the old slogans of struggle and knee-jerk anti-landlordism inevitably also anti-Protestantism) were irrelevant. An equally substantial minority, led by John Dillon, argued that exploitation of agrarian grievance was essential to the vitality of nationalism and it was necessary to maintain the traditional watchwords. The 'middle' of the Irish party remained silent; in his heart, Redmond preferred the O'Brien version, but he allowed himself - slowly and with obvious reluctance - to live with the Dillon line … conciliation of creeds and classes … never got its chance … slogans of agrarian warfare … merely set Catholic-nationalist farmer against Catholic-nationalist farmer.' (p.20.)

[ top ]

Paul Bew, reviewing David Dutton, Her Majesty's Loyal Opposition, The Unionist Party in Opposition 1905-15 (Liverpool UP 1992): 'Bonar Law warmly told Redmond that his action in supporting the British war effort ended fears of a security-risk to Britain through Home Rule in Dublin. The essence of his case was a view that no government has a right to expel a substantial coherent community which wished to remain on terms of equality within the UK polity. […] Bonar Law's Blenheim Speech contains the highly provocative if windy phrase, "We can imagine nothing which the Unionists in Ireland can do which will not be justified". But the intellectual nub of it lies elsewhere, he told his British Unionist audience of 30,000, "Does anyone imagine that British troops will be used to shoot down men, who enjoy no privilege which is not enjoyed by you, whose only offence is that they refuse to surrender the rights which none of you would surrender? The thing is unthinkable." It is worth remembering that many influential Liberals agreed on this point. (The Irish Times, 3 Oct. 1992.)

D. George Boyce, Nationalism in Ireland (London: Routledge 1982): 'What Home Rule Stood For, 1891-1918', espec. 280ff., 'Joyce Redmond's inability to make home rule a reality, to establish some kind of separate government in Ireland, even at the price of partition, was fatal to his cause. Redmond had claimed that Irishmen were sacrificing themselves for freedom; but freedom was as far away in 1918 as it had been in 1914, and the whole concept of home rule, with its emotional symbolism, with its associations of Irish dignity, [287] freedom, and nationhood, was now seen to be a trick, a chimera, almost an insult to the nation. The home rulers had lost an ideology, and not yet found a role, for the union of hearts was also in ruins, and the withdrawal of the parliamentary party from Westminster over conscription amounted to a denial of the long standing conviction that Ireland's battles could beset be fought [there].' (pp.287-88.)

Note: Boyce quotes Redmond: 'as a nationalist, I do not regards as entirely palatable the idea that for ever and a day Ireland's voice should be excluded from the councils of an empire which the genius and valour of her sons have done so much to build up, and of which she is to remain a part.' (Gwynn, Redmond, 1932, p.55; Boyce, p.280; See further under Quotations, infra.]

D. G. Boyce, 'Separatism and the Irish National Tradition', in Colin H. Williams, ed., National Separatism (Cardiff: Wales UP 1982): 'John Redmond's inability to make home rule a reality, to establish some kind of governent in Ireland, was fatal to his cause. Redmond claimed that Irishmen were sacrificing themselves for freedom; but freedom was as far away as ever in 1918, and the whole concept of home rule, with its emotional symbolism, its association with Irish dignity, freedom, and nationhood, was now seen to be a trick, a fraud, almost an insult to the nation. Home rule had stood for independence, and a nation once again; but from 1912, and especially from 1914, its image had been transformed; and now it stood for devolution and a wider British patriotism. This might not have proved unsuccessful in the short term (though its eventual triumph was always doubtful) if all had gone well during the war; but the rising and the conscription crisis had drained home rule of its mystique, and the party suffered losses at by-elections in 1917 and 1918, and then a complete defeat in the general election of December [96] 1918, because it could no longer claim that it stood for the onward march of a nation: "we could get all that we required and all that would be good for us", with home rule declared [Willie Redmond, in Munster Express, 14 Dec. 1918]. The new voice of nationalist Ireland, Sinn Féin, captured the ideology of home rule, affirming that it stood in the Parnellite tradition […] In short, "republic" was now the Irish for independence, just as home rule had been between 1886 and 1912.' (pp.96-97.) [Note similarity to remarks in Nationalism in Ireland, 1982 -as supra.]

[ top ]

Margaret Ward, '"The Suffrage Above All Else!": An Account of the Irish Suffrage Movement", in Irish Women's Studies: A Reader, ed. Ailbhe Smyth (Dublin: Attic Press 1993) - re. a women's franchise Conciliation Bill: 'On March 28, 1912, in the second session of Parliament, after the government had promised that the bill would receive time to go through all the necessary stages, it was defeated by fourteen votes - and this time, only four Irish MPS had voted in its favour. Sylvia Pankhurst was convinced that the wrecking of the Bill was a direct result of this unexpectedly large Irish voting pattern. There was another reason for this abrupt change of heart: Redmond's realisation of the repercussions involved in franchise reform. if the franchise was extended, this would have to occur along with general election reform, including redistribution of seats. Giving the vote to the working class and women would assist the rise of Sinn Féin, while a redistribution of seats would strengthen the Unionists in Ulster. The Irish Party was confronted by "the devil of Sinn Féin and the deep sea of Ulster machinations inside the Unionist party" (D. Morgan, Suffragettes and Liberals, Oxford: Blackwell 1975, p.147.) Redmond was painfully aware that any measure of female suffrage was an opening of the floodgates. / Redmond's opportunism came in for increasing [27] criticism, and not only from suffragists. C. P. Scott, editor of the Manchester Guardian, tried to urge him to reconsider his attitude by pointing out the inconsistency of a home rule party betraying the very principle of home rule - "that emancipation for Irish men [would be] purchased at the cost of its refusal for English women." (Morgan, op. cit., p.113.) it was only with considerable reluctance that many Liberals continued to support the aspirations of the Irish Party.' (pp.27-28.)

Margaret Ward ('"The Suffrage Above All Else!": An Account of the Irish Suffrage Movement", 1993) [cont.] - further notes that Redmond's meeting at the Gresham in Feb. 1912 was the object of a demonstration demanding Home Rule for Irish women as well as men while two months later they were told my him that he would never support female suffrage under any circumstances (Irish Citizen, 4 Jan. 1913). A Home Rule rally of April 1912 specifically precluded women, causing the suffragettes to retaliate with a meeting at the Antient Concert Rooms on 1 June 1912 attended by Mary Hayden and Hanna Sheehy-Skeffington among representatives of 19 organisations from all parts of Ireland. (Ward, p.29.) Mrs. Sheehy-Skeffington warned that if the franchise of women were not supported, they would 'find other ways' of pursuing their claims. (Ward, p.30.) Francis Sheehy-Skeffington disguised himself as a clergyman in order to attend the reception meeting for Asquith in July 1912, before being ejected on calling for votes for women and an end to forced feeding of women prisoners - as narrated in Cousins and Cousins, We Two Together, India: Talbot 1950, p.187). On that occasion the English premier was struck by a small blunt hatchet. (Ward, p.31.) [Cont.]

Margaret Ward ('"The Suffrage Above All Else!": An Account of the Irish Suffrage Movement", 1993) - cont.: 'In June 1914 Redmond managed to inveigle control over the Volunteers (in order to preserve unity, militant nationalists remained silent) and feminist fury [39] exploded. Not only were women excluded from the Volunteer executive, and were confined to meekly raising money for the men, but they were actually working for the man who had opposed women being given the vote in the New Ireland. Hanna Sheehy-Skeffington in exasperation dismissed Cumann na mBan as merely an "animated collection box for men", whose "blind sacrifice" was accustoming men to "acquiesce in women's enslavement"' (Irish Citizen, 12 June 1915). [...] Even Countess Markievicz, President of Cumann na mBan, admitted that the organisation's main function was "to collect funds for men to spend", a process which she believed demoralised women and deprived them of initiative and independence (Irish Citizen, 23 Oct. 1915). At this time she was far more involved in Connolly's Citizen Army, which accepted women and men on an equal basis. Markievicz did not take Cumann na mBan seriously until after the 1916 Rising, by which time the organisation had changed considerably as the new recruits took on a much more active military role in response to the demands of guerrilla warfare.' (pp.39-40.)

Carol Shloss, 'Molly's Resistance to the Union: Marriage and Colonialism in Dublin, 1904', in Molly Blooms: A Polylogue on "Penelope" and Cultural Studies, ed. Richard Pearce, Wisconsin UP 1994): 'John Redmond, the leader of the Irish Nationalists, was vehemently opposed to women's enfranchisement, and although the I.WY.L. [Irish Women's Francise League] was intent on ensuring that votes for women be incorporated within the proposed Home Rule Bill, he persisted in believing that including women in the bill would divide the nationalist ranks and also lead to the resignation of British Prime Minister Asquith. Should the Liberal government fail, Redmond reasoned, the Home Rule Bill would be jeopardized just as completely as it had been in the time of Parnell. Kitty [Katharine] O'Shea, in one generation, and the women suffragists in the next, played the role of demon lovers whose acknowledgment had broken/would break the solidarity and effectiveness of the Irish Party. Despite a variety of tactics on the part of women - some of them rhetorical and some of them violent - the Home Rule Bill of 1913 left the women of Ireland without a vote. / C. P. Scott, editor of The Manchester Guardian, "tried to urge [Redmond] to reconsider his attitude by pointing out the inconsistency of a Home Rule party betraying the very principle of Home Rule - 'that emancipation for Irish men [would be] purchased at the cost of its refusal [114] for women'." […] Only when Padraic Pearse read the Republican Proclamation in front of the General Post Office at the Easter Rising of 1916 was the principle of equal citizenship for Irish men and Irish women affirmed. In 1922 the franchise was finally extended to women.' (Quoting Margaret Ward, '"Suffrage First - Above All Else!", An Account of the Irish Suffrage Movement', in Feminist Review, 10, 1982, pp.21-26, in which is quoted David Morgan [q.source] on C. P. Scott; and see also Ward, supra.]
[ top ]
'As a Nationalist, I do not regard as entirely palatable the idea that forever and a day Ireland's voice should be excluded from the councils of an empire which the genius and valour of her sons have done so much to build up and of which she is to remain.' (Quoted in Denis Gwynn, Life of John Redmond, p.55; see 'John Redmond' [entry], in Wikipedia - online; accessed 23.02.2033.)
Speech in the Rotunda, Dublin (8 Oct. 1894): 'Let the popular will be once emphatically declared in favour of any popular reform, and the House of Lords must, as they have always done in the past, bow to the popular will. [...] Had the rejection of the Home Rule Bill been appealed from by the Government, as every similar rejection of every great reform was appealed from in the past, and if the verdict of the people was in favour of Home Rule, then, I assert, the Home Rule Bill would now be law; and I say, further, let the election be held to-morrow on the question of Home Rule pure and simple, and if a majority is elected in the constituencies in favour of it, then the House of Lords will not attempt to oppose it.'
(Quoted in The Home Rule Bill: Memoranda on Amendments [confidential brief of Union Defence League, 8 June 1912; issued at 25, Victoria St., London, SW [1912], "Special Notes on the Amendment Proposing the Postponement of Bill until after a Referendum or General Election", p.3; available at Internet Archive - online; accessed 16.08.2014.)

Note: The Authors of the Memoranda on Amendments go on immediately to remark: 'This is a sound constitutional statement. The present Government, however, have destroyed the resisting power of the Upper House, an avowal that popular opinion is still adverse to Home Rule. To force Home Rule on an unwilling people is undemocratic and unconstitutional'. They also complain that 'Home Rule Bill is to-day only being forced into law as a result of the pressure and power of [the] Party system'.

Much of the Memoranda series - addressing Clauses 1 to 9 of the Home Rule Act - concerns specific issues of equity and administration involved in its execution such as chiefly powers of the Home Rule Parliament; role of the Viceroy; Powers of Taxation; Land Purchase; Denominations and Education; Royal Irish Constabulary; Marriage and Custody; Irish Language in education and government; role and structure of the Senate, &c., &c. For remarks on Ne Timere, see attached.

Broadly, the question of the possible conflict between the Home Rule and Imperial Parliaments and governments forms its recurrent theme - viz., 'As long as England does not intervene her authority is dormant, not actual; as soon as she does intervene all the old troubles, which Home Rule was to end, are revived in an aggravated form.' [q.p.] Under "Clause 2", for instance, the Memorandum quotes Professor Morgan - a Home Ruler: 'I cannot help regretting that, inasmuch as the principle has been adopted of giving Ireland general and unenumerated powers, the number of specific exemptions has not been enlarged. It is highly desirable to avoid conflict of laws in the United Kingdom so far as possible.' Elsewhere, Asquith's admission that the possibility of the Imperial government having to restrain the Home Rule government is a problem to be solved in the actual determination of the form of devolution.

At its head, the Memoranda proposes to defer the Act until after a General Election and a Referendum and the Reform of the House of Lords; to change the title of the Irish representative body to from 'Parliament' to 'Legislature' and to define it as 'subordinate', and to exclude from its territory the counties of Antrim, Armagh, Down and Londonderry. [Ibid., Proposed Amendments to Clause 1. Citing the precedents of Canada and Australia, the authors claim that it is 'infinitely more necessary [than in these cases] that the people of the United Kingdom should be consulted before breaking up an Union' and cites the three-fifths majority required as a safeguard against constitutional change by the Democracy of the United States. (p.3 - available online.)

[It does not appear that such safe-guards have been sought in respect of the Independence referendum in Scotland in Sept. 2014. BS.]

Numerous instances of reported debates at Irish county councils, anti-recruitment posters for the army ('the Saxon shilling') or the police ('England's paid spies'), and other sundry expressions of anti-English feeling suggesting together that the 'reserved' authority of the Imperial parliament would not be respected in Ireland after legislative independence and that the two legislatures and judicial systems would come into conflict with each other. The case is also made that measures to protect workers against 'sweating' and noxious materials (e.g. phosphorous) which had been advanced in Britain as a result of the Berne Convention might not be implemented or adhered to in Ireland.
Redmond's views of the relative positions of the Home Rule and Imperial [Westminster] Parliaments
He said in the House of Commons on August 8, 1892:
"What we object to is not the retention of the supremacy of the Imperial Parliament in the sense that the Imperial Parliament can take away the Irish Legislature, but we do object to the retention of the right of revision, of judgement, review and repeal of specific Acts of the Irish Parliament acting within its proper limits." (Parliamentary Debates, cols. 172-3).
And again on February 14, 1893, he said:
"You must not expect that any scheme will be successful for the government of Ireland which sets up, either directly or indirectly, this Imperial Parliament as a Court of Appeal on the acts of the Irish Legislature. Such a position would be an intolerable one for this House, and would be still more intolerable for the Irish Legislature. I say our position would be much worse than it is at present if, after having constituted a local legislature in Ireland, this House should act as a sort of a Court of Appeal to revise, amend, or repeal any of the Acts of the Irish Parliament." (Parliamentary Debates, col. 1469).
—From The Home Rule Bill: Memoranda on Amendments [Union Defence League] (London 1912) - Clause 7: The Veto (pp.2-3); available at Internet Archive - online.
[ top ]
Gaelic League (Redmond's speech at Aughrim, 25 Sept. 1911): 'For my own part I have always been in favour of the Gaelic League, notwithstanding the fact that critics in the Gaelic League have said that I opposed it. I care not for what they say. I say that myself and the members of the Irish Parliamentary Party have not been opposed to the ideals of the Gaelic League. We have done what we could for the ideals of the Gaelic League in Parliament, and the ideals of the Gaelic League are our ideals, and we will struggle for them in the future. However, soon indeed you will find that these ideals will be realised when Ireland will not only be self-governing - and will not be self-governing as a province of a foreign nation but in the sense of a fully self-governed and self-reliant nation dependent on the genius and talent of our own people, a country able to work out her own destiny.' (Freeman's Journal, September 26, 1911; quoted in The Home Rule Bill: Memoranda on Amendments [Union Defence League] (London 1912) - available at Internet Archive - online; see longer extract on "Irish Language" - as attached.)
House of Commons Speech (3 Aug. 1914): 'The House will remember that in 1778, at the end of the disastrous American War, when … the military power of this country was almost at its lowest ebb, and when the shores of Ireland were threatened with foreign invasion, a body of 100,000 Irish volunteers sprang into existence for the purpose of defending her shores … from the very first day, the Catholics of the South and West subscribed money and sent it towards arming of their Protestant fellow-countrymen … in the North. May history repeat itself today? There are in Ireland two large bodies of Volunteers … I say to the Government that they may tomorrow withdraw every one of their troops from Ireland. I say that the coast of Ireland will be defended from foreign invasion by her armed sons, and for this purpose nationalist Catholics in the South will be only to glad to join arms with the armed Protestant Ulstermen in the North …' (Hansard 5th ser., lxv, cols 1828-9, 3 Aug. 1914; Field Day Anthology of Irish Writing, gen. ed. Seamus Deane, Derry: Field Day 1991, Vol. 3, p.624.)

Woodenbridge Speech (20 Sept. 2014): 'The interests of Ireland - of the whole of Ireland - are at stake in this war. This war is undertaken in the defence of the highest principles of religion and morality and right, and it would be a disgrace for ever to our country and a reproach to her manhood and a denial of the lessons of her history if young Ireland confined their efforts to remaining at home to defend the shores of Ireland from an unlikely invasion, and to shrinking from the duty of proving on the field of battle that gallantry and courage which has distinguished our race all through its history. I say to you, therefore, your duty is twofold. I am glad to see such magnificent material for soldiers around me, and I say to you: "Go on drilling and make yourself efficient for the Work, and then account yourselves as men, not only for Ireland itself, but wherever the fighting line extends, in defence of right, of freedom, and religion in this war"'.
Irish battalions: '[W]henever a battalion of the Irish brigade goes into action there may be a battalion of the Ulster Division alongside of them. I need not point out the moral to you. That is the way to end the unhappiness and the discords and the confusion of Ireland. Let Irishmen come together in the trenches and spill their blood together and I say there is no power on earth that when they come home can induce them to turn as enemies one upon another.' (Account of a Visit to the Front of J. E. Redmond, M.P. in November 1915: with a speech Delivered by Mr Redmond on 23 Nov. 1915, London 1915; cited in Boyce, op. cit., p.284.)
Self-government: 'Our ideal in the movement is a self-governing Ireland of the future, when all her sons, of all races and creeds, within her shores will bring their tribute, great or small, to the great total of national enterprise, national statesmanship, and national happiness' (quoted in Gwynn, John Redmond, p.220; cited in Boyce, Nationalism in Ireland, 1982, p.281.)
Military might: 'No people can be said to have rightly proved their nationhood and their power to maintain it until they have demonstrated their military powers; and though Irish blood has reddened the earth of every continent, never until now have we as a people set a national army in the field … It is heroic deeds entering into their traditions that give life to nations - that is the recompense of those who die to perform them.' (Introduction to Michael MacDonagh, The Irish at the Front, 1916; cited in Boyce, op. cit. 1982, p.285.)
[ top ]
Sinn Féin?: 'What is called the Sinn Féin movement is simply a temporary cohesion of isolated cranks in carious parts of the country, and it would be impossible to say exactly what their [176] principles are, or what their objects. In fact, they have no policy and no leader and do not amount to a row of pins as far as the future of Ireland is concerned.' (quoted in Maurice Headlam, Irish Reminiscences, 1947, p.177.)
St Patrick's Day, 1917 (Speech), 'Unionist and Nationalist, Catholic and Protestant … combined for a common purpose, to fight the good fight for liberty and civilisation, and, in a special way for the future liberty and honour of their own country.' (Quoted in Bryan Cooper, The Tenth [Irish] Division in Gallipoli, 1918; rep. Dublin: IAP 1993; reviewed by Keith Jeffrey, Linen Hall Review, Autumn 1994.)
Redmond in 1917 - To one of the Ulster delegates who asked him to put his cards on the table: 'I have no cards. I am a leader without a party.' (Quoted in A. T. Q. Stewart, Edward Carson, Dublin: Gill & Macmillan 1981, p.114.)
War dead: 'Every Irish soldier who gave his life on the battlefield died for Ireland as truly as any of Ireland's martyrs of the past.' (Quoted Kevin Myers, reviewing in Irish Times, 8 Oct. 1992.)
Partition: 'Irish nationalists can never be assenting parties to the mutilation of the Irish nation; Ireland is a unit … The two nation theory is, to us, an abomination and a blasphemy.' [John Redmond; quoted in Anthony Alcock, Understanding Ulster (Lurgan: Ulster Society 1994), citing David Trimble, The Foundation of Northern Ireland (Lurgan: Ulster Soc. 1991), pp.8-9.]
An extract on the subject of "Ne Timere" - the Catholic rules of marriage between different denominations - taken from The Home Rule Bill: Memoranda of Amendments [Union Defence League] (London 1912) has been conserved here for convenience only - as attached.
[ top ]
References
Dictionary of National Biography, 'three main points gained, control of local govt., ownership of land, and statuary establishment of Irish parliament with executive responsible to it; nationalist, devoid of hostility to Britain, who aimed at free Ireland within the Empire.'
Persons named in John Redmond Papers at the National Library of Ireland - Catalogue
Aberdeen and Temair, Ishbel Gordon, Marchioness of, 1857-1939
Aberdeen and Temair, John Campbell Hamilton-Gordon, Marquess of, 1847-1934
Asquith, H. H. (Herbert Henry), 1852-1928
Balfour, Arthur James Balfour, Earl of, 1848-1930
Balfour, Gerald William Balfour, Earl of, 1853-1945.
Birrell, Augustine, 1850-1933
Blake, Edward, 1833-1912
Campbell-Bannerman, Henry, 1836-1908
Bryce, James Bryce, Viscount, 1838-1922
Casement, Roger, Sir, 1864-1916
Childers, Erskine, 1870-1922
Churchill, Winston, 1874-1965
Clancy, J. J. (John Joseph), 1847-1928
Croke, Thomas William, Archbishop of Cashel, 1824-1902
Davitt, Michael, 1846-1906
Devlin, Joseph, 1871-1934
Dillon, John, 1851-1927
Duffy, Charles Gavan, Sir, 1816-1903
Dunraven, Windham Thomas Wyndham-Quin, Earl of, 1841-1926
Esmonde, Thomas Henry Grattan, 1862-1935
Lloyd George, David, 1863-1945
Gill, T. P. (Thomas Patrick), 1858-1931
Ginnell, Laurence, 1854-1923.
Granard, Bernard Arthur William Patrick Hastings Forbes, Earl of, 1874-1948
Green, Alice Stopford, 1848-1929
Hardie, James Keir, 1856-1915
Harrington, Timothy Charles, 1851-1910
Healy, T. M. (Timothy Michael), 1855-1931
Hyde, Douglas, 1860-1949.
Kitchener, Horatio Herbert Kitchener, Earl, 1850-1916
Law, Andrew Bonar, 1858-1923
Logue, Michael, 1840-1924
McCarthy, Justin, 1830-1912
MacDonald, James Ramsay, 1866-1937
Mac Neill, Eoin, 1867-1945
Macready, Nevil, Sir, 1862-1946
Maxwell, John Grenfell, Sir, 1859-1929
Moore, Maurice George, 1854-1939
Moran, Francis Patrick, cardinal, 1830-1911
Morley, John, 1838-1923
Murphy, William Martin, 1845-1919
Nathan, Matthew, Sir, 1862-1939
O'Brien, James F. Xaverius
O'Brien, William, 1852-1928
O'Callaghan, John, National Secretary
O'Connor, James, Sir, 1872-1931
O'Connor, T. P. (Thomas Power), 1848-1929
O'Donnell, Patrick, Archbishop of Armagh, 1856-1927
Parnell, Charles Stewart, 1846-1891.
Parnell, John Howard, 1843-
Plunkett, Horace Curzon, Sir, 1854-1932
Russell of Killowen, Charles Russell, Baron, 1832-1900
Sheehan, R. A.
Stead, W. T. (William Thomas), 1849-1912
Sullivan, Alexander Martin b. 1871?
Walsh, William J. (William Joseph), 1841-1921
Webb, Alfred, 1834-1908
Wimborne, Ivor Churchill Guest, Viscount, 1873-1939
Wyndham, George, 1863-1913
Yeats, W. B. (William Butler), 1865-1939.
—NLI electronic Cat. No. ../Record/vtls000247810; available - online.
[ Print & MS holdings on the Home Rule Act in the NLI are listed in the Catalogue at vtls000247810. ]
Justin McCarthy, gen. ed., Irish Literature (Washington: University of America 1904); 'First Steps Toward Home Rule', gives an extract from Redmond's speech in Chicago, Aug. 18 1886.

Seamus Deane, gen. ed., The Field Day Anthology of Irish Writing (Derry: Field Day 1991), Vols. 2 & 3:

Vol. 2
Selects Speeches of John Redmond MP (1910), 'Ireland and the Boer War' (Westminster 7 Feb. 1900); also 'The Administration of Justice in Ireland'; and Ireland and the War [339-46]; his tactics of conciliation misunderstood unionism … unlike Parnell in relying on British politicians to deliver Home Rule … [his] policy of conciliation culminated in his Woodenbridge speech … leading to no political gain [Seamus Deane, ed.], 211-[13]; Thomas Clarke testifies to John Redmond's responding to his prison letter with many a visit, and 'whose kindness I can never forget', 282-83; Eoin MacNeill's analysis of unionism (1913), 'Ireland is to be held for the empire or for the empyrean, against the pope, against John Redmond, or against the man in the moon', 287; [320n]; Redmond, 'I assert my belief that the dethronement of Mr Parnell will be the signal for kindling the fires of dissension in every land were the Irish race has found a home.' (6th Day in Committee Room No. 15, reported in T. P. O'Connor, 1929), 326; John Redmond, 'He is the master of the Party. Then Mr Healy cried, 'Who is to be mistress of the Party?' [ibid.], 327; [331];
'leading the little band who still upheld the name of the Parnell', 335; William O'Brien, 'The Case of Mr Redmond', The Downfall of Parliamentarianism (1918), Chap. VI, '..the best defence of Mr Redmond's leadership is that he never was the leader … managed to persuade himself that his optimism was not insincere, the true explanation of the almost uninterrupted series of blunders which characterised the course of his nominal leadership, is that he found himself compelled to pursue a programme in which he profoundly disbelieved … ', 350-51; Shaw's ironic comments on British expectations of Redmond, 'if he began to use his powers to make himself agreeable instead of making himself reckoned with by the enemy …' (Pref., John Bull's Other Island 1904), 477, with a note on his loss of leadership through support of enlistment, 478n; urged Irish to enlist in British army during WWI in return for promise of Home rule, threatened resignation at 1916 executions, lost ground to Sinn Féin, humiliated [note to ibid], 506; Douglas Hyde, in Necessity &c., 'whether Mr Redmond or Mr MacCarthy lead the largest wing of the Irish party [of no importance], 532; Irish Council Bill rejected by, 740; Aodh de Blacam (in Towards the Republic, 1918) asserts that in Western Ireland 'you may meet strong farmers who have never heard of John Redmond', 985; Gaelic League applauded by Redmond (Frederick Ryan reports), 998; [370: Bibliography, as under Works & Criticism, supra.]
Vol. 3
[Joyce's "Home Rule Comet": 'the Irish leader Redmond proclaimed the happy news to a crowd of fishermen', 11; Joyce, "Ivy Day", no direct ref.], 25n; Seán Ó Faolain, 'once the Land Acts had been won, John Redmond was the weaker for it' (The Bell, 1943), 103; [compared to Birmingham, 411; quotes Sean O'Casey: 'H. H. Asquith, Prime Minister, stood side by side with John Redmond at a recruiting meeting in the house of Dublin's Lord Mayor, but the forest of British guns and bayonets round the building kept his voice from travelling; and Dublin roared out her contempt for the pair of political brokers, but still the swinging columns of Kellys, Burkes, and Sheas tramped to the quays, and, singing, went forth to battle for England, little nations, and homes unfit for humans to live in […]' (Drums Under the Window, 1945), 456; Bulmer Hobson at odds with McDermott over admission of Redmond's nominees to the Irish Volunteers (Ireland Yesterday and Tomorrow, 1968), 504; Patrick Shea: '[...] a body blow had been dealt the Irish Parliamentary Party. John Redmond, its leader, had urged his followers to join in the fight for the freedom of small nations; he had lost his brother at the battle of the Somme … the Sinn Féin party had benefited enormously' (Voices and the Sound of Drums, 1981), 537;
['Faolain, no word [in] Gael[ic] in Redmond, et al., 570; [?nul 622]; Redmond's Westminster speech of 3 Aug. 1914 [see supra], 624; [Deane, ed., Redmond at Woodenbridge in 1914, ?err], 683; [not wanted, in Larkin's 'Scathing Indictment, 1913 [printed ?1920], 711; imprisoned in 1888 [cited in the dock by Francis Sheehy-Skeffington, 716; Connolly on IPP recruitment policy, 'reveal in a most striking and unmistakable manner the depths of betrayal to which so-called Nationalist politicians are willing to sink', 725; 'the betrayal of the national democracy' [ibid.], 726; [more, ibid.], 727.
Belfast Public Library holds Great Irishmen (1920); Historical and Political Addresses (1898); Home Rule Speeches, ed. R. Barry O'Brien (1910); Stephen Gwynn, John Redmond's Last Years (1919).
[ top ]
Notes
Who Fears to Speak? John Redmond addressed the Society on 'Wexford in '98' in 1885 (see W. P. Ryan, The Irish Literary Revival, 1894, p.24).
Francis Ledwidge would not be associated with a motion congratulating Redmond at Navan Rural Council, 10 Oct. 1914, following Woodenbridge; see remarks quoted by Seamus Heaney in an article on Francis Ledwidge, in The Irish Times, 21 Oct. 1992 [under Ledwidge, supra].
Asquith on Home Rule: Asquith accepted Home Rule policy in 1911, in exchange for support in Westminster from the Irish Parliamentary Party, thus permitting him to form a Liberal Government. But in 1902 he had said: 'Is it to be part of the policy and programme of our party that, if returned to power, it will introduce into the House of Commons a bill for Irish Home Rule? The answer, in my judgment, is No.'
James Joyce: Joyce held a copy of What the Irish Regiments have Done (London: T. Fisher Unwin 1916), stamped "J.J.", in his Trieste Library. (See Richard Ellmann, The Consciousness of James Joyce, Faber, p.125 [Appendix].
Andrew Bonar Law (leader of the Conservative Party, Nov. 1911-May 1915; Prime Minister, October 1922 – 22 May 1923) - see Wikipedia notice: '[...] As the child of an Ulster family who had spent much time in the area (his father had moved back there several years after Law moved to Scotland), Law understood the gap between Ulster Unionism and Irish Nationalism, and believed it could never be crossed. Despite this he said little about Home Rule until the passing of the Parliament Act in 1911, calling it the "Home Rule In Disguise Act" and saying it was an attempt to change parliamentary demographics so as to allow Home Rule "through the back door". After the passing of the Act he made a speech in the Commons saying that if the Liberals wished to pass a Home Rule Bill they should submit it to the electorate by calling a general election. His elevation to the leadership of the Conservative Party [Nov. 1911] allowed him a platform to voice his opinion to the public, and his speeches (culminating with the January 1912 speech at the Royal Albert Hall) were centred on Home Rule as much as they were around tariff reform. Law was supported by Edward Carson, leader of the Ulster Unionists. Although Law sympathised with the Ulster Unionists politically he did not agree with the religious intolerance shown to Catholics.'

Note also remarks on a secret inter-party meeting involving plans for wide-scale devolution within the Union: 'The death of Edward VII on 6 May 1910 prompted the leaders of the major political parties to secretly meet in a "Truce of God" to discuss the Lords. The meetings were kept almost entirely secret - outside of the party representatives, the only people aware were F.E. Smith, J.L. Garvin, Edward Carson and Bonar Law. The group met approximately twenty times at Buckingham Palace between June and November 1910, with the Conservatives represented by Arthur Balfour, Lord Cawdor, Lord Lansdowne and Austen Chamberlain. The proposal presented at the conference by David Lloyd George was a coalition government with members of both major parties in the Cabinet and a programme involving Home Rule, poor law reforms, imperial reorganisation and possibly tariff reforms. The interesting element of the Home Rule proposal was that it involved devolution - the idea that the United Kingdom could become a federal system, with "Home Rule all around" for Scotland, Ireland and England and Wales. In the end the plans fell through - Balfour told Lloyd George on 2 November that the proposal would not work, and the conference was dissolved a few days later.' [Available online; accessed 17.08.2014.]

Flagmanship: Bonar Law visited Northern Ireland in April 1912, meeting leading Unionists and churchmen at Balmoral on 9 April, under 'the largest Union Jack' ever made (48x25 ft. on a 90 ft. flagpole). At the meeting both Law and Carson swore to the crowd that 'never under any circumstances will we submit to Home Rule'.

Bonar Law objected to the passage of Home Rule without a referendum - i.e., a general election on the issue; and without implementing the preamble of the Parliament Act (1911) calling for a reconstitution of the House of Lords as non-hereditary; and, finally, in view of the self-evident fact that Home Rule could only be instituted by resort to force in Ulster.
[ top ]
Bonar Law - Quotations
April 1912: 'Do you plan to hurl the full majesty and power of the law, supported on the bayonets of the British Army, against a million Ulstermen marching under the Union Flag and singing "God Save The King"? Would the Army hold? Would the British people - would the Crown - stand for such a slaughter?' (Quoted Wikipedia, op. cit.)

[April] 1912: '[Y]ou will not carry this Bill without submitting it to the people of this country, and, if you make the attempt, you will succeed only in breaking our Parliamentary machine.'

27 July 1912 (Blenheim Public Meeting, called in response to Asquith's visit to Dublin, July 1912): 'I said so to [the Liberals] and I say so now, with the full sense of the responsibility which attaches to my position, that if the attempt be made under present conditions, I can imagine no length of resistance to which Ulster will go, in which I shall not be ready to support them, and in which they will not be supported by the overwhelming majority of the British people.'

6 Aug. 1914: 'The Government already know, but I give them now the assurance on behalf of the party of which I am leader in this House, that in whatever steps they think it necessary to take for the honour and security of this country they can rely upon the unhesitating support of the Opposition.'

Aug. 1914 (speaking at Westminster): 'the Government have treated us abominably [...] but we are in the middle of a great struggle. Until that struggle [is] over, so far as we are concerned, in everything connected with it there would be no parties, there would openly be a nation. In regard to this debate I have made protest as well as I could, but when I have finished we shall take no further part in the discussion.' (The Bill was then passed by a parliamentary majority while the Conservatives filed silently from the House.)

The above quotations are all given in Wikipedia article on Andrew Bonar Law; bibl. R. J. Q. Adams, Bonar Law, London: John Murray 1999). [See online.]

'If Ulster, or rather any county, had the right to remain outside the Irish Parliament, for my part my objection would be met'. (Quoted in John Bruton, 'Home Rule of greater significance than 1916 blood lust', in Irish Independent, "Comment", 5 Aug. 2014; see full text - with associated responses and remarks from Eamon Ó Cuiv and Ronan Fanning - as attached.)
Portraits of John Redmond: 1] oil by Sir John Lavery, Municipal (see Anne Crookshank, Irish Portraits Exhibition, Ulster Mus. 1965); a bust of 1910 by Francis W. Doyle-Jones in the House of Commons, rep. as frontispiece port. in Denis Gwynn's Life of Redmond; also as photograph in Rosslare Strand Hotel, Co. Wexford; a photo-card of same in copy placed beside funerary plaque with last words of 'love' from J. E. Redmond, his grand-uncle, of Wexford town (d.1865).
United in death: There is a photograph of the men of the 16th (Irish) and 36th (Ulster) Divisions standing at the grave of Major Willie Redmond, Sept. 1917, in the Imperial War Museum collection. (See Fortnight [Belfast], June 2003, p.8.)
Poster boy: A poster of 1910, designed by G. R. Halkett under the caption "Their Irish Master", shows John Redmond leading Asquith (PM), Lloyd George and Winston Churchill by the nose towards Home Rule. A rare surviving copy measuring 30 x 90 inches and intended for display at a meeting was auctioned by Bloomsbury, London, on St. Patrick's Day, 2011, with a reserve price of £150.
Home Sweet Home?: Aghava[n]nagh - a former British military barrracks located on the Military Road originally constructed at Aghavannagh between 1804 and 1809 in the wake of the 1798 rebellion, and located near the Wicklow Way, a long distance walk in Co. Wicklow, Ireland. Alternately called the former shooting-lodge of Charles Stewart Parnell. Stephen Gwynn writes: "After Parnell's death Redmond bought the barrack and a small plot of land about it, and it became increasingly ... Ireland to him meant Aughavanagh." Similarly, "he went to Aughavanagh as a man returns from the City to his home."
Warre B. Wells (Life of Redmond, 1919), writes: 'During the latter part of his life he resided chiefly in London, in a small Kensington flat. His house in Dublin was closed. Every year, however, autumn saw him at Aughavanagh in County Wicklow. Aughavanagh, which used to be the property of the Parnells, had been built for a barracks at the time of the Rebellion of 1798. It had long been disused, like other buildings built in Ireland at the same date and for the same purpose, until Mr. Redmond put it into repair and used it as a shooting-lodge. The many-roomed, gaunt house is set many miles from any railway, amid a wild scenery, on the so- called Military Road which traverses the highlands of Wicklow, and finally leads into the county of Dublin.' (p.23.)

Note: A photo of Aughavanagh Lodge appears in F. S. L. Lyons, Charles Stewart Parnell (Collins 1977), on p.336, facing.
---