Life
1776-1869; ed. TCD; Irish judge, and lord chief justice, 1852-66; probably best remembered for his place in the life of Jane Austen as a friend and possible suitor - with whom she "flirted", in her own words (letter to Cassandra of 15 Jan. 1796); Lefroy stood unsuccessful for Parliament as the TCD representative in 1829 and expressed himself opposed to Catholic Emancipation; he was on friendly terms with Maria Edgeworth and had a home at Carriglass House nr. hers in Edgeworthstown/Mostrim; according to RL Sheil he was a principle of the Kildare Street Bible Society prosletysing movement and an antagonist of O'Connell; he was also dedicated to the conversion of the Jews by the same account. ODNB
[ top ]
Works
T. Lefroy, Memoir of Chief Justice Lefroy (Hodges Foster [sic for Figgis?] & Co. Dublin).
[ top ]
Criticism
Richard Lalor Sheil, Sketches of the Irish Bar, 2 vols. (NY: Redfield, Nassau St. 1858) of which Vol. 1 contains a chapter on Lefroy - available at Internet Archive - online; accessed 07.06.2018 [notified by Barry Montgomery, UU]
Note: Sheil assails Lefroy in ironical style for his proselytising activities through the Bible Society which enjoys the support of Parliament and the enmity of O'Connell, Lord Cloncurry, and the Catholic Hierarchy. Chapter headings are: A Saintly Lawyer; O'Connell on Catholic Education; Lefroy in the Chancery Court; Captain Rock in Limerick; Raised to the Bench (p.216-[51]). The chapter ends with an account of Lefroy's part as judge in the suppression of troubles in the South of Ireland - poss. in the Doneraile case where O'Connell acted for the defendants. Sheil writes - '[...] the learned Sergeant charges a confederacy between Beelzebub and Captain Rock, imputing the atrocities of the South to an immediate diabolical interposition, and lays at the Devil's door all the calamities of Ireland.' (p.231; end.)

See Margaret Anne Cusack ["the Nun of Kinsale"] who recounts the Doneraile trial in the course of her account of O'Connell in An Illustrated History of Ireland (1868) - where she relates that O'Connell was summoned from Derrynane to defend the accused from 'all the rascalities of an Irish court of Justice'. (Available online; accessed 07.06.2018.)
[ top ]
Reference
Lefroy Family history: '[...] Anthony, the only male Lefroy left in the world at that time, left England to seek his fortune in Italy. There he met and married Elizabeth Langlois, the daughter of a rich Huguenot banker, and they had two sons and a daughter, Anthony, George and Phoebe. [Shows painting of Anthony and Elizabeth in 1738]. Both sons travelled widely and Anthony [portrait of c.1780], upon arriving in Ireland in 1760, declared "I have arrived in Paradise"! He married an Irish girl from Clare, Anne Gardiner, and they had five daughters, followed by five sons, the eldest of which they named Thomas, Jeffry's great-great-great grandfather.' Further, cites General Sir John Henry Lefroy, Lt- Colonel Patrick Lefroy (MBE), founder of Council for the Protection of Irish Heritage Objects and others. (See Carriglas Manor website [link].)
There is a Wikipedia article on Thomas Langlois Lefroy - online; accessed 01.06.2018
[...] In 1796, Lefroy began a flirtation with English novelist Jane Austen, who was a friend of an older female relative. Jane Austen wrote two letters to her sister Cassandra mentioning "Tom Lefroy", and some have suggested that it may have been he whom Austen had in mind when she invented the character of Mr. Darcy in Pride and Prejudice, as the courtship between Tom Lefroy and Jane Austen took place over the year or so that Pride and Prejudice was written. In his 2003 biography, Becoming Jane Austen, Jon Spence [Becoming Jane Austen, Hambledon Continuum 203) suggests that Jane Austen actually used her and Tom LeFroy's personalities as the models for Mr. Darcy and Elizabeth Bennet, but not in an expected way. Spence suggests that Jane Austen used Tom Lefroy's more gregarious personality as the model for the novel's heroine Elizabeth Bennet, and her own measured demeanor was used as the model for the male protagonist, Mr. Darcy. So while the exact influence of Tom Lefroy on Pride and Prejudice continues to be debated, it does seem certain that his presence in Austen's life is in some way reflected in the novel.
Note: Austen, in her correspondence, goes on to characterised him as a "a great admirer of Tom Jones [by Henry Fielding] and offers this as a reason why his morning coat is too light in colour. In the auction of the publisher Cadell's papers, Lefroy purchased a letter of rejection sent to Austen in connection with Pride and Prejudice and he came to England to pay his respects on hearing of her death. Lefroy was opposed to the Act of Catholic Emancipation in 1829. [See further - online.]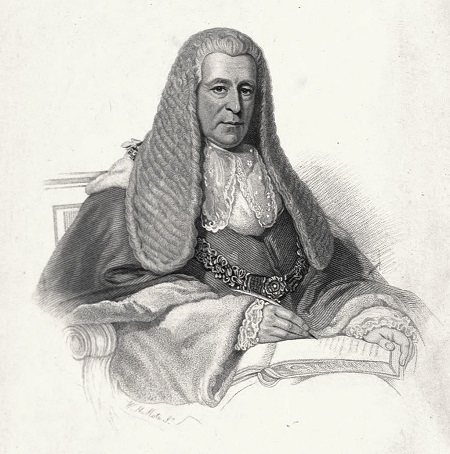 Thomas Langlois Lefroy (1776-1869)
Bibl. incl.
T. Lefroy, Memoir of Chief Justice Lefroy (Hodges Foster [sic for Figgis?] & Co. Dublin);
John Spence, Becoming Jane Austen (Hambledon Continuum 2003);
Claire Tomalin, Jane Austen (Viking 1999);
N. Radovici, A Youthful Love: Jane Austen and Tom Lefroy? (Devon: Merlin Books 1995);
L. R. Walker, 'Jane Austen and Tom Lefroy: Stories' - Persuasions On-line, Vol. 27, No.1 (2007).
Notes
Maria Edgeworth: According to Anne Thackeray Ritchie in her introduction to the 1894 Macmillan edition of The Absentee, Maria Edgeworth and "Judge Lefroy" were friendly neighbours at Edgeworthstown and Carriglass. (See further under Maria Edgeworth > Notes - supra. (Thanks to Barry Montgomery [UU] for drawing attention to this edition.)
[ top ]
---