James Joyce: Genealogical Appendix
[ You can also view this page n a new window ]
Joyce forebears
Joyces putatively descended from Norman Josses who settled in N. Wales; THOMAS DE JORCE arrived in Ireland in 13th c. and m. Nora, dg. of the O'Brien [prince] of Thomond, 1283; became estab. as one of 14 tribes of Galway; JSJ owned an engraving of the Joyce coat of arms, properly those of the Joyces of Corgary in Connacht, pernobilis et pervetusta familia ['most famous and ancient family'] in the formula of an 18th c. Ulster King-at-Arms; eponymous ancester GEORGE JOYCE, presum. a tenant farmer, purchased property at 16 White St., Cork, from Charles O'Connell, July 1830; his son JAMES JOYCE (?1800-?1855 - Ellmann's 'Ur-James Joyce'), called 'the handsomest man in Cork' [AP], was anti-clerical and nationalist, being condemned to death for involvement in Whiteboy agitation in 1823, but reprieved [there is a portrait on the wall in the AP Christmas dinner scene]; estab. a lime business at Fermoy; m. Ann McCann, with whom a son and only child, JAMES AUGUSTINE JOYCE (1827-Oct. 1866; b. Rose Cottage, Fermoy, m. ELLEN O'CONNELL; d. Cork); James Joyce Snr. purchased land with Jeremiah O'Connor at Carraigeeny, nr. Cork, 1835, re-selling it in 1842 (£500); estab. a contracting [building] business; acquired slum housing off White St. [named Joyce's Court]; purchased the rere plot of South Terrace from Sir Thos. Deane, 7 Jan. 1846; f. and s. declared bankrupt in 1852; acquired prop. at Anglesea St., Cork from Wm. Pennefather, also land at Skahard and Goat Island (Douglas River); James Joyce Jnr. became a horse trainer, estab. at Winthrop St., and lost money through betting; m. ELLEN O'CONNELL (1816-1881; b. & d. Cork), 29 Feb. 1847 at SS Peter and Paul, in Paul St., Cork, with post-nuptial settlement of £1,000, 28 Feb. 1848, answered by a trust in White and Anglesea props. by James Joyce, Snr.; settled at 6 Angelesea St.; owned brickfields nr. Cork in 1850s; kept up family at Sunday's Well in spite of second bankruptcy; appt. Inspector of Hackney Coaches; fell ill, Sept. 1866, and d. from inflammation of the lungs, 28 Oct. 1866; a son JOHN STANISLAUS JOYCE (1849-1931; f. of JAMES AUGUSTINE JOYCE, 1882-1941).
O'Connells (JAJ's paternal-maternal line)
JAMES AUGUSTINE JOYCE m. ELLEN O'CONNELL (1816-1881; b. & d. Cork), dg. of JOHN O'CONNELL, of the Tarmon family branch, and hence a 'cousin' of the Liberator, owning a large drapery at Gt. George's St [now Washington St.]; ed. Ursuline Convent; Ellen, with her sister Alicia (Sister Xavier; d.1872), had become a novitiate at S. Presentation Conv., leaving after four months (Oct. 1836-Jan. 1837) though her sister remained to become Mother Superior before her death; JOHN STANISLAUS JOYCE cousin to John Daly (Mayor of Cork in 1871 & 1872), through common gf. Charles O'Connell, and with Peter Paul McSwiney, co-prop. of Clerys with George Delaney and Mayor of Dublin associated with the Home Rule Party in 1864 and 1875, a nephew of John O'Connell; a br. Charles, ord. 1854 and suspended purportedly for refusing to accept income from parish dues while curate at Iniskeen, c.1863; John O'Connell elected Alderman for St Patrick's Ward, 1850; secured Inspectorship of Hackney Coaches for his son-in-law; also William O'Connell, son of John, and prop. of Gt. George's St. business from 1854; later bankrupt; managed prop. in trust for Ellen (Mrs Joyce); removed to London; a dg., May O'Connell (2 Feb. 1883; Sister Ita), entered Presentation Convent, Crosshaven.

Murrays (JAJ's maternal-paternal line)
WILLIAM MURRAY (?1800), of Leitrim family around Mohill, became farmer at Tulcon, nr. Lough Rinn, m. BRIDGET BYRNE, settled in Co. Longford; corn and whiskey merchant; their children JOHN MURRAY (1829-94; g.f. of JAMES JOYCE), PATRICK MURRAY (b.1830-1912; ed. by Rev. Patrick Murray, his uncle [& namesake], 1800-1854; b. Tulcon; ord. June 1827, PP of Mullahoran, Co. Cavan, where he ran a school), ord. 1857, became PP at Carraig Finea, nr. Granard; fnd. Finnea branch of United Land League, 1879; HUGH MURRAY (1820- ), farmer in Gortletteragh, evicted from Tulcon by Lord Leitrim. JOHN MURRAY m. MARGARET THERESA MURRAY (b.?1832-Feb. 1881), prop. of The Eagle House, Terenure Rd., with whom children JOHN MURRAY (1856-1910), WILLIAM MURRAY (1857-1912; d. of syphilis), and MARY JANE [May] MURRAY (May 1859-1903; mother of JAMES JOYCE); pub held in wife's name in 1860, poss. by reason of bankruptcy; John Murray Jr., then lodging at 39 Lwr Abbey St. [aetat 35], m. ELIZABETH HARRIS (aetat. 16), 1891, ["Lillie" and poss. model for Polly in "The Boarding House"], after pre-marital conception of a dg. Lilla, followed by children Elizabeth Mary, Isabella Margaret, Valentine John Gerard, and Walter (1895-97; died in accident with tub of hot water); settled at 39 Drumcondra Rd.; WILLIAM MURRAY, m. JOSEPHINE (née Giltrap), ed. convent in Derby, and dg. of JAMES J. GILTRAP, law-agent and William's employer, owner of "Garryowen", first Irish red setter (b.1871; vide "Cyclops"); settled at 77 Haddington Rd., with abused son HUBERT ["Bertie"; models for "Counterparts"], with whom six surviving children, at addresses in Holles St. and Ontario Tce.; acted as agent for Chapelizod Distillery, and settled at Clanbrassil St., where JOHN STANISLAUS JOYCE met MAY MURRAY; on death of Margaret Theresa, John Murray, then residing at Church House, Chapelizod, living as a traveller for Power's Whiskey and later for a T. G. Begge's tea and wine merchants (Bachelor's Walk), remar. Christina Margaret O'Neill (née O'Donohoe; neice of his first wife), dg. of William O'Donohoe ['the old fornicator' acc. JSJ; later committed suicide], hotel owner and one of the [former] Miss Flynns (?Mary; d.1891).

Flynns (JAJ's maternal-maternal line)
PATRICK FLYNN [I] (?1790-?1865; master of spirit store and later starch & blueing factory, 53 Back Lane, formerly Rochelle St.; his sons PATRICK FLYNN [II] (d.1874) and James removed factory to Thomas St. and later Francis St.; located at 16 Ellis Quay in 1830; Patrick Flynn m. ELLEN, with a son PATRICK FLYNN [III] (1833-189[6]), was still working at 79 Thomas St. and is subject of the story of the horse that obsessively drives round the statue of William III in "The Dead"; the sisters ELIZABETH and ANNE (b.1845) ran schools for piano and singing, modelling for the Miss Morkans of "The Dead"; Elizabeth poss. sometime governess at court of Louis Napoleon; ELLEN MARY, m. Matthew Callanan, sec. of Irish Farmers' Club, Sackville St., with whom dg. Mary Ellen (b.?1871); MARGARET THERESA FLYNN (b. ?1832), m. JOHN MURRAY of Longford; also JULIA CLARE (1829-1905), m. Martin Lyons (d. 113 Lwr. Gardiner St., 2 Feb. 1871), paper & hide merchant and legal stationer at 6 Ormond Quay with factory at 16 Usher's Court; their children FREDERICK M. LYONS and JAMES JOSEPH LYONS owned a stationer at 56 Grafton St.); on early deaths of their husbands sisters of PATRICK FLYNN moved to 15 Usher's Island, property of Roe's distillery, and held by caretaker Tallon with dg. Elizabeth (b.?1880; Lily of "The Dead"); also Maria O'Donohoe [Maria of "Clay"], dg. of [?]MARY FLYNN & WILLIAM O'DONOHOE [n.dd.].

Joyce's father
JOHN STANISLAUS JOYCE (1849-1931): b. 4 July 1849, and intended as James but misnamed in the baptismal register; ed. St Colman's, Fermoy, March 1859-Feb. 1860, under direction of Dr. Thomas Croke, later Archb. of Cashel and a fndr. of GAA; tuition unpaid; poss. moved to Christian Brothers; sent out on pilot ships for reasons of health; briefly ed. at school of Daniel O'Sullivan; JSJ matriculated in Arts, 1865; sends JSJ to hear Mario singing in [prob. in Dublin Theatre Royal, Oct. 5-6th 1866]; suffered the death of his father, 28 Oct. 1866; enters Queen's College, Cork, 1867; passed first year medicine and won certificates, by his own account; treated himself with carbolic acid for a suspected chancre on penis c.1867 [i.e., syphilis]; joined Dram. Soc. and participated in charity show at Royal Theatre, Cork, March 1869; played the lead in The Mummy (16 April 1869); became leading actor and sportsman; failed 2nd Yr., June 1869; repeated in 1869-70 and failed again; income of £315 p.a.; received £1,000 from estate of John O'Connell on coming of age, 4 July 1870; attempted to join French side in Franco-Prussian war, with three others, Aug. 1870; followed to London by his mother and brought back home; was involved with Fenians in Cork, befriending Joseph Theobald Casey [Kevin Egan in Ulysses] and Richard Burke, both recently released from Clerkenwell; separated from their company by his mother, who moved with him to Dublin, 1874/75, settling at Monkstown;

JSJ engaged in yachting in Dalkey; named 'the successor to Campinini'; sang at Antient Concert Hall in hearing of Barton McGuckin; sunk £500 in Dublin and Chapelizod Distillery, in enterprise incl. as investors Peter Paul McSwiney, John Daly, Henry Joseph Alleyn, et. al.; involved in management, with refreshment at Chapelizod House [hotel; man. Robert Broadbent]; JSJ holds meeting to contest Alleyn's gratuitous share of £20,000 in the company capital of £80,000, 31 July 1876; credit failed, 1 Aug. 1877; company wound up by Master of the Rolls, with criticisms of the memos of the earlier meeting, Jan. 1878; JSJ set up as accountant [concerned with bad debts] at 13 Westland Row, 1879; served as sec. of United Liberal Club, Dublin (54 Dawson St.; formerly the Liberal Registration Assoc., supported by Peter Paul McSwiney and Fr. Edward O'Connell, et. al.) in 1880 Gen. Election; managed successful election of Robert Dyer Lyons and Maurice Brooks (Lib.) in place of Sir Arthur Guinness and James Stirling (Cons.), 5 April 1880; awarded £100 by successful candidates at celebrations in the Oval Bar; entered marital engagements with Hannah Sullivan and Annie Lee, each ending in jealousy; received post of Collector of Rates for Inns Quay and Rotunda Wards (later for N. Dock ward), paid c.£430 p.a. on 'poundage rate'; Dublin, from Liberal Govt. in recompense with £500 p.a;

JSJ met Mary Jane Murray ("May"; b. 15 May 1859; d. 13 Aug. 1903), pianist; dg. of John Murray, agent for wines and spirits, orig. from Co. Longford, and Margaret Theresa (née Flynn; 1832-1881), then living at 7 Clanbrassil St.; JSJ moved to 15 Clanbrassil St. to be in proximity to May; m. May Murray, 5 May 1880, at Rathmines Church, contrary to wishes of both their parents ('O weeping God, the things I married into': Simon Dedalus in Ulysses); JSJ unforgiven by his mother Ellen; May was a fellow pupil with Katharine Tynan at Misses Flynn School, 15 Usher's Island, teachers of dancing, politeness and piano; her br. William Augustus Murray (1857-1912; Richie Goulding in Ulysses) m. Josephine [née Giltrap] Murray (1863-1924), with children inc. Mabel Florence (1896-1986), m. Arthur C. Walls (1897-1987), with whom children Arthur Walls & 6 others; another br. John Murray (employed in Freeman's Journal, hence "Red" Murray in Ulysses); JSJ and May settled at 47 Northumberland Ave., Kingstown, on return from honeymoon in London; a first child (John Augustine Joyce) born and died, 1881; mortgaged Cork properties, 2 Dec. 1881 [to Edward Byrne; deed of release, Sept. 1884]; JAJ, 2nd child, b. 2 Feb. 1882, at home, 41 Brighton Sq. W., Rathgar; registered as James Augusta [sic] Joyce; took out mortage in 1882 and again on 13 Dec. 1883 [to Joseph Carroll]; a sixth mortgage, 21 April 1887, paid off three previous mortgages and a loan from the National Bank; family moved to 23 Castlewood Ave., 1884; May sang in concert at Mount Argus with Misses Dillon and Misses Bloom, dgs. of the dentist Max James Bloom; JSJ take out further loan from National Bank and another from Walter Morragh, April-May 1887; moved to 1 Martello Tce., Bray, May, 1887;

Note: A mortgage dated 21 April 1887 gives JSJ's address as Castlewood Avenue, while another of 6 May 1887 gives the new address of 1 Martello Tce., Bray. (Ellmann, James Joyce, 1957, p.760 [notes].

JSJ defends his collector's pouch from thieves in Phoenix Park, 1887; moved to North Dock Ward rates area, 1888; placed on probation at work; threatened with dismissal for bad behaviour, but retained, 1888-90; JSJ travels to Cork to canvas his tenants' votes for Parnellites in General Election and incurs reproof from Rates Office, July 1891; loses action against James Reuben Dodd for £22.15.0 in Queen's Bench Division, 22 June 1892; loses other actions taken out against him by Richard Dawson, corn and potato merchant, Bolton St. (£30 and costs) and Francis H. Caulfield, moneylender of Fownes St. (£13 and costs), in 1893; appears in Stubb's Weekly Gazette and Perry's Gazette, 2 Nov. 1892, arising from a loan of £130 secured furniture [bill of sale] with John Lawler (110 Middle Abbey St.); suspended by Collector-General, 3 Nov. 1892; family moves from Blackrock when Lawler collects on bill of sale [Nov.] 1892; removal to Fitzgibbon St., prob. with household furniture to prevent destraint; writes to Chief Sec. Morley to seek commutation of pension into capital for purposes of paying Dodd and refused; Cork property sold by auction, 14 Dec. 1893, realising c.£2,000 [£475 & £1,400, from emptors Mullins & Murphy and another sum from McMullen]; Dodd releases JSJ from mortgage on full repayment (14 Feb. 1893) [...];

1901 Census return for the family of John Stanislaus & Mary ['May'] Joyce

The census form is available at National Archive (Dublin)

[

online

; accessed 16.05.2014. ]

JSJ commutes half his pension to buy house at 7 St Peter's Tce. [now 5 St Peter's Rd., Cabra], 24 Oct. 1902; repayments made by means of insurance and a loan with Eagle Star (£650 and £550), with repayments to these at a rate of £12.6.3 p.m. made directly from pension; takes out further mortgages amounting to £100 from Sheridan, Oct. 1902, with a further mortgage £50, 18 Dec. [& another, £50]; mortgage for £65 on 3 Nov. 1903; forced to sell up at St. Peter's Tce., 1905; writes reproachful letter to JAJ from Millmount Tce., Drumcondra to JAJ, 24 April 1907, announcing imminent eviction and necessity of moving into solo lodgings; [Letters of James Joyce, Vol. II (1966), p.221-23]; living at Whitworth Place, May 1906 [vide letter to James Joyce, dated 16 May 1909; Letters, Vol. II, p.228ff. -thus addressed but containing circumstantial matter associated it with the earlier period]; living at 44 Fontenoy St., nr. Dorset St., in 1909 (when JAJ and Giorgio come to stay); moves or is evicted, and settles at Hishon's Hotel [boarding house], Gt. Denmark St., with dgs. Florence [aetat. 17] and Mabel Anna [aetat. 16]; living at boarding-house address of Samuel Sloane, 20 Gardiner Place, during 1911 census; suffers the death of his dg. Mabel ['Baby'], from typhoid, 1911; latterly settles with Kathleen Refausse, boarding-house owner on Claude Rd., c.1920 - sharing that accommodation with Alf Bergin whom he appoints executor of his will (co-signed with Refausse and dated 22 May 1915); subject of portrait by Patrick Tuohy, commissioned by his son [JAJ], May 1924; d. 29 Dec., 1931, at Drumcondra Hospital, following a short illness at the Medcalf's house at No. 1, St. Vincent Street, off Berkeley Road [ 'I've got more out of life than any white man'] - his registered address at the time of his death; cause of death given as 'senile decay and Endocarditis'; his son JAJ named as sole legatee, receiving an estate of £665.0s.9d. based on Eagle Star insurance which policy rendered, after debts paid, £36.12.1s [for his Will, see Irish National Archive - online];

Note: In A Portrait of the Artist as a Young Man (1916), Stephen Dedalus describes his father Simon - for whom John Stanislaus Joyce was the model - as having been '[a] medical student, an oarsman, a tenor, an amateur actor, a shouting politician, a small landlord, a small investor, a drinker, a good fellow, a storyteller, somebody's secretary, something in a distillery, a taxgatherer, a bankrupt and at present a praiser of his own past.' (Corrected Edn., p.244; Chap. 5.) See also Joyce's letter to Harriet Shaw Weaver of 17 Jan. 1932 following the death of JSJ [infra].
Dear Miss Weaver: Thanks for your message of sympathy. I spent the four days after Xmas sending messages to my father by wire and letter and by telephone to the hospital every evening. The weeks since then have been passed in prostration of mind. Gilbert came here four or five times but I could not collect my thoughts or do anything. I am thinking of abandoning work altogether and leaving the thing unfinished with blanks. Worries and jealousies and my own mistakes. Why go on writing about a place I did not dare to go to at such a moment, where not three persons know me or understand me (in the obituary notice the editor of the Independent raised objection to the allusion to me)?
[...]
My father had an extraordinary affection for me. He was the silliest man I ever knew and yet cruelly shrewd. He thought and talked of me up to his last breath. I was very fond of him always, being a sinner myself, and even liked his faults. Hundreds of pages and scores of characters in my books came from him. His dry (or rather wet) wit and his expression of face convulsed me often with laughter. When he got the copy I sent him of Tales Told &c (so they write me) he looked a long time at Brancusi's Portrait of J.J. and finally remarked: Jim has changed more than I thought. I got from him his portraits, a waistcoat, a good tenor voice, and an extravagant licentious disposition (out of which, however, the greater part of any talent I may have springs) but, apart from these, something else I cannot define. But if an observer thought of my father and myself and my son too physically, though we are all very different, he could perhaps define it. It is a great consolation to me to have such a good son. His grandfather was very fond of him and kept his photograph beside mine on the mantelpiece.
I knew he was old. But I thought he would live longer. It is not his death that crushed me so much but self-accusation. ...
—See Letters, ed. Stuart Gilbert, [Vol. 1, 1959 Edn.], p.312.
Obituary: JSJ was obituarised in Irish Press and Chicago Premier, the latter calling him a master of the vernacluar and a fine storyteller: 'His versatility enabled him to adapt his style to all surroundings, whether that of a drawing room or a saloon. He was full of reminiscences of Irish life in the last half century, and his stories were usually embellished with rare artistry' - ie., confusing the father with the son. (Gordon Bowker, Joyce: A Biography, Weidenfeld & Nicholson 2011; excerpted in The Irish Times, 21 May 2011.)
Nora Barnacle Joyce (b. 21/22 March 1884; d. 10 April 1951); b. Sullivan's Alley, Galway, on 21 March, 1884; raised at 4, Bowling Green, Galway city; dg. of Thomas and Annie [née Healy] Barnacle, 40, a seamstress who spoke both Irish and English; siblings Delia (16 in 1901 Census), Annie, Maggie, Thomas and Cathaline; m. James Augustine Joyce, 4 July 1931 at Kensington Registry Office, London, ended by death; d. 10 April 1951, Zürich (of uremic poisoning), and bur. with Joyce at Fluntern Cemetary.

Kensington Registry Office - marriage details: Marriage solemnised at the district of Kensington in the County of London; No. 166; Fourth July 1931; James Augustine Joyce 49 years; bachelor; independent means; 28B Campden Grove W8, [son of] John Stanislaus Joyce, Government Clerk (pensioned); Nora Joseph Barnacle; 47 years; Spinster [-]; 28b Campden Grove, dg. of Thomas Barnacle (deceased), Baker; married in the register Office by Licence before me This marriage was solemnised between us James Joyce/Nora J. Barnacle in the presence of F. R. D'O Monro; L. Clark; A. J. Tuner, Registrar; F. W. Turner, Superintendent Registrar. Certified true copy Kensington 21st day of Nov. 2001. MXA911215 [App. No. PA5000].

Carlton Elite Hotel
Zurich

Dear Kathleen, I have just received a letter from Miss Weaver and am very much upset that you should have bothered he with the matter of Mothers will She in any case knows nothing about it and as I telegraphed you many months ago neither do I. If any any time a copy of Mothers will was sent to [page] Jim I know absolutely nothing about it but it seems to me that Mothers lawyer should be the possessor of it I mean the original of the will I hope once and for all you will be able to clear this affair up and please on no account write to Miss Weaver

I may remind you that I have plenty of worries myself Jim's death has been a terrible shock to me Lucia [page] is in France I have no news of her hope you are well.

Nora



1901 Census return for the family of Annie Barnacle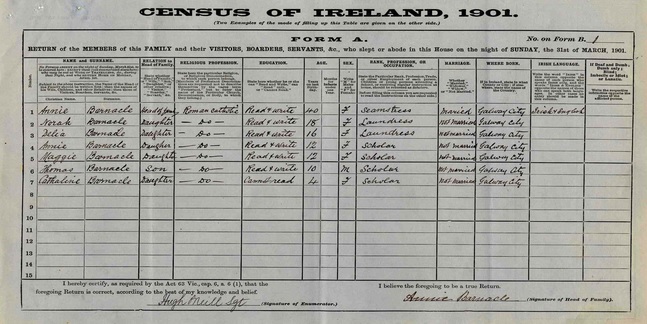 The census form is available at National Archive (Dublin)
[
online
; accessed 16.05.2014. ]
[ top ]
Letters relating to the will of Annie Barnacle (written in 1936 and mislaid at her death) are held in the Hardiman Library at the University of Galway (NUI) - accessible online. These consist of a letter from Miss Harriet Shaw Weaver in Oxford to Kathleen Griffin [née Barnacle] in Galway addressed 13 March 1942 written in response to one from her, together with another from Nora to Kathleen a month later indicating that she is upset that Kathleen bothered Miss Weaver about their mother's will. In hers to Kathleen, Miss Weaver indicates that Nora 'seems to be in a bad way - not at all well, suffering from bad rheumatism and very lonely', quoting a letter from George of 29 December [1941] while Nora, writing from Zürich, speaks of the shock of her husband's death, her worries and her lack of information about Lucia, then in France. Her letter is virtually unpunctuated but otherwise well-written. The date '8th 4 1942' is added in another hand, presumably Kathleen's at the date of receipt.
Joyce's siblings
Margaret Alice ('Poppie'; b. 18 Jan. 1884; d. March 1964, New Zealand); John Stanislaus [jnr.] ('Stanislaus; Stannie'; b. 1884; d. 16 June 1955; m. Nelly Lichtensteiger, with whom James Joyce, b.1943, Trieste); Charles Patrick ('Charlie'; b. 1886; d. 18 Jan. 1941; entered seminary in reaction to Georgeös death, 1902, and left it in 1903, becoming truculent and despairing; moved to Boston with a girl whom he had made pregnant, 1908; d. in London); George Alfred (b. 1887; d. 9 March 1902; typhoid & peritonitis directly caused by ill-considered medical advice to feed him); Eileen Isabella Mary Xavier Brigit (b. 22 Feb. 1889; d. 27 Jan. 1963, m. Frantisek Schaurek (d.1927, by suicide), 12 April 1915, with whom two children); Mary ['May'] Cathleen (1890-1966; m. Monaghan; with whom a son, Ken Monaghan, b. Oughtarard, Co. Galway; of whom a son Bob Monaghan); Eva Mary (b. 1891; d. 25 Nov. 1957; joined the Joyces briefly in Trieste, 1909, but soon returned and trained in business school, funded by Stanislaus); Florence Elizabeth (b. 8 Nov. 1892; worked at cash desk in Todd Burns dept. store; d.1973); Mabel ['Baby'] Josephine Anne (b. 27 Nov. 1893; d. 1911, of typhoid in a Dublin hospital), Freddie (18-30 July 1894; died in infancy); also two miscarriages, in 1883 & 1885.
Joyce's children
GIORGIO ('Georgie'; later 'George') b. 27 July 1905, Trieste, m. Helen Fleischman (d. 9 Jan. 1963, USA) 1930, with one child, Stephen James Joyce (1932- ); divorced and remarried Dr. Asta Jahnke-Osterwalder, 24 May 1954, no issue; d. Konstanz, 1976. STEPHEN JOYCE, m. Solange Raytchine. LUCIA ANNA JOYCE (26 July 1907-12 Dec. 1982), b. Trieste; ed. Trieste (2 years); lost year learning German in Zurich; 4 years at Volksschule; entered Scuola Evangelica, Trieste, 1919; private school in Paris, learning French; entered Lycée Duruy; attended Académie Julian for drawing lessons; dancing courses with teachers incl. Jacques Dalcroze, Jouan Borlin, Madika, Raymond Duncan, Egorova, Lois Hutton & Helene Vanel, and Margaret Morris, passed war in Pornichet, nr. La Baule, France [...] d. Northampton; "Lucia Day" (26th July) was adopted by Schizophrenia Ireland as national schizophrenia awareness day in 1998.
Joyce's cousinage
Eileen Joyce (b. 1889; d. 27 Jan. 1963), m. Frantisek Schaurek (d.1927), 12 April 1915, with whom two children; nephew, James Joyce, b.1943, son of Stanislaus Joyce and Nelly [née Lichtensteiger], with a dg. or widow of same Jeannette [conject.]

The O'Connell Connection: Information received from Ray O'Connell in correspondence with Ricorso (Nov.-Dec. 2017)
Ray O'Connell wrote (13 Dec. 2107) [here adapted]:
You asked what Ellman had to say about the matter:"James Joyce the younger, grandfather of the writer, had however made an advantageous marriage with a member of a prosperous family of O'Connells. This family came, like Daniel O'Connell, the Liberator's, from the Iveragh Peninsula, and claimed to be related to his. The Liberator was glad to concede the connection, and when he came to Cork twice a year for the Assizes would always pay a visit to his 'cousin' John O'Connell, an alderman, who kept a prosperous drapers and tailors shop on St George's Street..... The tenuous relationship is impossible to verify, although genealogists have tried to do so" (Ellmann, James Joyce, [1982], pp.12-13.) Ellman supplies no footnote reference but gives the impression that the information stems from interview(s) with Eileen Joyce Schaurek.
John Wyse Jackson writes in John Stanislaus Joyce (): "... Joyce married Ellen O'Connell, the daughter of John O'Connell, whose family was connected with the great Daniel O'Connell. .... The O'Connells were an old and extensive family; the name is a common one throughout Kerry and Cork. From the wealthy landed gentry of Derrynane, Daniel O'Connell's Kerry home, who could trace their pedigree back to the fourteenth century, sprang the O'Connells of Tarmons, also in Kerry. When the land at Tarmons was sold in 1785, these O'Connells move into Cork where they became successful merchants, primarily in the drapery business." (p.20.) Further: "Yet this was a relationship which Daniel O'Connell himself had been pleased to recognise. On his annual visits to Cork for the Assizes before his election to Parliament he always made a point of calling on his cousins in Fishamble Street near the Old Court House. There (in a vignette recalled by John Stanislaus's mother, the great man would walk arm in arm with her grandfather, Charles O'Connell, up and down the street between the Franciscan chapel and South Main Street, both men wearing the knee-breeches fashionable in those days" (p.21). Jackson doesn't give the source of his assertion that the Tarmons O'Connells became successful drapery merchants which would be strong circumstantial evidence that the Joyce O'Connells were from this line.
The relationship between the Liberator and the Tarmons line is as per the attached file. The Liberator's father Morgan O'Connell was the first cousin of Daniel O'Connell, "of The Stallions", son of Maurice of Tarmons. If, hypothetically, Charles O'Connell, draper of Cork and grandfather of Ellen (Joyce's grandmother) was the son of Daniel of The Stallions, that would make Charles and The Liberator 2nd cousins.
In summary, I would tend to agree with you that Joyce's O'Connell were of the Tarmons line but I am still searching for verifiable proof of this link.
I also have numerous snippets of biographical information from the known O'Connell ancestors of Joyce (Ellen, John, Charles) but this may be more information than you need.
Regards
Ray O'Connell
Ray O'Connell - Chart of Tarmon-O'Connell Connection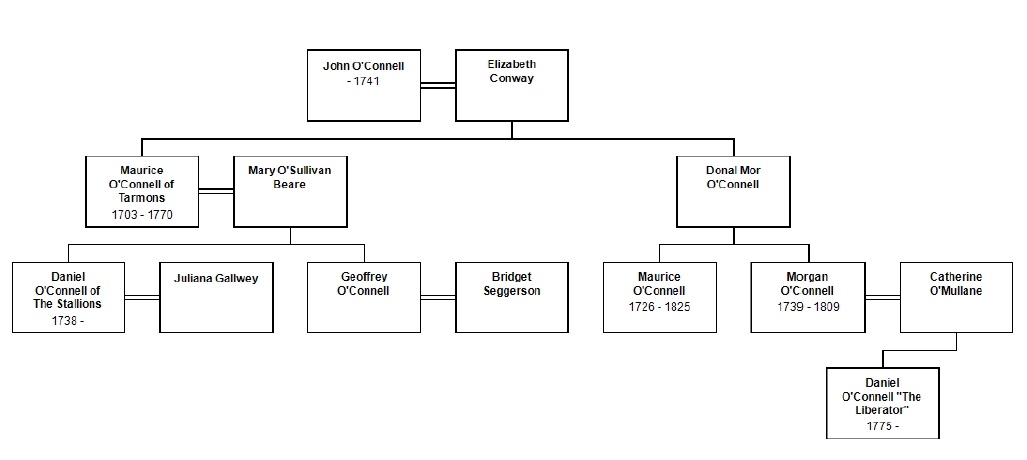 BS [Ricorso] wrote (7 Dec. 2017):
I have deleted the reference to Maurice O'Connell and left only 'Tarmon branch .. "cousin" of Daniel'. I see in the DNB notice on Daniel Charles O'Connell, (?1745-1833) the Fr. Gen. that his cousin Murty O'Connell was living in Tarmon. I take that to mean, once again, that a sibling of Daniel O'Connell lived Tarmon or Tarmon House.
[http://www.oxforddnb.com/view/10.1093/odnb/9780192683120.001.0001/odnb-9780192683120-e-20500.]
There is another allusion to the house and its owners in a historical notice about Dr Geoffrey OConnell, held prisoner in the Bastille in 1793. The writer is S African She mentions Moritz (i.e., Murty) O'Connell of Tarmon, being the cousin of Daniel Charles, who also because a French general and travelled to France in 1761 with the other. She specifies that Murty was the son of Maurice – hence Maurice is the owner of Tarmon.
[ttps://www.irelandxo.com/ireland-xo/message-board/dr-geoffrey-oconnell-0.]
The note on Daniel Charles states that his mother bore 24 children and was vague about their dates of birth unsurprisingly. So – a br. Of Daniel called Maurice had or didn't have children? Or this was a cousin at some remove also called Maurice.
The word 'cousin' in my notice on Ellen O'Connell evidently refers to some relation further removed than first-cousinage. In any event, the dates of these military men places them in the same generation as the Liberator and his brother Maurice - so the owner of Tarmon is presumably an uncle ..? You'd better sort it out for me! In any case, I stand corrected and the deletion stays.
Ray O'Connell wrote (19 Nov. 2017):
Hi Bruce -
I find your website endlessly useful on all matters to do with James Joyce and his oeuvres. I did see in the genealogical appendix that you had Joyce's mother Ellen described thus:
ELLEN O'CONNELL (1816-1881; b. & d. Cork), dg. of JOHN O'CONNELL, of the Tarmon branch (desc. from Daniel's br. Maurice),
What evidence did you have for this? I agree that her father was of the Tarmon branch but (The Liberator) Daniel's brother Maurice Morgan O'Connell died aged 21, in active service, and had no issue. Can I ask what is the source for your genealogy of Ellen and her father John?
Regards
Ray O'Connell
---