Life
[Patricio var. [Patrick] Lafcadio Hearn; fam. Paddy Hearn; occas. err. Hearne; later Koizumi Yakumo]; b. 27 June 1859, on Santa Maura (aka Lefkas [or Levkas], hence Lafcadio), in the Ionian Islands, to an Irish officer-surgeon father Charles Bush Hearn (1818-66), a navy surgeon and grandson of a Church of Ireland Archdeacon of Cashel; and a Greek mother, Ros [Rosa Antonia] Kassimati, whom he met when stationed in Cerigo [Kythira], and with whom he eloped, marrying in Aghia Paraskevi, a Greek Orthodox Church, on 27 June 1849; Lafcadio was a second child, the first having died in infancy; Lafcadio bapt. in Agia Paraskevi; brought to Dublin by his mother after his father was assigned to West Indies, 1851, arriving at 48 Lwr. Gardiner St., the home of his grandmother (Elizabeth Hearn, 1 Aug. 1852, with her dgs. Susan and Jane;
mother - speaking only Greek - and her son remove to the home of Mrs. Sarah Brenane [wife of Capt. Justin Brenane], Elizabeth's sister and Lafcadio's great-aunt, a convert to Catholicism, who ultimately left him her collection of books; initially in Rathmines [3 Arthur Tce. & 21 Leinster Sq.] and afterwards at 73 Upr. Leeson St.; on the return of Charles in Oct. 1853, a br. was conceived (James Daniel), with whom his mother departed alone for Kefalonia (Ionian Islands); marriage annulled on a technicality (i.e., 'her mark' for name); Charles married Alicia Gosling Crawford, at St. Thomas Church, 18 July 1857, with whom three dgs. incl. Minnie Atkinson -with whom he corresponded between 1892 and 1901; Charles d. , of malaria, at Gulf of Suez, 21 Nov. 1866; holidays with Mrs. Brenane at Tramore [with a smaller house in Dunmore East], Co. Waterford; also visited the estate of his wealthier Elwood relations on at Strand Hill, Co. Mayo, nr. Cong and Lough Corrib; raised in the Church of Ireland but sent to Catholics school in England and turned away from organised religion;
sent to Ushaw [St. Cuthbert's] College nr. Durham, after his Mrs. Brenane's removal to England, 1863; suffered the loss of sight in one eye in a game of "Giant's Stride" involving a knotted rope; removed from Ushaw as a result of the mismanagement of Mrs. Brenane's property by a distant relative, Henry Molyneux, Oct. 1867; late 1869; Mrs. Brenane declared bankrupt, late 1869; recalled from Paris by Molyneux, and his fare to America, with an introduction to Molyneux's br.-in-law Thomas Cullinan of Cincinnati, 1869 [aetat. 19]; spent time in New York living rough, before reaching Cincinnati were he remained, 1869-77; initially in receipt of occasional sums from Cullinan; worked with trade journal for prop. Henry Watkin; staffed on the Cincinnati Enquirer where he made a reputation as crime reporter; disappointed not to receive legacy from Mrs. Brenane at her death and dropped Patrick from his name, 1871;
co-habited with, and afterwards married, Mattie [Matty] Foley, a fellow-lodger of mixed race with a child, 1874 - and lost his newspaper job on account of the segregation laws; moved to Memphis and later New Orleans after the marriage foundered, at first working on the Item (newspaper) before joining the Times Democrat; set up 5-cent restaurant called "The Hard Times" and suffered financially when the funds were embezzled by his partner; reported the World Industrial Exhibition for Times Democrat and met Japanese Commissioner Ichizo Hattori at Japanese pavilion, 1890; lived for two years in Martinique, West Indies, and immersed himself in Creole culture, 1888-90; trans. Pierre Loti's Madame Chrysanthemum; also trans. Baudelaire and Gautier; published his first novella, Chita (1889), in which the title-character is a young girl and last survivor of a tidal wave off Louisiana; issued Karma (1889), a novle written in America; issued Two Years in the French West Indies (1890), a diary-form work; also Youma (1890), a novel about a slave rebellion reflecting sympathy with the paternalistic slave-owning regime;
returned to America, following illness, living at first in Philadelphia and the New York, 1889; contacted his br. James Daniel, an Ohio farmer and conducted correspondence (but never met); took commission from Harper's Magazine to travel to Japan with illustrator C. D. Weldon, arriving on SS Abyssinia, departing Vancouver on St. Patrick's Day, and arriving at Yokojama [Yokohama], 4 April 1890; broke with Harper's, writing the editors an unprintable letter on the subject of payment (kept as a curiosity for many years); worked as business manager for Capt. Mitchell McDonald, US Navy Paymaster, a life-long friend thereafter and later literary executor; commenced as English teacher at Matsue Middle School in the Izumo district (Shimane Prefecture), Aug. 1890, on the strength of a letter of introduciton to Prof. Basil Hall Chamberlain (Tokyo Imperial U.) and Ichizo Hattori, now Vice-minister of Education; became first foreign visitor to Shinto shrine of Izumo;
married Setsu Koizumi [aetat.], of a samurai family and chosen by his friends, Jan. 1891, with whom three sons and a dg. (Kazuo, Iwao, Kiyosho, and Suzuko, b.1903); assisted in collection of Japanese stories and folktales by his wife, who told him ghost-stories; again assisted by Chamberlain, he found a teaching position in teaching at Fifth Higher School at Govt. College in the more clement city of Kumamoto (in Kyushu), 1891; moved to Kobe in Oct. 1894; resumed work as a journalist with the Kobe Chronicle [English]; adapted to Japanese culture of the Meiji period, assuming the Japanese name Yakumo Koizumi, and ultimately took Japanese citizenship; developed lung infections, heart trouble and arteriosclerosis; disturbed by influence of foreign community, Japanese modernisation, and the Sino-Japanese War;
Glimpses of Unfamiliar Japan, 2 vols. (1894), Out of the East (1895), Kokoro (1896), and Gleanings in Buddha Fields (1897), all written at Kobe, appointed to Chair of English Literature and Language at Tokyo University, 1896; settled in Tokyo at Ushigome, a new suburb nr. Kobudera Temple; also lectured at Waseda Univ.,; later built a home in Nishi-Okubo, taking holidays at Yaizu, on Suruga Bay; wrote to Yeats admiring "The Wind Among the Reeds", 1901; issued Kotto (1902); issued Japan: An Attempt at Interpretation (1904), written in Tokyo; issued Kwaidan (1904) - i.e., 'strange tales'; d. of heart attack, 26 Sept. 1904; bur. Zoshigaya Cemetery, Tokyo, after Buddhist funeral according to the rites of the Jodo Sect of Zen Buddhism at Jitoin Kobudera Temple, Ichigaya, and cremation, 29-30 Sept. 1904 [aetat. 54]; there are biographies and major studies by Elizabeth Bisland (1906), Elizabeth Stevenson (1961), and Paul Murray (1993); Hearn is now regarded as the inventor of 'Japan as Celtic Otherworld';
there is a memorial bust in Levkas and a plaque on 73 Upr. Leeson St.; their is a Lafcadio Hearn Society and a Lafcadio Journal; a Hearn Centenary Festival was held at Matsue on 30 August 1990; his holiday sojourns in Waterford are commemorated with a plaque at Dunmore East; Hearn is deemed to have 'created' Japan for millions of readers throughout Europe and America; his university lectures on literature, transcribed by students, were published (e.g., Interpretations of Literature, 2 vols.); numerous letters at Harvard UL and US Library of Congress; Hearn's eldest son Kazuo grad. in English at Waseda U. and edited his father's letters; a Lafcadio Hearn Library was inaugurated at the Irish Embassy in Tokyo in 1988;
an exhibition entitled "Coming Home: the Open Mind of Patrick Lafcadio Hearn" was curated by Simon O'Connor, a great-grandson, at the Little Museum of Dublin, Stephen's Green, assisted by the Japanese Embassy and Japan Foundation, Oct. 2015; the is Lafcadio Hearn Gardens in Tramore has a bronze
relief of Hearn, gifted by Matsue City, Japan
;
Sophia Wisdom, a direct descendant of the Hearn family, plays the harp at the Lafcadio Hearn Gardens Tramore, on the occasion of the unveiling of the bronze relief of Lafcadio Hearn, gifted to the gardens by Matsue City, Japan;
there are plaques on the houses he lived in on Leinster Sq. and Upr. Leeson, Dublin, and also in Dunmore East (nr. Tramore)
; three generations of Hearns before Lafcadio graduated from TCD.
OCEL OCIL FDA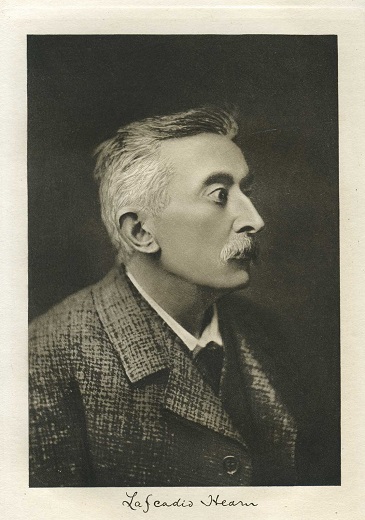 Hearn was short, at 5'3", and said to be cantankerous and quarrelsome, but also showed himself to be a devoted family man with his wife and children in Japan (Ronan & Koizumi, op. cit. [
infra
], p.19.)
[ top ]
Works
(Selected)
Stray Leaves from Strange Literature [trans. from Theophile Gautier] (1884);
Some Chinese Ghosts (1887);
Two Years in the French West Indies (NY & London: Harper & Brothers [1890]), 431pp. [see details], and Do. [rep. edn.] (Oxford: Signal [2001]), 338pp., pb.
Glimpses of Unfamiliar Japan (1893);
Glimpses of Unfamiliar Japan, 2 vols. (1894);
Out of the East (1895); Kokoro (1896);
Gleanings in Buddha-Fields (1897);
Exotics and Retrospectives (1898);
In Ghostly Japan (1899);
Shadowings (1900)
A Japanese Miscellany (1901);
Japan: An Attempt at Interpretation (1904);
Letters from the Raven (1907), posthumous.
The Temptation of St. Anthony [trans. from Gustave Flaubert], afterword by Elizabeth Bisland (London & NY: Grant Richard 1911), 265pp.
See also Books and Habits, from the Lectures of Lafcadio Hearn, edited by Professor John Erskine of Columbia University (NY: Dodd, Mead & Co. 1921 W. Heinemann 1922), xx, 328pp. ['These chapters for the most part, are reprinted from Lafcadio Hearn's "Interpretation of literature", 1915, from his "Life and literature", 1916, and from his "Appreciations of poetry", 1917.' - Intro.]
Correspondence
Elizabeth Bisland, ed. & intro., The Japanese Letters of Lafcadio Hearn, 3 vols. (London: Constable & Co. 1906-1910), and Do. [rep. edn.] (Boston & NY: Houghton Mifflin Co. 1911), lx, 468pp., ill. [5 pls., ports., incl. front.) [incls. letters to Basil Hall Chamberlain, W. B. Mason, and Mrs Hearn]; Do. [Vol. IV; being ser. title "Lafcadio Hearn XVI"] (Boston & NY: Houghton Mifflin Co. 1923).
Anthologies
Francis King, ed., Lafcadio Hearn and His Writings from Japan (Penguin);
Louis Allen & Jean Wilson, eds., Lafcadio Hearn: Japan's Great Interpreter (Kent: Japan Library Ltd.)
Reprints
Insect Literature, by Lafcadio Hearn, introduced by Anne-Sylvie Homassel (Swan River Press 2015), xiv, 272pp. [see details]

Bibliographical details
Two Years in the French West Indies (NY & London: Harper & Brothers [1890]), 431pp. [sections, A Midsummer Trip to the Tropics (pp.13-98) and Martinique Sketches, pp.101-423; num. pls; orig. front. "A Martinique Métisse"; b&w pl.; includes Some Creole Melodies, 425ff. - available at Internet Archive online]; As Lafcadio Hearn observes in his essay "Insects in Greek Poetry", "the capacity to enjoy the music of insects and all that it signifies in the great poem of nature tells very plainly of goodness of heart, aesthetic sensibility, a perfectly healthy state of mind." And to this, one might add a keen sense of wonder.

Insect Literature, by Lafcadio Hearn, introduced by Anne-Sylvie Homassel (Swan River Press 2015), xiv, 272pp. [300 copies; hb; ill. by Takato Yamamoto, cover] - collects twenty essays and stories written by Hearn, mostly in Japan, a land where insects were as appreciated as in ancient Greece. With a witty gentleness bordering on the eerie, Hearn describes in these pieces the song of the cricket, the spectral flight of dragon-flies, quotes the entomological haiku of classical Japan, and recalls Buddhist tales in which the souls of insects and men are never far one from the other. Contents: "Of Insects and Children" by Anne-Sylvie Homassel; "Forward" by Masanobu Otani. [Stories:] I: "Butterflies". II: "Mosquitoes". III: "Ants". IV: "Story of a Fly". V: "Fireflies". VI: "Dragon-flies". VII: "Sémi". VIII: "Insect-Musicians". IX: "Kusa-Hibari". X: "Some Poems about Insects". XI: "Insects and Greek Poetry". XII: "Some French Poetry about Insects". XIII: "Insect Politics". XIV: "Under the Electric Light". XV: "——! ——!! Mosquitoes!!!". XVI: "The Festive". XVII: "The Jewel Insect". XVIII: "Dr. Hava's Tarantula". XIX: "Gaki". XX: "The Dream of Akinosuké": "Acknowledgements". (Notice by Brian J. Showers at Swan River Press - online.)
[ top ]
Criticism
Elizabeth Bisland, The Life and Letters of Lafcadio Hearn (NY: Houghton Mifflin 1906);
Yone Noguchi, Lafcadio Hearn in Japan with Mrs. Lafcadio Hearn's reminiscences ; frontispiece by Shoshu Saito with sketches by Genjiro Kataoka and Mr. Hearn himself (London & Yokohoma: Elkin Mathews, Kelly & Walsh 1910), & Do. [rep.] (Tokyo: Ryokuyosha 1918), 177pp., ill. [port.]
Nina H. Kennard, Lafcadio Hearn; containing some letters from Lafcadio Hearn to his half-sister Mrs. Atkinson (London: Eveleigh Nash 1911), 403pp., ill. [7 leaves of plates, ports], and Do. [another edn.] (NY: D. Appleton 1912).
Edward Thomas, Lafcadio Hearn [Modern biographies] (London 1912) [Thomas, d.1917];
Ellwood Hendrick, Lafcadio Hearn (NYPL 1929), 10pp., [1] lf. of pls.], 25cm. [rep. from Bulletin of the New York Public Library, Dec. 1929].
Kenneth P. Kirkwood, Unfamiliar Lafcadio Hearn (Hokuseido Press 1936);
Vera Seeley McWilliams, Lafcadio Hearn (Boston: Houghton Mifflin 1946), ix, 464pp.
O. W. Frost, Young Hearn (Hokuseido Press 1958);
Elizabeth Stevenson, Lafcadio Hearn (NY: Macmillan 1961), xvi, 362pp., and Do., with a new introduction [reiss. as The Grass Lark: A Study of Lafcadio Hearn] (New Brunswick: Transaction Publs. 1999), xxiv, 362pp.
Beongcheon Yu, Lafcadio Hearn: An Ape of Gods - The Art and Thought of Lafcadio Hearn (Detroit: Wayne State UP 1964);
[Q. auth.,] The Rising Generation [Special number of The [New] Generation, Vol. 111, No. 12 (1 Dec. 1965) [Tokyo: Kenkyusha 1965), pp.58 p., ill., 26cm. [Japanese and some English; copy in TCD Lib.];
Arthur E. Kunst, Lafcadio Hearn [Twayne's United States Author Series, 158 (NY: Twayne Publishers [1969), 146pp.
Lilo Stephens, 'Lafacdio Hearn and His Relations in Dublin', in The New Generation [Eige-Seinen, 119, 2] (1 May 1973), q.pp. [wife of Edwards Stephens, 2nd cousin of Hearn - Jane Hearn, dg. of Mrs. Elizabeth Hearn, having married to Henry Clocough Stephens].
Taro Matsuo, 'Lafcadio Hearn (150-1904): His Irish Background and Appreciation of Japanese Culture', in The Hosei University Economic Review, LI [51], 1 (1983), q.pp.
Barbara Hayley, 'Lafcadio Hearn, W. B. Yeats and Japan', in Literature and the Art of Creation, ed. Robert Welch [IASAIL Conference Proceedings] (Gerrards Cross: Colin Smythe 1988), q.pp.
Junko Hagiwara, "Lafcadio Hearn & Ichizo Hattori: The Unexpected Encounter at the World's Exposition ", in Studies on International Relations, Vol. 9, No. 2 [Nihon Univ.] (Dec. 1988), q.pp.
Bernadette Lemoine, Exotisisme Spirituel et Esthétique dans la vie et l'oeuvre de Lafcadio Hearn [Université de Poitiers] (Paris: Didier Erudition 1988).
Jonathan Cott, Wandering Ghost: The Odyssey of Lafcadio Hearn (NY: Alfred A. Knopf 1991), xxi, 438pp., & Do. (Tokyo, London & NY: Kodansha International 1992).
Carl Dawson, Lafcadio Hearn and the Vision of Japan (Johns Hopkins UP 1992), q.pp.
Seán G. Ronan & Toki Koizumi, Lafcadio Hearn (Koizumi Yakumo), His Life, Work and Irish Background [Illustrated Lecture by Sean Ronan given at Thomas Davis Lect. Th., TCD, 10 May 1990] Ireland Japan Assoc.] (Dublin: Eason 1992), 72pp.
Louis Cullen & Jean Wilson, eds ., Lafcadio Hearn, Japan's Great Interpreter, A New Anthology of His Writings 1894-1904 [Japan Library] (Folkestone: Sandgate 1992) [includes fiction and features], 308pp.
Carl Dawson, Lafcadio Hearn and the Vision of Japan (Johns Hopkins UP 1992), xxii, 187pp., ill.
Paul Murray, A Fantastic Journey: The Life and Literature of Lafcadio Hearn (Folkstone: Japan Library 1993), xvii, 379pp., ill. 8pp. of plates]. [winner of Koisumi Yakumo Literary Prize in Japan].
Paul Murray, 'Lafcadio Hearn and the Irish Tradition', in Irish Studies Review, No. 15 (Summer 1996), pp.2-9.
Paul Murray, 'Lafadio Hearn, 1850-1904', in Britain and Japan Biographical Portraits, Vol. II, ed. Ian Nash [?1997], pp.137-50.
Sukehiro Kirakawa, ed., Rediscovering of Lafcadio Hearn: Japanese Legends, Life & Culture (Kent: Global Books 1997), 280pp., index [contribs. incl. Earl Miner, George Hughes, Louis Allen, Alan Rosen, Naoko Sugiyama, Hiromi Kawashima, Yoko Makino, Yuzo Ota, & Paul Murray].
Sean G. Ronan, Irish Writing on Lafcadio Hearn and Japan (Folkstone: Global 1997), 351pp.
Paul Murray, 'Lafcadio Hearn and the Irish Horror Tradition', in That Other World: The Supernatural and Fantastic in Irish Literature and its Contexts, ed. Bruce Stewart [Princess Grace Irish Literary Series, 12] (Gerards Cross: Colin Smythe 1998), Vol. 2, pp.238-54.
Robert L. Gale, Lafcadio Hearn Companion (Westport, Conn.: Greenwood Press 2002), xviii, 265pp. [Gale, b.1911; Prof. emeritus Pittsburgh]
Sukehiro Hirakawa, ed., Lafcadio Hearn in International Perspectives (Folkestone: Global Oriental 2007), x, 283pp. [see contents].
Ciaran Murray, Disorientalism: Asian Subversion / Irish Visions [Transactions of the Asiatic Soc. of Japan, 5th Ser.], Vol. 1 (2009), Supplement [incls. 'Japan as Celtic Otherworld', Chap. 4; pp.73-86.]
See also Dennis Rose [Radha], Lafcadio Hearn: His Sun was Dark (Lewes: Book Guild 1987), 213pp. [fiction]
Bibliography
Martha Howard Sisson, Lafcadio Hearn: A Bibliography [Bulletin of Bibliography pamphlets, 29; rep. from Bulletin of Bibliography, Vol. 15, No. 1] (Boston: Bulletin of Bibliography 1933), q.pp.
Lafcadio Hearn: A bibliography of his writings, etc. Author P[ercival] D[ensmore] Perkins (Tokyo: Hokuseido Press; Boston: Houghton Mifflin 193), xvii, 444pp., 8º., ill. [6 pls.]
IASAIL Japan (1994) lists: Miyoko Koya, "Maupassant's Short Stories Translated into English by Lafcadio Hearn." [Japanese], in Bulletin of Muroran Junior College, Bunkyo Women's University, 16 (March, 1993), pp.43-57; Noriko Itoh, "Ireland from 1930s to 1950s: about Censorship Law" [Japanese], in Bulletin of the Arts and Sciences Department, Tezukayama University, 35 (1993), pp.1-32; Noriko Itoh, "Immigrants and Irish Literature", in Bulletin of the Arts and Sciences Department, Tezukayama University, 33 (1993), pp.363-85; Noburoh Sakikawa, "Lafcadio Hearn's View of Man" [Japanese], in Bulletin of the Arts and Sciences Department, Hohsel University, 86 (Feb., 1993), pp.1-13; Yoshigoro Shinkai, "Lafcadio Hearn and the Sydney Case" [Japanese], in Shoin Literary Review (Bulletin of Shoin Women's College), 34 (March, 1993), pp.1-103; Masaharu Shinkai, "The Shock of Western Civilization and the Establishment of Japanese Spirit": A Comparison between Lafcadio Hearn and Kanzo Uchimura" [Japanese], in Bulletin of the Arts and Sciences Department, Meij-i University, 252 (March, 1993), pp.45-77; Yakumokai, ed., Hearn (Tokyo: Kohbunsha, 1993).
Journalism & Reviews
Shirley McEgill, 'Two Celts in Japan: Enigma of the East', in Cork Examiner (16 May 1936), Supplement.
Ulick O'Connor, [article on Hearn], in Dublin Magazine (April-June 1953);
Roger McHugh, 'A Shrine for Lafcadio Hearn', in The Irish Times (24 April 1981).
Ulick O'Connor, [article on Hearn], in The Irish Independent (14 April 1985).
Michael Diskin, 'East Irish', in The Irish Times (3 May 1988).
Sean Dunne, 'A Shrine for Lafcadio Hearn', in Fortnight Review, 343 (Oct. 1995), p.39 [rep. in his collection of 1996].
Lucretia Stewart, review of Lafcadio Hearn, Two Years in the French Indies, in Times Literary Supplement (27 July 2001), p.9.;
Bibliographical details
Sukehiro Hirakawa, ed., Lafcadio Hearn in International Perspectives (Folkestone: Global Oriental 2007), x, 283pp. CONTENTS: Preface; 1. Lafcadio Hearn, a Reappraisal; 2. What Does His Greek Mother Mean to Hearn, the Japan Interpreter?; 3. Lafcadio's Nightmares; 4. Hearn and the Sea; 5. Hearn, Interpreter of the Animistic World of the Japanese; 6. Return to Japan or Return to the West? - Hearn's "A Conservative " 7. Half a Century after Byron - What Did Greece Mean to the Writer Hearn?; 8. Hearn As an American Writer; 9. Image of "the Creole Mother" in Hearn's Youma; 10. From Folklore to Literature - Hearn and Japanese Legends of Tree Spirits; 11. Hearn and "Orpheus" - His Art of Retelling Stories of Old Japan; 12. Lafcadio Hearn and Yanagita Kunio: Who Initiated Folklore Studies in Japan?; 13. Insect-music: Hearn's Orphean Song; 14. Hearn's Romantic Representation of Shinto, the Way of Japanese Gods; 15. Two Springs: Hearn's and Kyoka's Other Worlds; 16. "Weird Beauty": Angela Carter and Lafcadio Hearn in Japan; 17. Hearn and the Muse; 18. "The Real Birthday of New Japan" - Lafcadio Hearn's "After the War " 19. The Image of the Mother in the Work of Hearn; 20. Hearn: Travel-writing and Controversy; 21. Robert Nichols and Lafcadio Hearn: Cultural Politics and English Professors at the University of Tokyo; 22. The Enduring Value of Lafcadio Hearn's Tokyo Lectures; Bibliography; Notes; List of Contributors [as infra]; Index.
Contributors incl. Joan Blythe, John Clubbe, Susan Fisher, Ted Goosen, George Hughes, Yoko Makino, Peter McIvor, Hitobe Nabae, Cody Poulton and Masaru Toda. Their contributions range from Sukehiro Hirakawa's "A Reappraisal" to Joan Blythe's "Enduring Value of Lafcadio Hearn's Tokyo Lectures". Professor Hirakawa [emeritus Tokyo Univ.] has translated Dante's Divine Comedy and contribute to the Cambridge History of Japan, Vol. 5. [See COPAC - online.]
[ top ]
Commentary
See
allusion to
Glimpses of Unfamiliar Japan
(1984) in Robert Lowell's poem "Father's Bedroom" - as
infra
.
[Q. auth.,] review of Sean G. Ronan & Toki Koizumi, Lafcadio Hearn (Koizumi Yakumo): His Life, Work and Irish Background (Ireland Japan Assoc., Confed. Hse., Kildare St., Dublin: Eason 1992), 72pp., in Books Ireland (Feb. 1992), b. Ionian island of Lefkas, hence name; Anglo-Irish surgeon and Greek girl; grew up in Dublin; migrated America at 19; worked as journalist; settled in Japan at forty; naturalised, and lectured at Imperial University; died 14 yrs. later; his texts, interpreting the West to Japan, still studied there; his masterpiece, Japan, an attempt at interpretation, studies the inner life of old Japan; this book by an Irish ambassador and the grandson of the subject includes photographs and bibliography citing a number of books about Hearn.
Note: Toki Koizumi, who contributes 'Grandfather Lafcadio Hearn and I', is the grandson of Lafcadio Hearn (i.e., eldest son of eldest son), his contribution being a lecture given at the IASAIL Conference in Kyoto on 12 July 1990. Sean Ronan is a former Irish ambassador to Germany, Greece, Israel and Japan (1984-89), and a former Director-General of the EC.
[ top ]
Toki Koizumi, 'Grandfather Lafcadio Hearn and I', in Sean G. Ronan &Koizumi, Lafcadio Hearn (Koizumi Yakumo): His Life, Work and Irish Background (Ireland Japan Assoc., Confed. Hse., Kildare St., Dublin: Eason 1992), 72pp.: ...] '[Hearn, throughout his life, seemed not to have thought kindly of his father since his mother, a Greek, was deserted by him. But it cannot be denied that Hearn was half-Irish as well as half-Greek and I sometimes feel I can find some Irishness in his character. [...] It is true that Hearn seems to have tried to adopt the life and manners of the good old days of his childhood to his family life with his Japanese wife and four children, in Japan. It is true that Hearn loved te Japanese culture of the Meiji Period and tried to adjust himself to the genuine Japanese way of life, but i was [50] certainly impossible to live just like Japanese people as to food, clothing and shelter, after his forty years of life in Europe and America. [...] As everyone knows, Hearn, in his later years, wrote Kwaidan or Ghost Stories. When his wife Setsu told him ghost stories, he took great interest and brought himself into the world of ghosts and spirits. [...] When I was a child, listening to my father Katzuo's talk was one of my pleasures. At the beginning of his stories, he always said they were the stories that grandpa Yakumo used to tell him when he was a child. [...] I simply thoght they were children's stories from Grimm or Anderson, and I never looked at the originals. But two years ago I happend to meet Professor Tada'ki Miyake at the Embassy in Ireland, and he kindy gave me his book "Irish [51] Folktales and Legends". Reading this book, I found for the first time that Irish folktales were included in the stories orally transmitted from Hearn to Kazuo, and from Kazuo to me. [...] At Christmas all my family have plum pudding, a avourite dish of Hearn's. [...] I believe that Hearn's father, Charles Bush Hearn, who was an officer-surgeon in the British forces, was strict and smiled little but he seems to have been a doting father. / Charles in his new assignment in India frequently wrote leters with lictures to Lafcadio in Dublin. In his letters he told stories such as of tiger hunting and huge serpents that children might like. [...] Hearn [...] wrote picture-leters to his wife Setsu [...] in his unique awkward Japanese [... He] was forty when he arrived in Japan [...] but never made a serious study of the Japanese language. He rather wanted to use his time to absorb the Japanese culture as a whole [...] It was good enough [52] for Heanr to communicate somehow with his wife and children, though his Japanese was a literal translation from English. We call it "Hearn-talk". / Gathering materials for Hearn was Setsu's job [...] He had Setsu read interesting stories and tell them in digested form. [...] In the lonly night Setsu told Hearn ghost stories in a dim light with the wick of the lamp lowered. Hearn would ask things with his voice deliberately lowered to a fearful tone, holding his breath. And his fear would infect even Setsu. She said tha seen from the outside it must have seemed as if they were in a haunted house. / When the stories grew intersting, Hearn's face changed and his eyes became sharp and terrifying. He asked Setsu what was the scene of the story at that time and what she thought of it. Looking at these two persons, one would have thought them insane. [Speaks of the Storey of Mimi-Nashi-Hoici in Kwaidan.]' (pp.50-53.) Toki ends with an account of Hearn's premonitions of his own death in a dream related to Setsu, and his empathy with a pet cricket, similarly shared with her: 'That little creature sang so beautifully. How much I liked it. But its [sic] getting cold. Does it know? Doesn't it know it is bound to die soon. Poor creature. Let us set it free in the bush on a warm day.' (p.55.)
Japanese-Ireland Association (1995) [Brochure]: 'A work, Kokoro [q.d.] turns from the outer world of Japanese to explore, as he said at the time, 'the hints and echoes of Japanese inner life. Exotics and Retrospectives looks into customs and traditions which Hearn admired and hped passionately would survive the onslaught of Western materialism which he abhorred; in Ghostly Japan and Kwaidan [he] developed his fascination for the macabre and mysterious ... Hearn's work was unquestionably influcenced by IIrish folklore, writings and other stories that he head and read in his formative years in Ireland. He admired the work of ... Berkeley, Swift and Burke as well as that of the Irish Literary Renaissance especially the interest of Ferguson and Yeats in old Celtic sagas.
Paul Murray, 'Lafcadio Hearn and the Irish Tradition', in Irish Studies Review, No. 15 (Summer 1996), pp.2-9, compares Hearn's background with those of Shaw, Stoker, and Le Fanu; 'Hearn's Irish background was essentially Protestant despite his upbringing as a Catholic, so he was able to embody in himself the full ambiguity of the Irish Gothic tradition; his translations from French include Gautier's 'Arria Marcella' in One of Cleopatra's Nights (1882) and Flaubert's Tentation de St. Antoine; he wrote vampire stories in 'The Story of Chugoro' in Kotto (1902) and elsewhere; took refuge mentally in France and immersed himself in French literature; corresponded with Yeats, telling that he had had a Connacht nurse who told him fairy-tales and ghost stories; journalistic writings on black culture in Cincinnati; published work on black culture of New Orleans; made Shinto central to his analysis of Japan, with its belief in the parallel world of spirits; translated Kwaidan, or weird stories, from the Japanese; 'his view of peasant life in Ireland was remarkably similar to the Shinto-based ethos of pre-Meiji Japan and, in a sense, provides a bridge from his Irish youth to his mature Japanese work: "Anciently woods and streams were peopled for him [the peasant] with invisible beings; angles and demons walked at his side; the woods had fairies, the mountains their goblins, the marshes their flitting spirits, and the dead came back to him at times to bear a message or to rebuke a fault. Also the ground that he trod upon, the plants growing in the field, the cloud above him, the lights of heaven were all full of mystery and ghostliness " commended Yeats's 'Hosting of the Air' for its ability to convey the 'pleasure of fear' (On Poetry), and wrote a passionate letter of protest when the poem appeared in The Wind Among the Reeds in a revised version: "This wonderful thing ... must have been blown into you and through you as by the Wind of the Holy Ghost' (MS letter, 22 June 1901; Tokyo); other works incl. Stray Leaves from Strange Literature (1884), Chinese Ghosts (1887); wrote to Yeats, "But I hope you will not think me unsympathetic in regard to Irish matters ... forty-five years ago, I was a horrid little boy, 'with never a crack in his heart', who lived in Upper Leeson Street, Dublin ... So I ought to love Irish Things, and do.' (MS, letter of 24 Sept. 1901; Tokyo). Bibl., Henry Goodman, ed., The Selected Writings of Lafcadio Hearn (NY 1949; 1972); On Poetry, ed. Hearn, R. Tanabe, T. Ochiai, and I. Nishizaki; Shadowings (Boston: Little, Brown & Co. 1900); Elizabeth Bisland, ed., The Japanese Letters of Lafcadio Hearn [The Riverside Press, Cambridge] (Boston & NY: Houghton Mifflin Co. 1910); Elizabeth Bisland, The Life and Letters of Lafcadio Hearn [Vol. XIX of the Koizumi Edn. of the Writings of Lafcadio Hearn] (Boston & NY: Houghton Mifflin Co. 1923).
[ top ]
John Moran, 'The most famous Irishman you've never heard of', in The Irish Times (20 Sept.2004): '[...] next Sunday is the centenary of the death of an extraordinary Irishman who, at different times of a life lived in full, was Patrick Hearn, Lafcadio Hearn and Koizumi Yakumo, who reached the top of his profession as a journalist and translator in Cincinnati and New Orleans, who achieved broader acclaim as a writer for leading US magazines with sketches and feuilletons from New Orleans and Martinique, who had rave reviews for two early novels and who went on to world renown as an interpreter of Japan, where he died aged only 54. / Despite the significance of the anniversary the main act of commemoration will be a small exhibition next month at the Chester Beatty Library, in Dublin. Ireland's neglect compares embarrassingly with events in Greece, where he was born, in New Orleans, where he lived for 10 years, and in Japan, where he married, had four children and spent his final 14 years. It's a neglect that also flies in the face of a renewed worldwide interest in the writer. On September 9th, for example, New Orleans City Council voted to designate a house in which Hearn lived as an official landmark. / Until relatively recently Hearn was best known for his exquisite sketches of life, customs and folk tales in Japan between 1890 and 1904, a time of great change, when the country was abandoning its ancient customs and beginning a process of rapid industrialisation. During Hearn's period there he satisfied a great hunger in the West for Japonism with his sublime evocations of old Japan. / Some years after his death, however, Hearn's star began to wane, due in part to his being seen as a writer who romanticised fin-de-siècle Japan at a time when Western readers had begun to lose their appetite for exotic tales from the "inscrutable" Orient. More significantly, disenchantment intensified as Japan developed imperialist ambitions and Western public opinion turned against it with its involvement in the second World War. / In post-war Japan many liberals were embarrassed that those on the ultra-nationalist far right shared Hearn's enthusiasm for ancient Japanese culture, a view that had already brought only ruin and ostracism. Other critics have said he looked at the country through rose-tinted glasses. Nonetheless, Hearn has remained an abiding interest, and today most Japanese children are as familiar with Hearn and his wife's interpretations of Japanese ghost stories, or kwaidan, as Irish children are with Cuchulainn.' Further, US critic Macolm Cowley called Hearn 'the writer in our language who can best be compared with Hans Christian Andersen and the brothers Grimm' , in 1949. Cites Jonathan Cott's 1990 biography, Wandering Ghost: The Odyssey Of Lafcadio Hearn. An updated version of The Grass Lark, Elizabeth Stevenson's detailed and affectionate biography, was published in 1999. Simon J. Bronner's Lafcadio Hearn's America, from 2002, was another excellent compilation of Hearn's journalism; also Paul Murray, a biography in 1993 pref. by R. F. Foster. [See full-text version in RICORSO Library > "Criticism / Reviews" - via attached or as attached.]
Ben Howard, 'The Music of What Happens', at One Time One Meeting - the Practice of Zen Meditation (2011; orig. 10 May 1992): 'Saigyo was not the first Japanese poet to relish the sound of singing insects. As the Irish writer Lafcadio Hearn observes in his essay "Insect-Musicians" (1898), night-singing insects occupy a place of honor in Japanese poetry, ancient and modern, where they are often associated with autumnal melancholy. "With its color-changes," writes Hearn, "its leaf-whirlings, and the ghostly plaint of its insect-voices, autumn Buddhistically symbolizes impermanency, the certainty of bereavement, the pain that clings to desire, and the sadness of isolation."' (Available online; accessed 07.07.2014.)
[ top ]
References
Albert Manguel, Black Water Anthology of Fantasy Literature (1983), pp.502-06, selects 'Of a Promise Kept', from A Japanese Miscellany (1901).
Peter Ellis Books (Cat. 2004) lists An American Miscellany (London: Heinemann 1925), 500pp. [1st UK edn.], intro. by Albert Mordell; printed on American sheets with American title, suggesting use of Dodd, Mead overstock; collection of articles and stories written before Hearn went to Japan.
See also COPAC listings of works by and commentary on "Lafadio Hearn" [search term] - online.
Thomas A. Goldwasser Rare Books (San Francisco; Cat 17 [2004]): Lafcadio Hearn, Gleanings in Buddha-Fields (Boston: Houghton, Mifflin 1898); 2nd printing of 1st edn.; cloth, enscribed to 'Dr. J. W. Robertson Compliments of Ambrose Bierce, Feb. 18, 1899'. Robertson was a physician in Livermore (East Bay, SF), and founder of a sanitorium and book collector, chiefly of Poe.
[ top ]
Quotations
Odd, Queer, Strange ...: In a letter Hearn wrote, 'I am pledging myself to the worship of the Odd, the Queer, the Strange, the Exotic, the Monstrous'. [q. source.]
[ top ]
Buddhism: 'Buddhism has a voluminous theology; a profound philosophy, a literature as vast as the sea. Shinto has no philosophy, no code of ethics, no metaphysics; and yet, by its very immateriality, it can resist the invasion of Occidental religious thought as no other Orient[al] faith can. Shinto extends a welcome to Western science, but remains the irresistible opponent of Western religion; and the foreign zealots who would strive against it are astounded to find the power that foils their uttermost efforts indefinable as magnetism and invulnerable as air. Indeed the best of our scholars have never been able to tell us what Shinto is. To some it appears to be merely ancestor-worship, to others ancestor-worship combined with nature-worship; to others, again, it seems to be no religion at all; and to the missionary of the more ignorant class it is the worst form of heathenism. Doubtless the difficulty of explaining Shinto has been due simply to the fact that the Sinologists have sought for the source of its books: in the Kojiki and the Nihongi, which are its histories; in the Norito which are its prayers; in the commentaries of Motowori and Hirata, who were its greatest scholars. But the reality of Shinto lives not in books, nor in rites, nor in commandments, but in the national heart, of which it is the highest emotional religious expression, immortal and ever young. For underlying all the surface crop of quaint superstitions and artless myths and fantastic magic there thrills a mighty spiritual force, the whole soul of a race with all its impulses and powers and intuitions. He who would know what Shinto is must learn to know that mysterious soul in which the sense of beauty and the power of art and the fire of heroism and magnetism of loyalty and the emotion of faith have become inherent, immanent, unconscious, instinctive.' (Quoted from Hearn's first book on Japan, in Paul Murray Paul Murray, 'Lafadio Hearn, 1850-1904', in Ian Nash, ed., Britain and Japan Biographical Portraits, Vol. II [?1997], pp.137-50; p.146.
[ top ]
Notes
Plaque: Lafcadio Hearn's childhood home is marked by a plaque in Dublin at 73 Upper Leeson St. on a private terrace facing Wellington Place; there is a Lafcadio Hearne Collection at Clifton Waller Barrett Library, MS Division, University of Virginia Lib, which contains an unfinished autobiography; the Japan-Ireland Association awards an annual Lafcadio Hearn Gold Medal for persons or organisations making a signification contribution to Irish-Japanese relations; there is also a Lafcadio Hearn Museum at the Sundai Ireland International Schol, Newbridge, Co. Kildare.
Rosa: Rosa Antoniou Kassimatis, the first Mrs. Hearn, was divorced on a technicality after her departure from Dublin in 1853 and later married Giovanni Cavallini, a Greek citizen of Italian descent who became the British appointed Governor of the tiny island of Antikythera (Cerigotto). She died in Corfu in 1882. (See Patrick Comerford, "Two reminders in Rathmines of close links between Ireland and Greece" - webpage; posted 22 June 2015; accessed 13.10.2015.)
[ top ]
Robert Lowell, "Father's Bedroom": 'In my Father's bedroom: / blue threads as thin / as pen-writing on the bedspread, / blue dots on the curtains, / a blue kimono, / Chinese sandals with blue plush straps. / The broad-planked floor / had a sandpapered neatness. / The clear glass bed-lamp / with a white doily shade / was still raised a few / inches by resting on volume two / of Lafcadio Hearn's / Glimpses of unfamiliar Japan. / Its warped olive cover / was punished like a rhinoceros hide. / In the flyleaf: / "Robbie from Mother." / Years later in the same hand: /'This book has had hard usage / On the Yangtze River, China. / It was left under an open porthole in a storm.' ("Life Studies", in Life Studies [Pt. 3] (London: Faber & Faber 1959) [Pt. III], p.47.)
[ top ]
---