Life
b. Liverpool of poor Irish parents, 21 Jan. 1876; raised in Newry, Co. Down, with his grandparents, 1881-85; goes to work in Liverpool as labourer, 1885; later seaman and foreman dock-porter for T. & J. Harrison Ltd.; goes on strike in sympathy with the men and sacked, 1906; became organiser of National Union of Dock Labourers (NUDL, fnd. in the London dock strike of 1889); elected General Organizer of the NUDL, and sent to Belfast to represent Trades Union Movt. in disputes, Jan. 1907, the year of Edward VII's visit, and recruits 400 members in three weeks; employers sack NUDL members, July 1907; lengthy Belfast strike collapses in sectarian recriminations; travels officially to Dublin and launches NUDL there, 11 Aug. 1907; recruits 2,700 members and engages in disputes in Dublin and Cork; NUDL sacks Larkin due to internal expense of his actions, 7 Dec. 1908; settles in Dublin, 1908;
launches Irish Transport and General Workers' Union (ITGWU), Dec. 1908-Jan. 1909; also supported Temperance Campaign; expelled from Irish Trades Union Conference for strike tactics, 1909; consolidated a brief non-sectarian workers' front; fnd. with his sister Delia [see infra], and with Helena Molony, Irish Women Workers' Union; convicted and imprisoned on charge of misappropriating Cork NUDL funds, June-Oct. 1910; released following petition by Dublin Trades Council; fnd. Irish Worker and People's Advocate, May 1911, reaching a circulation of 95,000 in 3 months; Irish Transport and General Workers' Union [ITGWU], affiliated to Irish Trade Union Conference [ITUC], 1911;
Larkin elected President of ITUC, 1911; Liberty Hall acquired as premises of the Union, 1912; rented Clontarf estate as recreation centre for workers and their families; supported James Connolly's call for an Irish Labour Party; took seat on Dublin Corporation but dislodged within a month as a convicted felon, 1912; opposed by William Martin Murphy, organiser of Irish Employers Federation; great labour meeting at Beresford Place with speeches by Larkin and Connolly from the balcony of Imperial Hotel, resulting in police charges - aka Bloody Sunday, 13 Aug. 1913; Dublin Tramways workers strike commences, 26 Aug. 1913; meeting of Union members interrupted by police, with arrest of Larkin and Connolly and the death of two others, 30 Aug. 1913; Connolly and Larkin released, 12 Sept. 1913, following petitions by Kerr Hardie, G. B. Shaw, and others; denounced as revolutionary syndicalist by Philip Snowden in Labour Leader;
infamous Lock-Out organised by William Martin Murphy [hence Great Lock-Out Strike], involving 24,000 workers and their 80,000 dependents; Industrial Peace Commission estabished with AE and others, later renamed Civic League; Larkin manages Fiery Cross campaign supplying US and British support for Dublin workers; proposes foundation of Citizen Army at Phoenix Park Rally, to be led by Capt. Jack R. White, 5 Oct. 1913; tried for sedition and sentences to seven months imprisonment, 27 Oct.; released from prison, following mass-meeting at Albert Hall addressed by G. B. Shaw, Sylvia Pankhurst, et al., 14 Nov. 1913; travels to England to address trades' unions there; Dublin strikers cave in and return to work, 30 January 1914 ("We are beaten, we will make no bones about it; but we are not too badly beaten still to fight");
back in Dublin, Larkin calls on Irish workers not to enlist for World War I and organised anti-war demonstrations ("Stop at home. Arm for Ireland. Fight for Ireland and no other land."); The Irish Worker is suppressed, Aug. 1914; Larkin departs to America to raise funds, late Oct. 1914; ITGWU managed at home by Connolly and William O'Brien; Larkin becomes involved with American syndicalism; organises James Connolly Club in New York, 17 March, 1918, inviting John Reed to speak on Russia; spoke in support of Karl Liebknecht and Rosa Luxemburg, 2 Feb. 1919; profesed that Russia was the only country where men and women can be free; expelled from American Socialist Party by leadership with 20,000 others, 24 May 1919; arrested with 10,000 others as communists and anarchists, 7 Nov. 1919; tried on 30 Jan. 1920, and presents his own defence in terms of the tradition of American liberty; sentenced to 10 years hard labour in US for 'criminal syndicalism' [var. 'anarchy'], on 3 May 1920;
serves 3-year sentence in Sing Sing; annually re-elected as ITGWU Gen. Secretary up to his release; pardoned by incoming NY Mayor Alfred Smith in the interests of free speech, largely through intercession of Joseph Connolly, Jan. 1923 ('We get Larkin released'); returns to Ireland to triumphant welcome but meets resistance in his attempt to resume ITGWU leadership from William O'Brien and others, incl. Thomas Johnston, then Labour Party leader; suspended as gen. secretary of ITGWU; sued and loses suit, being declared bankrupt; expelled, 24 March 1924; fnds. Workers' Union of Ireland with br. Peter and son James (Jnr.), 1924; visits Soviet Union as rep. of Irish Section of Comintern, 1924 and 1928; elected Dáil deputy [TD], Feb. 1927, but does not take his seat; re-elected 1932, but loses seat Jan. 1933; won North Dublin seat in Dail Eireann, 1937-44; re-admitted to Labour Party, with his son, 1943-44 [var. 1945]; secures amendments to Trade Union Act, and campaigned against Wages Standstill order, 1941;
wins Labour nomination and seat against opposition of O'Brien; ITGWU disaffiliated from Congress, 1945; attained fortnight's annual leave for workers, and contested rising prices; d. in his sleep, 30 Jan. 1947; his sis. Delia was also involved in Labour organisation; the standard biography is Emmet Larkin (1965), Professor of British and Irish History at Univ. of Chicago - unrelated namesake; he is Red Jim in O'Casey's labour play, The Star Turns Red (1940); Larkin is a character in James Plunkett's Strumpet City; the life-size statue of Larkin orating, set on a granite plinth of four blocks on the central promenade of O'Connell St., Dublin, a little north of the GPO, is by Oisin Kelly (1977). DIB [DIW] DIH FDA DUB OCIL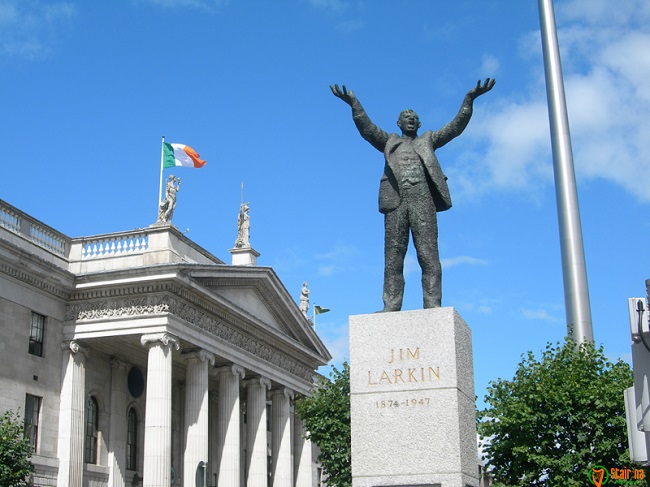 Jim Larkin, by Oisín Kelly (1977)
Inscription: 'He talked to the workers, spoke as only Jim Larkin could speak, not for an assignation with peace, dark obedience, or placid resignation, but trumpet-tongued of resistance to wrong, discontent with leering poverty, and difiance of any power strutting out to stand in the way of their march onwards.' (Sean O'Casey.)
[ top ]
Criticism
R. M. Fox, Jim Larkin: The Rise of the Underman (London: Lawrence & Wishart 1957), 183pp., and Do. in US as Jim Larkin: Irish Labor Leader (NY: International Publs. 1957), 183pp. [5pp. pls.].
James Plunkett, 'Jim Larkin', in Thomas Davis Lectures, ed. J. W. Boyle (Cork 1966) [q.pp.].
Emmet Larkin, James Larkin: Irish Labour Leader 1876-1947 (1965; rep. 1968).
Emmet Larkin, In the Footsteps of Big Jim: A Family Biography ([Dublin:] Blackwater Press 1996), 252pp.
Donal Nevin, ed., James Larkin: Lion of the Fold (Dublin: Gill & Macmillan 1998), xv, 557pp; ill [48pp of pls.], facs., ports., 24cm.
See also Frank Harris, Contemporary Portraits [incls. memoir of Larkin], and R. M. Fox, Louis Bennett: Her Life and Times (Dublin: Talbot Press 1958); J. Anthony Gaughan, ed., Memoirs of Senator Joseph Connolly, 1885-1961: A Founder of Modern Ireland (IAP 1996) [on Larkin in Belfast and America], and John Newsinger, Rebel City: Connolly and the Dublin Labour Movement (Merlin [UK] 2004).
[ top ]
Commentary
George Dangerfield, The Strange Death of Liberal England (?1932; and rev. ed. 1972), 'From the sordid and somewhat bloodstained complexities of the Great Dublin Strike, two figures emerge – those of William Martin Murphy and James Larkin; Larkin, poss. illegitimate son of one of the Invincibles of the Phoenix Park assassinations (Cavendish and Bourke). [q.p.]
Sean O'Casey [as P. Ó Cathasaigh] gives an account of Larkin, The Story of the Irish Citizen Army (Maunsel 1919), Chap. VI, 'Social Life': 'Jim Larkin as the life and soul of these gatherings, and frequently the audience would imperiously demand "a song from Jim" ... the Red Flag or The Rising o' the Moon.' [36] 'In 1914 an elaborate plan had been sketched by Jim Larkin for the organisation of all Ireland, and he spent some weeks designing a suitable travelling caravan, which was to consist of a living room and two small bedrooms, in which he and a few chosen followers were to tour the country, and to form companies of the Army in every hamlet and village in Ireland.' [42]

Sean O'Casey, Drums Under the Windows (1963 Edn.): 'Here was a man who could put a flower in a vase on a table as well as a loaf of bread on the plate. Here, Sean thought, is the beginning of a broad and busy day, the leisurely evening, the claimer night.' (p.221.)
Sean O'Casey (words written on the day that Larkin died): 'It is hard to belive that this great man is dead, for all thoughts and all activities surged in the soul of this labour leader. He was far and away above the orthodox labour leader, for he combined within himself the imagination of the artist, with the fire and determination of a leader of a downtrodden class.' (Q.source; quoted in Emmet Larkin, 'The Man who became the Irish labour movement incarnate', in The Irish Times, 30 Jan. 1996; being part of the text of a Thomas Davis Series lecture, RTÉ, 17 Feb 1997, p.14.)
[ top ]
Quotations
Arise!: 'We are going to rouse the working classes out of their slough of despond [...] out of the mire of poverty and misery - and lift them to a place higher. If it is good for the employers to have clean clothing and good food and books and music, and pictures, so it is good that the people should have these things also - and that is the claim we are making today.' (Quoted in Emmet Larkin, 'The Man who became the Irish labour movement incarnate', The Irish Times, 30 Jan. 1996; being part of the text of a Thomas Davis Series lecture, RTÉ, 17 Feb 1997, p.14.)
[ top
References
R. F. Foster, Modern Ireland (London: Allen Lane 1988), bio-note records that reformed Irish branch of Independent Labour Party and fnd. ITGWU, 1908; Pres. Irish Trades Union Congress, 1911; imprisoned, 1913-14; denounced Treaty [from prison], 1922; tumultuous welcome in Dublin; expelled from ITGWU by anti-socialist committee; secured the Trade Union Act and opposed Standstill Order, 1941.
Seamus Deane, gen. ed., The Field Day Anthology of Irish Writing (Derry: Field Day 1991), Vol. 3, selects Larkin's 'Scathing Indictment of Dublin Sweaters' [707-11] BIOG 809-10 [b. 1876]. Joseph Lee, Ireland 1912-1985 (1989) adds. bibl. E[mmet] Larkin, James Larkin, Irish Labour leader 1876-1947 (London 1968 ed.)
[ top ]
Notes
The Irish Worker, the 'first successful Labour publication' and the Larkin edited voice of the ITGWU (Arthur Mitchell, Labour in Irish Politics 1890-1913, IUP 1974, p.79; quoted in Cheryl Herr, For The Land They Loved, 1991, p.54.
Literary tributes: Brendan Behan's poem on Larkin is given in Donal Nevin, ed., Trade Union Century (Mercier/RTE/ICTU 1995); see also a Patrick Kavanagh: 'And thus I heard Jim Larkin's ghost above / The Crowd who wanted to turn aside / From reality coming to free them. / Terrified / They hid in the clouds of dope and would not move.'

Public support: when tried and sentenced for sedition on 5 Oct. 1913, Larkin and the Dublin workers generally were made the object of a mass meeting chaired by George Lansbury at the Royal Albert Hall, London, and addressed by Shaw, F. W. Petick-Lawrence, Ben Tillett, James Connolly, Mrs Montefiore, Sylvia Pankhurst, Mrs Despard, Delia Larkin [see infra], George "AE" Russell and two others. (See Alan Denson, Letters from AE, London: Abelard Schuman 1961, Chronological table, p.xxxiv.)
ITGWU (fnd. Dec. 1908): the programme incl. 'legal eight hours' day, provision of work for all unemployed, and pensions for all workers at 60 years of age. Compulsory Arbitration Courts, adult suffrage, nationalisation of canals, railways, and all the means of transport. The land of Ireland for the people of Ireland.' See Spartacus SchoolNet website [online].
Peter Wood, The Price of a Cigar (London: Anchor Books 1997) is a documentary novel dealing with the London dock-strike of 1889.

Arnold Wright, Disturbed Dublin: The Story of the Great Strike of 1913-1914 (London: Longmans 1914), was commissioned by William Martin Murphy to put the employers' side.
Portraits: Anne Crookshank, Irish Portraits Exhibition (Ulster Mus. 1965) lists James Larkin by Mina Carney, bust; see also pencil on paper by Seán O'Sullivan RHA [NGI] and there is a pencil sketch of 'Larkin at Work in Liberty Hall' by William Orpen; the statue in O'Connell Str., Dublin, is by Oisin Kelly (1977).

Delia Larkin (1878-1949)
Younger sister of the famed Trade Union leader, James Larkin. She played a pivotal role in the development of the Irish Women's Workers' Union, and during her lifetime she worked hard to earn equal pay and the right to vote for women. During the 1913 lockout she took charge of Liberty Hall and arranged for 3,000 children to be fed every morning. After the lockout, many women were not reinstated in their jobs. Larkin turned them into a theatrical troupe and went with them on a tour around Europe.
See Glasnevin Cemetary Museum - online; accessed 15.11.2019.
Delia Larkin was born on 27th of February 1878 at home in 2 Court Fermie St. in the Toxeth park district of Liverpool. She attended the Chipping St. elementary school and was confirmed in the local Catholic Church, our lady of Mount Carmel where she had been baptised. Her given name Bridget and her conformation name was Mary.
She was the 5th child and eldest surviving daughter of Mary Ann McNulty and James Larkin. An older sister, Agnes, had died in infancy. Father James died in 1887 when she was 9. Her oldest brothers Hugh and James had to support their widowed mother. Delia Larkin started work early to help her brothers so any learning (schooling) was cut short. Delia had an interest in literature and social politics from an early age (possible fuelled by James Larkins interests).
Delia Larkins first official record in Ireland is the census of April 1911 when she is listed as living with her older brother James and his family at 27 auburn St. near Broadstone in Dublin. She is remembered to have a nursing career in Liverpool before her trade union appointment but her occupation as given (in Irish) on the census form is teacher. Not much is known of her life expect it is thought she ran a hotel in Rostrevor Co. Down, about the time James Larkin was for the national union of dock labourers and strike leader in Belfast in 1907.
Delia Larkin first became involved with the Irish trade union movement in the summer of 1911. It was decided to start a trade union for women within the ITGWU (the union formed by James Larkin) called the Irish Women Workers Union (IWWU). The union first advertised for members in the Irish worker on the 12th of august 1911 and was launched formally a month later on the 5th of September. Delia Larkin wrote a column in the Irish worker the weekly paper for the itgwu summing up the aspirations of the new union. "all we ask for is just shorter hours, better pay that the scandalous limit now existing and conditions of labour befitting a human being".
Her column dealt with many different issues such as housing, social conditions and votes for women. The aim of the union was to provide women a union, which widened opportunities and broke down barriers to allow from different backgrounds to mix on equal terms. The union programme included discussion groups and weekly socials, annual outings, yearly concerts and New Year dances. Within the first six months of the union £172 had been paid out in strike pay and idle money for victimisation. As well as recovering £40 in wages and won £70 a week increases in wages. The union was largely Dublin based, although branches were also set up in Belfast, Dundalk, Wexford and Cork.
In 1912 the union affiliated independently from the ITGWU to the ITCU with its 1,000 members. Delia Larkin represented her union at three annual conferences of the ITUC from 1912 to 1914. She also represented women on Ireland's first trades board, the joint industrial council formed to regulate pay within the poorly paid manufacturing sectors were women worked.
Along with her industrial activity Delia Larkin also formed the union choir in February 1912, its first public performance at the St Patrick's Night concert. That led to the formation of a drama group four months later. The Irish Workers' Dramatic Class (trained by Delia Larkin) made its debut on St Stephen's Night 1912 with four one-act plays, three of which featured Delia Larkin.
Delia Larkin also represented the union's members within the suffrage movement and was an invited guest to Anna Haslam's celebrations at the election of Sarah Harrison, Dublin's first woman councillor, in February 1912. And also represented the union at the mass rally in Dublin to demand women's suffrage in the Home Rule Bill, held in the Anient Concert Rooms on 1 June 1912.
In 1913 the union membership fell to around six or seven hundred. And this led Delia Larkin to organise a tour for the theatre group of Britain in order to raise funds. In August 1913 Croydon Park opened as recreation centre for members of Liberty Hall and their families with a great festival. But the festive optimism soon evaporated.
Within weeks of the Dublin Tram strike starting at the end of August 1913, it had spread throughout the city. The lock-out paralysed the city and threw thousands out of work. At Jacob's the dispute began on 1 September over the wearing of the IWWU badge. Within a week 310 women were locked out there. Paterson's match factory locked out their women workers. When James Larkin went to England to seek support Delia Larkin took effective charge in Liberty Hall. She formed and ran the entire undertaking to feed the union members and their dependants throughout the lock-out. This huge effort provided daily breakfasts for three thousands children, lunches for nursing mothers, and the distribution of clothing, continued until February 1914. When the Daily Herald League planned to bring Dublin strikers' children to homes in Britain for care during the lock-out, the London organisers turned to Delia Larkin for support with the arrangements.
The lock-out ended in the early months of 1914, although this provided little relief from the pressure of Delia Larkin's commitments in the coming year. Four hundred of her unions members were not reinstated after the lock-out and in March went on a tour with the dramatic group formed from the locked-out workers.
In June she stood in the Poor Law elections in the North Dock ward of Dublin, the only women of thirteen candidates nominated by the Dublin trade unions. She fell 561 votes short of being elected to a Poor Law guardian.
In September she was ordered to find other premises for the women's union after an argument over the payment for the large room in Liberty Hall, taken over during the lock-out. When the Chief Secretary for Ireland, Augustine Birrell, met suffrage women to discuss the newly appointed Ladies' Advisory Committee to help relief work in Ireland, the women proposed Delia Larkin as a member. She was rejected as a member and this was viewed as a deliberate insult to Dublin's only women's union.
In 1915 with James Larkin away in America, James Connolly had taken charge at Liberty Hall as acting secretary of the ITGWU. Recollections by observers of that period say that relations between the two were poor. There is little known about her activities from the summer of 1915 to 1918, some reports say she worked as a nurse in military hospitals in London on humanitarian grounds rather than that of military service. She was back in Dublin in 1918 signing the anti-conscription pledge, supporting the anti-war campaigning of her two brothers. She had returned to a very different political climate. The aftermath of the rising had created a different ITGWU, reordered priorities and given new opportunities to old faces.
She started work in the insurance section of Liberty Hall under the sponsorship of the Larkin loyalist P.T. Daly. The reorganised IWWU would not readmit her as a member, saying she should seek membership of the Irish Clerical Workers' Union, who also turned her down.
She expressed an interest in going to Australia as reported in a letter she wrote to Peter Larkin's wife in July 1918. Delia Larkin had also written a letter of encouragement to a leading Australian syndicalist, a member of the "Wobblies" (Industrial Workers of the World). Delia Larkin also organised a Dublin meeting calling for the release of the Sydney Twelve. The meeting called for the release of Peter Larkin and his eleven comrades. The meeting was addressed by Jock Wilson, the Liverpool organiser of the labour party. P.T. Daly chaired the meeting and Delia read out letters of support, including one from Éamon de Valera.
The following month the ITGWU did not reappoint P.T. Daly to his position in the insurance section. On 11 June Delia Larkin, Michael Mullen and a temporary clerk Norberry, went on strike against Daly's victimisation. The ITGWU refused to reinstate them and protest meetings were organised for Langrishe Place and on 15 June the Mansion House. From July to September Delia edited and wrote for the Red Hand, an opposition newspaper to the ITGWU leadership. Shortly after its publication it was halted by Jim Larkin.
In 1920 Peter Larkin and his comrades were released from prison and Delia Larkin became the moving spirit of the Release James Larkin campaign.
Source: Ancient Order of Hibernians [Joseph Patrick Schickling Division 61] - online; accessed 15.11.2019.
See alsoJames Curry, 'Delia Larkin: "More harm to the Big Fellow than any of the employers"?', in Saothar [organ of Irish Labour History Society], Vol. 36 [Women: Special Issue (2011), pp.19-25 - available at JSTOR, online; accessed 15.11.2019.]
[ top
---