Life
1951- [Desmond Hogan; fam. Des]; b. Ballinasloe, Co. Galway; son of a draper; ed. local National School, St. Joseph's, Garbally Park; visited Paris on leaving school, and participated in les manifestations, 1968; winner of Hennessy award, 1971; grad. BA UCD, 1972; MA, 1973; issued a play, A Short Walk to the Sea (Peacock 1975); winner of Rooney Prize, 1977; co-fnd. Irish Writers' Co-op, issuing The Ikon Maker (1976), written in 1974; adapted as play, 1980, set in Ballinasloe, and dealing with a mother's unwilling recognition of her son's homosexuality; moved to London, and lived in Tooting, and also lived as a lodger of Anthony Farrell in Hampstead;
issued Sanctified Distances (Peacock, 1976), winner of John Llewellyn Rhys Memorial Prize, 1977; issued The Diamonds at the Bottom of the Sea (1979), childrens' stories - afterwards withdrawn because of a writ; issued novels, The Leaves on Grey (1980) and A Curious Street (1984), concerning the growing-up of Jeremy Hitchens, a sargeant in the British army and dealing largely with life of Alan Mulvanney, an unhappily homosexual schoolteacher found shot dead beside the Shannon in 1977, being based on a manuscript novel by him ("A Cavelier Against Time"); published in Granta, 1981; also issued A New Shirt (1986); story-collections, The Mourning Thief (1987), Lebanon Lodge (1988), A Link with the River (1989);
left London, 1989, on receipt of Hudson Strode Fellow at Alabama Univ.; awarded place on ~DAAD writers' programme, and resident in Berlin, 1991; essays, The Edge of the City (1993); A Farewell to Prague (1995); Hogan returned to Ireland in 1995, living in Clifden, Co. Galway and briefly lived in a caravan in Co. Limerick/Clare border; lectured on short fiction at the University of California, San Diego, 1997; Hogan was an invited author at the Seán Dunne Literary Festival in early April 2002; new work published in Cyphers (2005), followed by Larks Eggs (2005), containing 10 older and 12 newer stories; issued Old Swords (Dublin: Lilliput Press 2008), 10 new stories 'set among the dreamers and misplaced in modern Europe'; subject to court proceedings arising from a relationship with a 15 year old, 2008; previously living in Ballybunion and now in Dublin. DIL DIW IN OCIL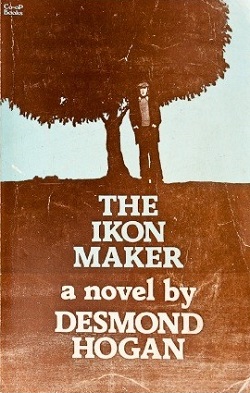 First publication of Dublin Writers'
Co-op - 1976
see further under Neil Jordan - infra.
[ top ]
Works
Fiction
The Ikon Maker (Dublin: Writers' Co-op 1976), 137pp.; Do. (London: Writers' & Readers' Press Co-op. 1979), 141pp.; Do. [new edn.] (London: Pulsifer Press [45 Churchfield Mansions], 1987), 150pp.; and Do. (London; Faber 1993), 150pp. [120pp.];
A Curious Street (London: Hamish Hamilton NY: Brazilier 1984), 194pp., and Do [rep.] (London: Faber 1993), 194pp. [208pp.];
The Leaves on Grey (London: Hamish Hamilton 1980; Pan 1981), 119pp.;
A New Shirt (London: Hamish Hamilton 1986), 215pp., and Do. (London: Faber & Faber 2987), 215pp.;
The Mourning Thief (London: Faber & Faber 1987), 145pp.;
Lebanon Lodge (London: Faber 1988), 192pp.;
A Link with the River (NY: Farrar, Straus & Giroux 1989), x 325pp [formerly publ. by Faber in 2 vols. as "The mourning thief and other stories" and "Lebanon lodge"];
A Farewell to Prague (London: Faber 1995), 245pp.;
Larks Eggs: New and Selected Stories (2005), 256pp. [31 stories]. [orig. Irish printing; claimed as pbk. orig.];
Old Swords and Other Stories (Dublin: Lilliput Press 2009), 144pp. [10 new stories].
For children
Children of Lir (London: Hamish Hamilton 1981; NY: Brazilier, Picador 1982), 132pp.
The Diamonds at the Bottom of the Sea (London: Hamish Hamiton 1979), 181 pp. [story collection withdrawn because of writ], and Do. [rep.] (London: Pan 1982) [incls. "Diamonds ... &c." and "Children of Lir"].
Plays
A Short Walk to the Sea (Peacock 1975), publ. as A Short Walk to the Sea [with] The Swine and the Potwalloper [by] Pascal Finnan [New Irish plays] (Dublin: Co-op Books 1979), 44pp.;
Ikon Makers (1980) [adapt. from the novel];
Sanctified Distances (Peacock, 1976).
Miscellaneous
Introduction to Kate O'Brien, That Lady [rep.] (Virago 1996);
"Afternoon", in Steve MacDonogh, ed., Irish Short Stories (Dingle: Mounteagle Press 1998) [q.pp.];
The Edge of the City: A Scrapbook 1976-91 (Faber 1993), x, 193pp. [ill., travel essays. Irish Times prints the essay on Ballinasloe, his hometown, Weekend, 8 May 1993, full p.3];
"Wedding at Gallog" [story], in Cyphers (2005), q.pp.;
[new story] in The Irish Times ( 2 April 2005), Weekend [infra].
Contrib. 'Landscape with Figure', to Brian Bourke: Five Decades 1960s-2000s, ed. Charlie McBride; foreword by Patrick T. Murphy (Dublin: Lilliput Press 2010), 319pp.
Query, Kants Begriff transzendentaler und praktischer Freiheit: eine entwicklungsgeschichtliche Studie / Dieter Schönecker; unter Mitarbeit von Stefanie Buchenau und Desmond Hogan (1951- ) [Kantstudien. Ergänzungshefte, 149] Berlin: Walter de Gruyter 2005), x, 178pp.
A story by Hogan is included in Best European Fiction 2012, ed. Aleksander Hemon, pref. Nicole Krauss (Dalkey Archive Press 2012). Query: James Cahalan cites The Leaves on Grey (see Cahalan, The Irish Novel, 1988, p.302).
[ top ]
Criticism
Theo d'Haen, 'Des Hogan and Ireland's Post-Modern Past', in Joris Dutyschaever & Geert Lernout, eds., History and Violence in Anglo-Irish Literature (Amsterdam: Rodopi 1988), pp.79-83; Robert Tracy, review of A Curious Street, in Eire-Ireland, 21, 1 (Spring 1986), pp.143-47; also John Dunne, a review of A Farewell to Prague (1995), in 'Not-so-quiet Desperation', Books Ireland (March 1995); Gerry Smyth, The Novel and the Nation: Studies in the New Irish Fiction (London: Pluto Press 1997) [on A Farewell to Prague], pp.153-54.
[ There is an informatiive and responsible Wikipedia page. ]
Reviews, Paul Binding, review of Desmond Hogan, Larks' Eggs, in Times Literary Supplement (27 Jan. 2006), p.22 [infra]; Aubrey Malone, review of Lark's Eggs, in Books Ireland (Feb. 2006), p.15 [somewhat jocose, 'qua Jem's penman'].
[ top ]
Commentary
Maurice Harmon, 'First Impressions: 1968-78', in Terence Brown & Patrick Rafroidi, eds., The Irish Short Story (Gerrards Cross: Colin Smythe 1979): 'Desmond Hogan's "A Poet and an Englishman" has homosexuality as one of its main issues. In this story Peader and his wife, Sandra, go to Kerry, where he has been raised by a man called Michael. The journey brings back boyhood associations, in particular memories of Michael, who had minded and seduced him. Those memories, becoming stronger as the couple drive closer to the town, create a silence between them, an estrangement. In an act of exorcism Peader makes love to a boy he meets in the town, re-enacting his own affair with the older man, then seeks Sandra, who has fled when she discovers them together. The story handles a complex and delicate emotional situation and this emphasis on personal relationships is characteristic of the contemporary story in Ireland.' (p.73.)
[ top ]
Michael Kerrigan, review of A Farewell to Prague, in Times Literary Supplement ( 13 Jan. 1995): protagonist Des, Irishman in forties who has had nervous breakdown recounts entanglements and wanderings in Europe and America; caught up in tortured sexual triangle with Eleanor who has abandoned him and Marek who has AIDS; jumbled picture postcards and randomly reconstructed diary; reviewer finds treatment of AIDS maudlin and criticises sloppy construction and inept images; remarks that Hogan here reflects on his country's diaspora of youth and way that Irish culture is increasingly subsumed by others; portrays world in which national boundaries are no longer meaningful, where 'there are more people from Co. Galway in London than there are in Co. Galway.'
'First Flush', Books Ireland (Feb. 1996), notes that 'this extraordinary writer whose progressive abandonment of writerly discipline, form and unities may to many of his readers - and certainly to himself - indeed be progress rather than regress.' (p.35).
[ top ]
Joyce Carol Oates, reviewing Andrew O'Hagan & Colm Tóibín, eds. Picador New Writing II (London: Picador 2002), picks out for special praise Desmond Hogan, "Winter Swimmers", a collage of meticulously rendered Irish scenes that weaves in and out of tales of tinkers and youths with "primrose-flecked hair" and "cherry-coloured nipples", remarking: 'described as a short story, Hogan's piece is essentially a daringly sustained prose poem that, instead of gathering to a climax at its conclusion, simply dissolves into discrete jewel-like elements'; and quotes:"On this side it is a spate of river, and the current, always strong at the side, after rain, is powerful. I did not gauge its power and one morning I was swept away by it, over the barrier, as by a human force, I had no control. There was no use fighting. I was carried down the waterfall on the other side of the barrier to another tier of the river, drawn in a torrent. I say a pegwood in red berry on the bank. I got to the side, crawled out. In ancient Ireland they used to eart bowls of rowan berries in the autumn", and remarks: 'By its end, the long-ago act of "winter swimming" has become elegaic: "an article of faith".' (Times Literary Supplement, 12 April 2002, p.11.)
[ top ]
Paul Binding, review of Larks' Eggs, in Time Literary Supplement (27 Jan. 2005): '[...] The Ikon Maker is remarkably sui generis. The author, faithful to his own voice and vision, is never deflected by the demands of plot-making, or background-painting, from his purpose: the presentation of a mother's bewilderment at her renegade son's behaviour. Her ever-frustrated pursuit of him ends in a sad resignation, behind which stands the bleak helplessness of a whole society unable to take imaginative risks. [...] Exile is where we encounter many of the people in Hogan's short stories. In his four collections - The Diamonds at the Bottom of the Sea (1979), Children of Lir (1981), The Mourning Thief (1987) and Lebanon Lodge (1988) England, especially London, is where they find themselves after unhappiness in Ireland. There we meet students, charwomen, barmen, rockmusicians, building workers, teachers, sectjoiners, Catholic apostates, whose shared qualities, past experiences and dreams make them members of the same family, amorplious, dysfunctional but of infinite value - not least to the health of the colder, richer, haughtier society in which they are stranded. [...] To read Hogan's tories chronologically in Larks' Eggs is to watch a writer growing in artistic strength. [...] In the novels that Hogan wrote after The Ikon Maker, people's freedom to realise their emotinal and spiritual selves is always frustrated by external forces which reflect their own blindness and bad faith. The Leaves on Grey (1980) is the least successful of these books; its upper-class milieu seems inauthentic, and its good intentions too overt. A Curious Street (1984) and A New Shirt (1986) are gratly superior. In A Curious Street, Hogan seeks a pacifist tradition within Irish mythology and history for his characters to live by. The novel brings together past and present: early Christians of Connemara and the breakaway faction of Cromwell's New Model Army, who believed "England had no right to be in Ireland", inspirit a young soldier in war-torn 1970s Belfast. Hogan is a learned as well as a naive writer; and his passion for reconcifing divided years produces prose of considerable beauty and resonance. / A New Shirt also operates on different levels, but it is a more organic work, imaginatively unflinching and linguistically resourceful. It juxtaposes the story of a part-Irish poète maudit, clearly based on Hart Crane, with that of his Irish critic-biographer who has to put aside his own intense emotional preoccupations to write his subject's life. There is nothing better in all Hogan's work than the account of this man's relationship with a male prostitute who wants money for guns against Ulster. But the novel's movement towards resolution is hampered by Hogan's personal ambivalence. By the time of A Farewell to Prague (1994), Hogan had undergone a breakdown which that book's form imitates. Almost more a cahier than a novel, it presents, in artistically sequenced fragments, a cavalcade of victims - refugees, misfits, mental casualties - while obsessively itemising the tragedies behind their lives. Knowledge of their suffering leads "Des", the narrator, into appalling despair never quite assuaged by the male lovers he evokes with such elegiac eroticism. / That novel should have been the modernist climax of a career which had always attracted enthusiastic critical attention. Maybe the intensities of A Farewell to Prague were too insistently personal for mid-1990s tastes; perhaps the author's control of its recalcitrant material was just too unsteady. Certainly its publication marked a decline in Hogan's reputation, and in retrospect it is the stories of the late 1980s that stand as his most complete statements about life, seen through the prism of a divided country and tormented sexuality. Two stories in particular "The Airedale" and "Lebanon Lodge" (both reprinted in Larks' Eggs), provide exemplary metaphors of human incompleteness. [...; &c.]' Also cites "Elysium", "Miles", "The Soujourner", "The Vicar's Wife" and "Waiting for Gallog" (p.22.)
[ top ]
Quotations
New story (The Irish Times, 2 April 2005), Weekend Supplement: 'There was a hotel on Tay Lane at the back of the town between river and canal, run by Pancake Ward, a little man in a spec cap with a Connemara weave who wore hobnail boots, where young, middle-class men hid out from their families were in dudgeon with and my father had to stay there for a few days because of his relationship with a Protestant with bangs, Miss Husaline./ His hair still smelling from Amami shampoo after a trip to Dublin with Miss Husaline, in a tie with cedar-green and asparag green bars, flannel trousers, navy socks with jay-blue stripes; there was a chamberberpot with purple peonies, pink ones, fern under his bed, and by night a young travelling rig English travelling player, with hair crescent-curled to one side, who was staying there, would wander around in a Jaegar dressing-gown, studying his part aloud: "For valour, is not Love a Hercules, / Still climbing trees in the Hesperides? / Subtle as sphinx […]"' (Irish Times factfile gives b. date as 1950.)
[ top ]
References
Steve MacDonogh, ed., Irish Short Stories (Dingle: Mounteagle Press 1998), selects 'Afternoon'.
Hibernia Books (Cat. 19) lists The Leaves on Grey (London: Hamish Hamilton 1981); Children of Lir (London: Hamish Hamilton 1981); A New Shirt (London: Hamish Hamilton 1986) [proof copy].
[ top ]
In court: Hogan was subject to court proceedings arising from a relationship with a 15 year old, at his home in Ballybunnion, and given a 2-year suspended sentence, 2008.
[ top ]
---