Life
?-?; became Master of the King's Stationary, Northern Ireland; The Story of Dublin (1907) is a direct source for phraseology in 'Proteus' and 'Wandering Rocks' chapters of Ulysses and parts od Finnegans Wake; ed. The Drennan Letters (1931); also issued An Economic History of Ireland (1920); A History of Northern Ireland (1927); and A Preliminary Survey of Ancient Monuments of N. Ireland (1940); Chart's Story of Dublin was a source-book for Joyce's Ulysses..
[ top ]
Works
D. A. Chart, The Story of Dublin [Medieval Towns Ser.] (London: Dent 1907), xvi, 355pp. [18cm.]; An Economic History of Ireland (Dublin: Talbot Press 1920), 210pp.; A History of Northern Ireland (Belfast: Educational Co. [1927]), 246pp.; fp. port., ills.
The Story of Dublin (Dent 1907) - title-page & facing plate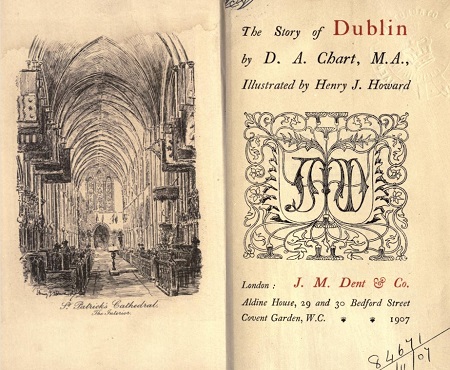 [ Enlarged - as attached; see further pages - infra. ]
[ top ]
Criticism
There is a discussion of James Joyce's indebtedness to Chart in James Atherton, Books at the Wake: Literary Allusions in James Joyce's Finnegans Wake (S Illinois UP 1959; Arturus Books 1974), p.91.
[ top ]
Commentary
Liam Kennedy, remarks on Chart's Ireland from the Union to Catholc Emancipation (London 1910), in which the author weighs what he considers industrial damage done by the Union with agricultural benefit and finds himself unable to strike an overall balance between gains and losses - which Kennedy characterises as 'a most unusual position given the weight of unionist and nationalist orthodoxies by this date.' (See 'The Union of Ireland and Britain, 1801-1921', in Colonialism, Religion and Nationalism in Ireland, IIS/QUB 1996, p.59.)
[ top ]
Quotations
The Story of Dublin (1907) - Chap. IV: The Decline of English Power 1318-1399 - On whales at Dublin: 'The burghers of Dublin were in sore straits for food, when they were providentially relieved by the stranding of a whole school of whales at the mouth of the Dodder at Ringsend. The chronicler calls the "Turlehydes," and states that they were thirty or forty feet long, and so think in the body that a man standing on one side could not see a man on the other. The city was rescued for the moment only to find, later on, that the terrible famine had bred the still more terrible pestilence. Every few years it desceended on the cramped, refuse-strewn streets of the mediaeval town and carried off thousands of victims.' (p.33.)
James Joyce: 'A school of turlehide whales stranded in hot noon, spouting, hobbling in the shallows. Then from the starving cagework city a horde of jerkined dwarfs, my people, with flayers' knives, running, scaling, hacking in green blubbery whalemeat. Famine, plague and slaughters. Their blood is in me, their lusts my waves. I moved among them on the frozen Liffey, that I, a changeling, among the spluttering resin fires. I spoke to no-one: none to me.' [Bodley Head Edn., U56]

Note: Chart makes mention of the famine in Ireland caused by the invasion of Edward the Bruce, who turned away from Dublin towards Limerick seeing that they had defended it even at the cost of tearing down the cathedral for stone to make protective walls. (p.31.)
[ top ]
References
University of Ulster Library (Morris Collection) holds An Economic History of Ireland (1920); A History of Northern Ireland (Belfast 1927).
Belfast Public Library holds The Drennan Letters, and other titles.
[ top ]
Notes
Irish Book Lover, Vol. 17 [q.d.], contains notice that D. A. Chart
---